'The Flash' Season 5, Episode 17 "Time Bomb": Will Nora Tell Her Folks About Thawne? [PREVIEW]
So if last week's episode of the CW's The Flash left your brain bleeding a little bit, you were far from alone. Everything seemed like it was going to plan: Barry finally proved he understood the whole "consent" thing and convinced Cicada/Dwyer to take the cure after showing him that being a metahuman can hit close to home in the form of Grace. Everything's good… doctors in place… patient on the table… everyone was ready to roll!
And then the facility is attacked by… Cicada???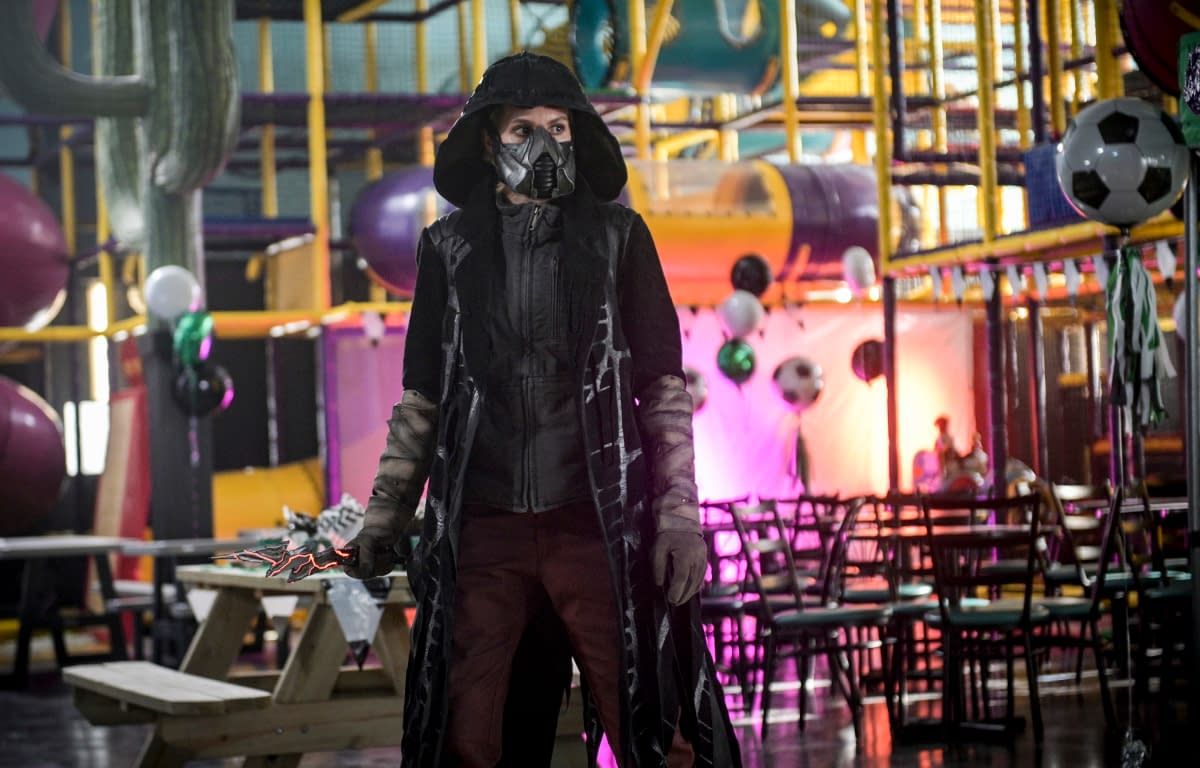 A second Cicada???
A Cicada who kills Dr. Ambres and then flees with the first Cicada???
Yup, and this Cicada is none other than… Grace!
Which is why this week's episode of the CW's The Flash has a title that might have been better last week – "Time Bomb":
https://www.youtube.com/watch?v=7O5wmINyGL4
The Flash s05e17 "Time Bomb": NORA DECIDES TO TELL BARRY AND IRIS THE TRUTH ABOUT THAWNE — Team Flash finds out that a suburban mom named Vickie Bolen (guest star Catherine Lough Haggquist) is in danger and they race to save her. Upon meeting her, they discover she's a meta-human who is hiding her abilities from her family. Barry (Grant Gustin) encourages Vickie to share her secret with her family, which makes Nora (Jessica Parker Kennedy) realize she needs to come clean with her parents about Thawne (Tom Cavanagh). Rob Greenlea directed the episode written by Kristen Kim & Sterling Gates
In the following featurette "Inside: Time Bomb," executive producer Todd Helbing offers viewers a little behind-the-scenes insights into how the season got to this point – and where things might be going in this week's episode:
https://youtu.be/sLFXd8ian0A
And what kind of The Flash preview would this be without some very cool preview images that will have you scratching your heads and counting down the minutes until The Flash "Time Bomb" airs Tuesday night of the CW?
A pretty lousy one – and one that's apparently a really big fan of really long sentences:
The CW's The Flash stars Grant Gustin as Barry Allen/The Flash, Candice Patton as Iris West-Allen, Danielle Panabaker as Caitlin Snow/Killer Frost, Carlos Valdes as Cisco Ramon/Vibe, Hartley Sawyer as Ralph Dibny/Elongated Man, Danielle Nicolet as Cecile Horton, Jessica Parker Kennedy as Nora West-Allen/XS, Chris Klein as Orlyn Dwyer/Cicada, with Tom Cavanagh as Harrison Wells and Jesse L. Martin as Detective Joe West. Greg Berlanti, Sarah Schechter, and Todd Helbing serve as executive producers.