Warning for minor spoilers
There are a lot of new things happening in the second season of Fox's X-Men show The Gifted. We have a time jump of several months after several members of the Mutant Underground, including Lorna aka Polaris and Andy Strucker, decided to break away to reform the a version of the Hellfire Club. At the beginning of season two things are looking a little different on both sides of the fight. According to TV Line Lorna and Andy have allied themselves with a mutant who might not have everyone's best interests in mind.
As Season 2's "mutants against mutants" narrative unfolds following a months-long time jump, we see that Lorna, Andy and the Frosts have allied with Reeva (Empire's Grace Byers, photo), the Inner Circle leader whose cutthroat approach — fueled by a personal vendetta — will make the downing of a private jet look like child's play.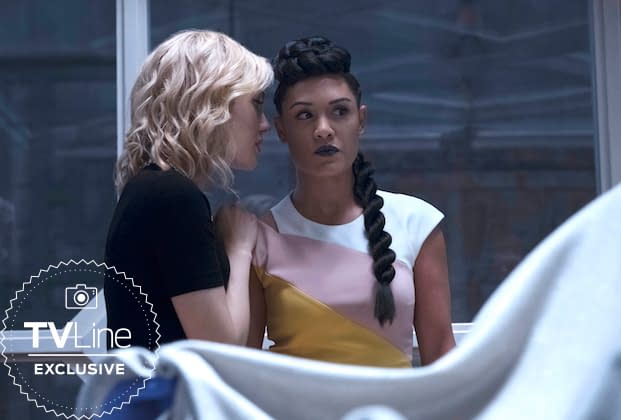 On the other side of the coin the Strucker family is still reeling from not only Andy leaving but also the revelations of their history.
Inside the Mutant Underground, meanwhile, Caitlin (now hardened in the style of Terminator 2's Sarah Connor) and Reed (who will be exploring his untapped and "volatile" mutant powers) struggle to draw Andy back into the family fold without also losing daughter Lauren to the dark side.
Of course there is a little romance going on here too. Clarice aka Blink and John aka Thunderbird admitted their feelings for each other last season but it's not going to be an easy ride.
On the romantic front, Blink's identification with the subterranean Morlock community (as well as a secret she is keeping) may present a new obstacle for her and Thunderbird, while Andy is in line to experience "first love" (awww).
Finally, TV Line reveals that we're getting another new mutant called Twist. It should be noted that the spoiler doesn't note which side, if any, Twist will be on.
Among the new characters we will meet in Season 2 is Twist, a mutant who "initially comes across as a sweet wounded bird" but reveals herself to be "a sociopath who lives for chaos." Newcomer Anjelica Bette Fellini will play the role.
Thus far it looks like most of the footage and images we've seen are either from the first episode or two or at least the first half of the season. It's still anyone's game about where this series is going to go for its sophomore outing.
Summary: In a world where mutated humans are treated with distrust and fear, an institute for mutants battles to achieve peaceful co-existence with humanity.
The Gifted, created by Matt Nix, stars Stephen Moyer, Amy Acker, Natalie Alyn Lind, Percey Hynes White, Sean Teale, Emma Dumont, Jamie Chung, and Blair Redford. It will return on September 25th to FOX.
Enjoyed this article? Share it!