The Last of Us: Rare Reacts to Nick Offerman Banjo-Kazooie Confession
Banjo-Kazooie developer Rare responded to The Last of Us star Nick Offerman's brief obsession with gaming before he decided it was too much.
---
It appears Rare, the company behind Banjo-Kazooie, has caught wind of The Last of Us star Nick Offerman's appearance on Jimmy Kimmel Live! and all-too-brief run into gaming. To recap, he was a guest on the ABC late-night program following his critically-acclaimed performance in the third episode, "Long, Long Time," and host Jimmy Kimmel asked the actor if he played the original Naughty Dog PlayStation games prior to taking the role of survivalist Bill for the HBO series.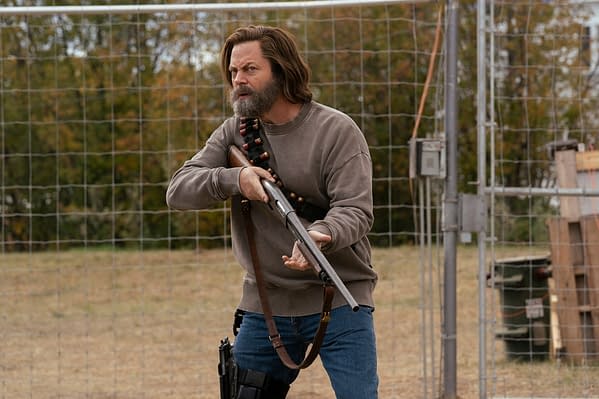 The Last of Us Star Nick Offerman's Brief Foray into Gaming
Offerman replied, "25 years ago, I played my last video game, and I'm very indulgent. I lost a couple of weeks to a video game called 'Banjo-Kazooie.' Two weeks went by, and I was like, "Oh my God! The slow dopamine drip is so delicious, then it's over, and you're like, 'Yes! I won!' Immediately, I'm like, 'What have I done with my life?' I decided that I'm never going to do that again. Games have gotten so good like 'The Last of Us' that I wouldn't leave my basement to audition for shows." It's not hard to picture Offerman taking his Nintendo 64 and throwing it into the trash in the most Ron Swanson way possible.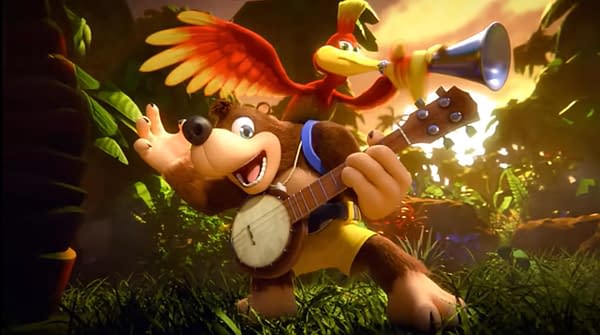 Rare tweeted, "Not sure if that's a compliment or not, but we'll take whatever it is. Cheers, Nick!" Directed by Gregg Mayles and George Andreas, Banjo-Kazooie focuses on the title characters Banjo, a bear, and Kazooie, his bird companion. Both live in Spiral Mountain as they attempt to rescue Banjo's younger sister Tooty from the foul-tempered witch Gruntilda. The original game was released in 1998 for the Nintendo 64. The game's success spawned a franchise across various Nintendo platforms, including N64's sequel Banjo-Tooie (2000) and Game Boy Advance titles Banjo-Kazooie: Grunty's Revenge (2003) and Banjo-Pilot (2005).
With Microsoft's acquisition of Rare in 2002, the long-awaited sequel to the N64 platformers arrived in 2008's Banjo-Kazooie: Nuts & Bolts for the Xbox 360. The duo has made appearances for other Nintendo games like Diddy Kong Racing and, under an agreement with MS, Super Smash Bros. Ultimate for the Switch. The original title made its return to consoles in Rare Replay for Xbox One in 2015 and Nintendo Switch Online + Expansion Pack in 2022. The Last of Us airs Sundays on HBO.