The Last of Us: Nick Offerman on Playing Bill, Banjo-Kazooie & More
The Last of Us star Nick Offerman on landing the role of Bill, fans' reactions & how the video game Banjo-Kazooie nearly consumed his life
---
Nick Offerman never stopped being a force on television with his mix of comedic and dramatic roles. He had a particularly busy 2022 with appearances in Hulu's Pam & Tommy, Amazon Prime Video's A League of Their Own, Peacock's The Resort, and his regular role on Fox's animated series The Great North. On the third episode of HBO's The Last of Us "Long, Long Time," his star shined brightest alongside Murray Bartlett as Frank and Bill as survivors who find each other. The actor and comedian appeared on Jimmy Kimmel Live! to break down how Megan Mullally helped land him the role, the reactions, and if he's played the Naughty Dog PlayStation games.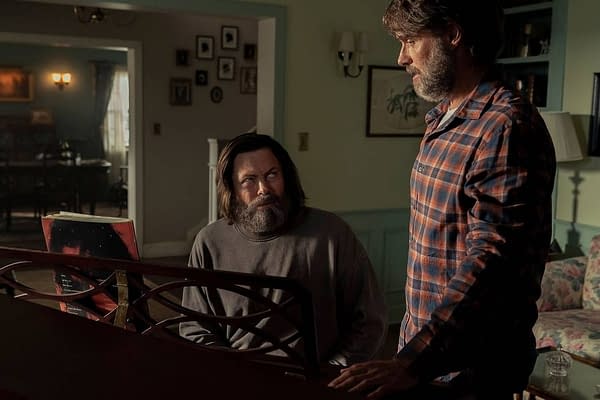 How Offerman Landed Bill for 'The Last of Us'
"When I got the script, Craig Mazin wrote it. He did 'Chernobyl,' among other things, and that guy seems to know what he's doing," Offerman told Kimmel. "He sent me the script, and I didn't have time on the calendar to say 'Yes' to this job. My incredible goddess of a wife read it, and she said, 'You're going to Calgary, buddy. You have to do this.'" When it came to the reactions since the episode's airing on January 29th, "It's a tsunami of wonderful generous plaudits, and the episode began airing on Sunday," Offerman said. "We had 6.4 million viewers and HBO…it's not TV. They're so not fucking around that they send me on the 'Jimmy Kimmel [Live!]' show on Wednesday to cull the stragglers. They're like the 17 of you that haven't seen it yet; you're in for a treat."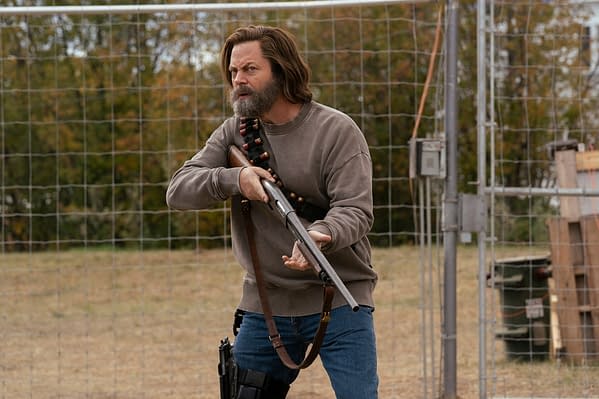 When Kimmel asked if Offerman played the original games, "25 years ago, I played my last video game, and I'm very indulgent," he said. "I lost a couple of weeks to a video game called 'Banjo-Kazooie.' Two weeks went by, and I was like, "Oh my God! The slow dopamine drip is so delicious, then it's over, and you're like, 'Yes! I won!' Immediately, I'm like, 'What have I done with my life?' I decided that I'm never going to do that again. Games have gotten so good like 'The Last of Us' that I wouldn't leave my basement to audition for shows." For more, including Amazon's Jeff Bezos' reaction to the episode, how Offerman and his other characters like Ron Swanson (from Parks & Recreation) would fare in an apocalypse, Bartlett, and more, you can check out the video below. The Last of Us airs Sundays on HBO.