Most Masketeers were not shocked by FOX's The Masked Singer's latest reveal. In fact, we identified this celebrity from the start. However, the show still has viewers scratching their heads over the remaining contestants. Just when I think I've figured someone out, they'll deliver a performance that changes everything. Sometimes you think you know, but you have no idea. For that reason alone, this show will always keep us coming back for more.
Time for a major spoilery recap of the night's powerful performances…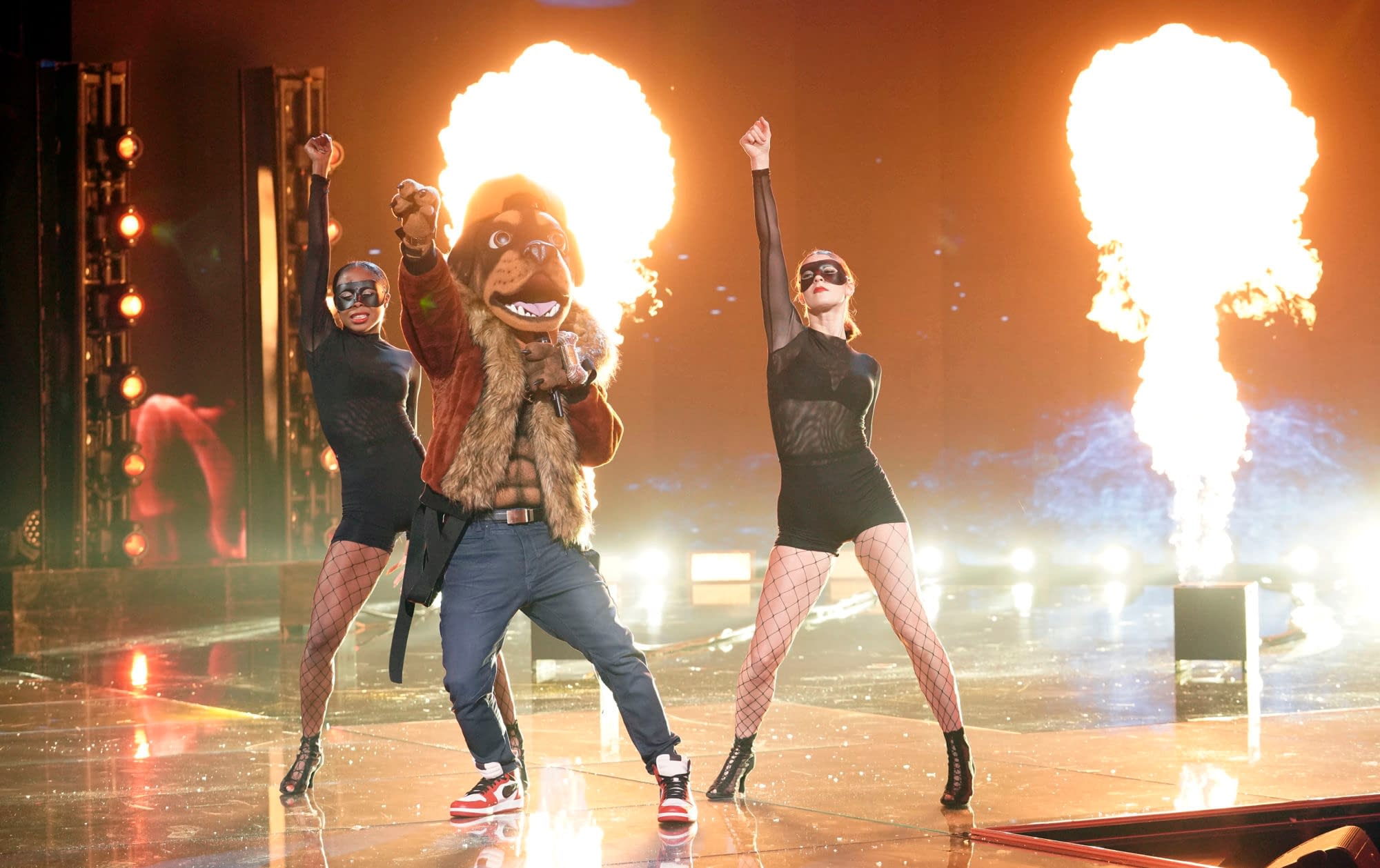 Rottweiler
https://youtu.be/O43LwtDzOHc
Flower
https://youtu.be/Uoy8k851LY0
Leopard
https://youtu.be/TaAJOK01Dn4
Flamingo
https://youtu.be/6cM9N9d8QYg
THE SHOWDOWN!!!
They both have a regal presence, but only one can rule the SMACKDOWN! #TheMaskedSinger pic.twitter.com/pWlwhOtCkG

— The Masked Singer (@MaskedSingerFOX) November 21, 2019
IN THIS CORNER, WE HAVE… LEOPARD!!!
https://youtu.be/KrKMVyOnJz8
GOING UP AGAINST… FLOWER!!!
https://youtu.be/NKrmF0V7Vkg
THE REVEAL!!!
Tiff's Takes
I'm usually underwhelmed by the judges panel, so I really look forward to guest panelists. Triumph the Insult Comic Dog brought his boisterous energy to the table, but Joel McHale's humor was less punchy than I expected. It's like he only feel safe mocking his Community cast-mate Ken Jeong. Also, Ken has thrown in the towel on guessing any legit celebrity this season. His jokes are flopping, which is disappointing. But we don't watch The Masked Singer for the judges, so let's get to the good stuff.
We all knew Flower was

Patti LaBelle

from the start. There's no denying that voice. Her clever song choices really showcased her memorizing vocal prowess. She kicked ass and was a good sport. Props for bearing the weight of that huge flower mask too!

Rottweiler is full of surprises! I thought I had him pegged as

Bow Wow

, but his performance of "Grenade" changed my mind. A

popular theory

pegs this celebrity as

American Idol

contestant

Chris Daughtry

, although I don't see him busting out those kind of moves. His voice also has a distinctive gruff that I haven't recognized in Rottweiler's performances. This is a frustrating one because I

know

that voice! I just can't place it – yet.

I'm shocked Leopard lost the battle to Flamingo!!! He is the stronger singer. I still believe Leopard is

Seal

.

I'm starting to think Flamingo might be

Tia Mowry

of

Sister, Sister

fame. I heard her speaking voice in the latest performance – and it turns out she can

sing

!
This season is heating up with each episode, especially as the contestant pool slims down.
https://youtu.be/gG0OI4HrmN0
FOX's The Masked Singer airs on Wednesday nights at 8 p.m. ET/7 p.m. CT. Tweet along and guess with me (@TalkTVwTiffany) while watching the show live on the west coast (that's PST, just in case).