The Rookie Season 5 E14 Previews: Tim's Still A "Boot" In Lucy's Book
With a new episode hitting on Tuesday, we have two previews & the official promo for ABC's The Rookie S05E14 "Death Sentence" to pass along.
---
Welcome back to our at-least-weekly look at the fifth season of ABC's Nathan Fillion-starring The Rookie, and we… don't have episode images for S05E14 "Death Sentence." At least, not yet. But in their place, we have two sneak previews to accompany the official promo. First up, Lucy (Melissa O'Neil) has a gag gift ready to go for Tim (Eric Winter) as he prepares for Metro training. And yes, they can even find a way to make "boot" sound playful & sexy. Following that, Nolan appreciates Celina (Lisseth Chavez) looking to take his mom's side when it comes to her attending Nolan's wedding… right before explaining why his mom's a bit different. Here's a look at what's to come with this week's episode…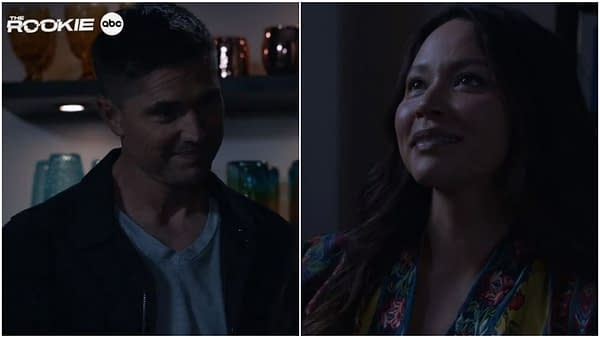 The Rookie Season 5 Episode 14 "Death Sentence" Preview
The Rookie Season 5 Episode 14 "Death Sentence": Officer John Nolan (Nathan Fillion) and Bailey (Jenna Dewan) are on the hunt for a mystery gunman after a shooting hits a little too close to home. Meanwhile, Aaron (Tru Valentino) struggles to live within his means and joins Lucy (Melissa O'Neil) to help Tamara (Dylan Conrique) when the mother of a child she babysits goes missing. Elsewhere, Wesley (Shawn Ashmore) suspects that a judge is taking bribes after he excludes valuable eyewitness testimony from a case. Written by Diana Mendez Boucher and directed by Faye Brenner. Now, here's a look at two sneak previews and the promo for S05E14 "Death Sentence":
In ABC's The Rookie, John Nolan (Fillion), the oldest rookie in the LAPD, has used his life experience, determination, and sense of humor to keep up with rookies 20 years his junior. Nearing the end of his training, Nolan now faces his biggest challenge as a police officer yet when he must come to terms with the choices he has made in pursuit of the truth.