The Russo Brothers Are Doing a "Magic: The Gathering" Anime Series at Netflix!
So maybe it's NOT going to be Krull, but The Russo Brothers ARE headed in the direction of fantasy and….Magic: The Gathering.
Announced just this morning, the pair of Anthony Russo and Joe Russo (who have brought us such billion-dollar films as Avengers Endgame and Avengers: Infinity War) are moving into digital streaming with a little anime series based on Wizards of the Coast card game Magic: The Gathering.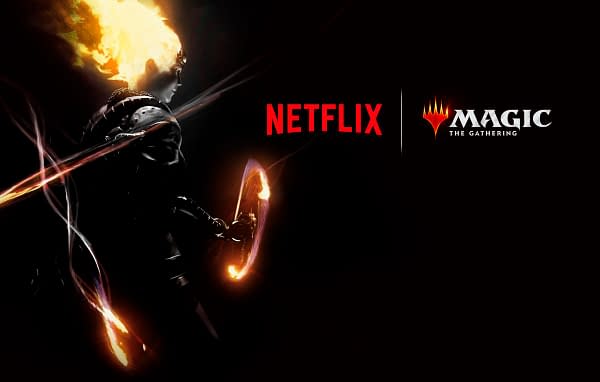 According to Io9, Hasbro's Allspark Studios will be working on the anime in partnership with Netflix, and the series will follow adventures of the Planeswalkers.
As we can see in that teaser art from Netflix, Chandra Nalaar of Kaladesh *could* possibly be the protagonist of the series.
We know that Magic:The Gathering will have Henry Gilroy (Star Wars Rebels) and Jose Molina (The Tick, Agent Carter) as showrunners, and writers on the series. Animation will be done by Octopie Network and Bardel Studios, so says Deadline.
Molina promises they're cookin' up some great stuff, and we have no doubt of this truth.
https://twitter.com/JoseMolinaTV/status/1135597518094397440
There aren't really any other details yet, but we will for SURE let you know what we hear about this series.