Posted in: TV | Tagged: chinese science fiction, Liu Cixin, TenCent, The Three-Body Problem
---
The Three-Body Problem Ep. 21 Review: Alien Invasion! Ask Me Anything!
The Three-Body Problem Episode 21 starts to move things along with scenes that add new layers & emotions not in the original Liu Cixin novel.
---
Episode twenty-one of The Three-Body Problem opens with a twist: turns out Pan Han (Johnny Zhang) didn't exactly murder Shen Yu Fei. Video cameras at her house showed he left before she shot herself. He left her the gun, knowing what she would do, and knows he's going to get away with it.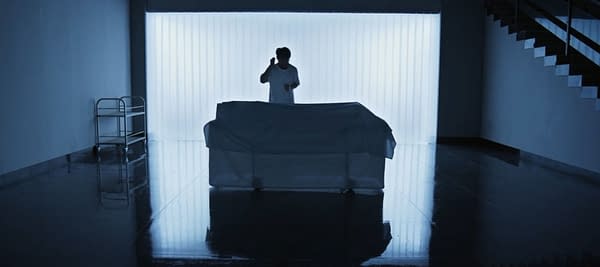 An Equation for Grief
We then get two scenes not in the book that offer meditations on grief and loss that we've never seen before. The death of Shen Yu Fei (Li Xiao Ran) affects everyone, and not in the simple sentimentality of sadness. Her husband, Wen Cheng, desperately tries to calculate a mathematical equation that solves grief, quoting real equations as he goes along. Wang Miao (Edward Zhang) is devastated at the loss of an adversary who was also a peer and a colleague. Shi Qiang (Lu He Wei) is the hardened cop and former soldier who nonetheless wants to prevent more death because he understands loss. No time to mourn. That's for later. Right now, they're at war.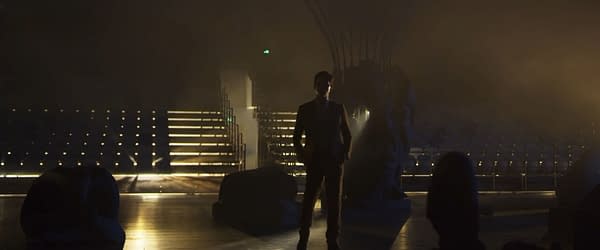 The Three-Body Problem Exclusive VIP Club
But first, Wang Miao gets his email inviting him to a meetup for players of the Three-Body Problem game. Instead of a café like in the book, it's in a huge concert hall, so it looks more cinematic and epic. Otherwise, it follows the book in the half-dozen people who show up. There's a satirical element to this scene where the players include a journalist, a university student, a published philosopher, a misanthropic avant-garde novelist and two industrialists. The person who organized the meetup turns out to be Pan Han (Johnny Zhang), who weeds out the players who think the game is just a game – the industrialists who wonder how the game makes any profitable. Pan Han only wants true believers, which Wang Miao low-key pretends to be, just convincing enough to pass. Then Pan Han does an Ask Me Anything about the Three-Body Problem game and the Trisolarans.
The game is really a sim for players to experience what it's like to be a Trisolaran living under three suns. Yes, the Trisolarans are real, not just a fiction created for the game. They really do dehydrate their bodies to hibernate through harsh periods. Nobody knows what they really look like because they're too far away. Those are just avatars for players. The real Trisolarans are a lot weirder than that. They're coming to take over Earth. It'll be like the Aztecs meeting the Spanish conquistadors: a civilization encountering a technologically superior race will be eradication. Humanity are the Aztecs now. If the Aztecs had been allowed to flourish, they would have created an empire of bloodshed, and American and democracy might not have happened, even if the conquistadors were murderers and colonialists. Imagine what the Trisolarans might bring. Pan Han is all for that and is recruiting fellow travelers. Never mind that he once thought about getting rid of Wang Miao, but he seems to be on-side. Pan Han welcomes them as new members of the Earth Trisolaran Organisation.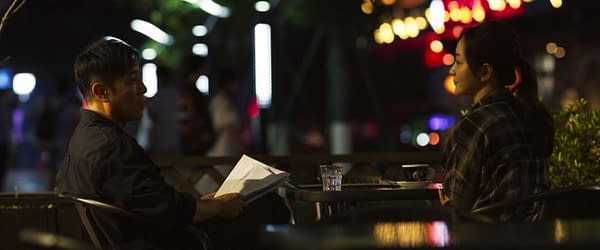 Preparing for War
Shi Qiang reports his and Wang Miao's findings to General Chang (Lin Yong Jian), who doesn't need convincing. Chang reports to their Western allies in the Command Center that the enemy is aliens influencing human society through terrorism and sabotage. Shi Qiang approaches reporter Mu Xing (Yang Rong) to ask her to spy on Pan Han for him, but she's way ahead of the game, having already hacked his computer and copied its files. She'd figured out Pan Han's part in supporting an alien invasion and made her choice: she's with Humanity.
General Chang and the Command Centre decrypt Pan Han's files to find a list of ETO members, prompting the leadership to order the arrest of all of them worldwide. This was a set-up by Pan Han. The list only has members from Shen Yu Fei's faction, the Redemptionists, none from his faction. He's been onto Mu Xing and has used her to purge the ETO of his opponents. All kinds of hell are about to break loose.
But first, Wang Miao finds some respite just hanging out with his daughter and watching a movie on DVD. She asks him if aliens are real. He says maybe because nothing is absolutely certain, though he has more evidence they're real than most people do. She asks if aliens might come to Earth. He says maybe, because he's hoping they don't.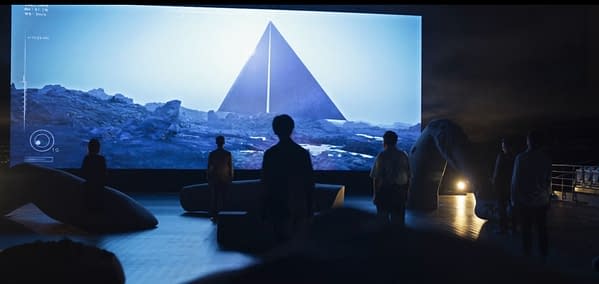 The Three-Body Problem: Book to Screen
This episode of The Three-Body Problem is one of the best one for starting to move the story forward, combining both a faithful adaptation of the book and improving them with emotional nuance and brand new scenes. Wen Cheng's grief over Shen Yu Fei is new. Wang Miao and Shi Qiang mourning is new. Every scene with Mu Xing is new since she's not really in the book, and every scene of Wang Miao bonding with his daughter to remind him what the real stakes are is new, and all of them massively improve upon Liu Cixin's novel.
---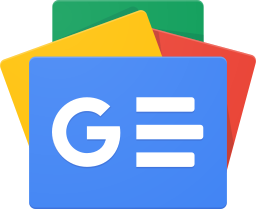 Stay up-to-date and support the site by following Bleeding Cool on Google News today!