The Walking Dead: Gurira Posts Look at Lincoln's Bloody Rick Grimes
With filming underway on the The Walking Dead spinoff, Danai Gurira & EP Denise Huth shared an image of Andrew Lincoln's (bloody) Rick Grimes.
---
Okay, if we weren't psyched before? Well, we definitely are now! So what are we talking about? If you're a fan of the "The Walking Dead" universe, then you know that filming got underway on AMC's Danai Gurira (Michonne) & Andrew Lincoln (Rick Grimes)-starring The Walking Dead spinoff series (currently named/codenamed "Summit"). Well, it looks like Gurira and EP Denise Huth were feeling our pain, so they offered up a little something to put our minds at ease. Yup, a look at Lincoln's Rick Grimes covered in a bit of the red stuff. We'll leave it to Huth to put it best regarding how that makes us feel: "All is right with the world."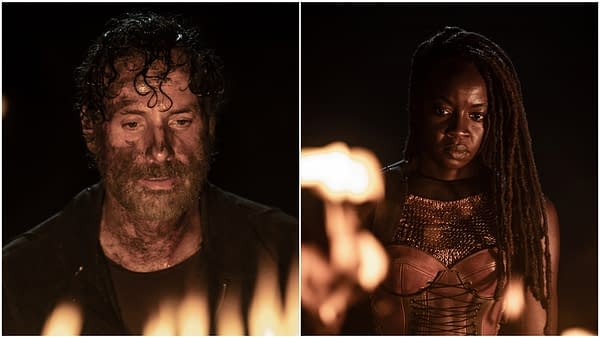 Here's a look at Gurira's and Huth's Instagram posts from earlier today, both sharing a close-up look at a bloody Rick Grimes (thankfully, it doesn't look like it's his blood):
The Walking Dead S11E24 & BTS Rick & Michonne Images & Video
In the first image gallery, we get a chance to see Rick and Michonne in action as their paths draw closer to one another. In the gallery following that, we get a chance to see Lincoln, Gurira, Gimple, Director, EP & Effects Icon Greg Nicotero, and others behind the scenes making Rick and Michonne's returns become a reality.
Now, here's a look back at the moment fans had been hoping for since the series finale was first announced:
In a newly-released featurette, Lincoln and Gurira discuss what it was like being back to celebrate the end of one chapter and the beginning of another. We get to learn why killing a walker was important for Lincoln during his scenes and how Gurira is viewing her upcoming return to the role as presenting "Michonne 2.0." Here's a look at the complete featurette, Show Me More: The Walking Dead Last Episodes (Behind the Scenes). Thought the entire profile of the show's final run is worth checking out, jump to the 26:10 mark to hear from Lincoln, Gurira, and others about Rick & Michonne's epic return: