"The Walking Dead" Season 10: "What It Always Is": Negan's Redemption Song Begins [SPOILER REVIEW]
While the cast and crew of AMC's The Walking Dead roll along with their deep-dive production-wise on the tenth season, life in the franchise's universe has become a lot like the NFL: neither have off-seasons anymore. With a strong ensemble cast (and a "Big Bad" fronted by Samantha Morton in an award-earning turn as Whisperers leader Alpha) and richly layered writing, showrunner/executive producer Angela Kang did the near-impossible: made the show feel fresh and dangerous again.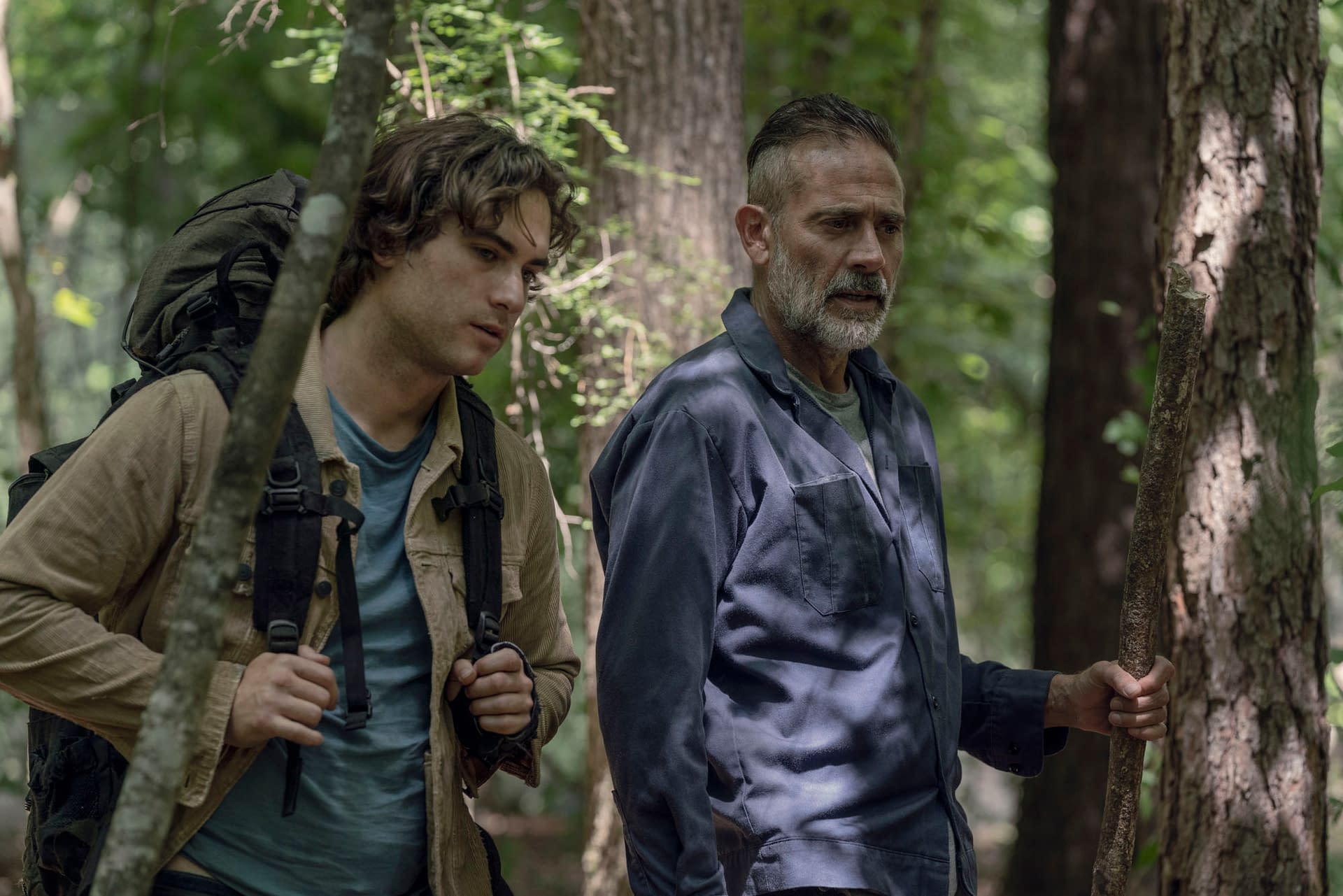 We didn't mince words over how impressed we were with season opener "Lines We Crossed" (check out our review here). Then we had Morton, Ryan Hurst, and Thora Birch raising the bar even higher with "We Are the End of the World" (check out our review here), – offering up some Whisperers backstory. "Ghosts" elevated the paranoia as Melissa McBride continues delivering an award-winning performance (that review's here) – and recent episode "Silence the Whisperers" proved once again why it's "In Michael Cudlitz, We Trust" (review here).
Which brings us to this week's "What It Always Is", which finds a now-free Negan (Jeffrey Dean Morgan) seemingly on a one-way collision course with a certain group of walker skin-wearers. Daryl (Norman Reedus) and Siddiq (Avi Nash) reunite with a clearly ill King Ezekiel (Khary Payton) to exchange updates, and Kelly (Angel Theory) suffers from the effects of her hearing loss. Meanwhile, Alpha changes tactics to break our survivors – but did the episode break us?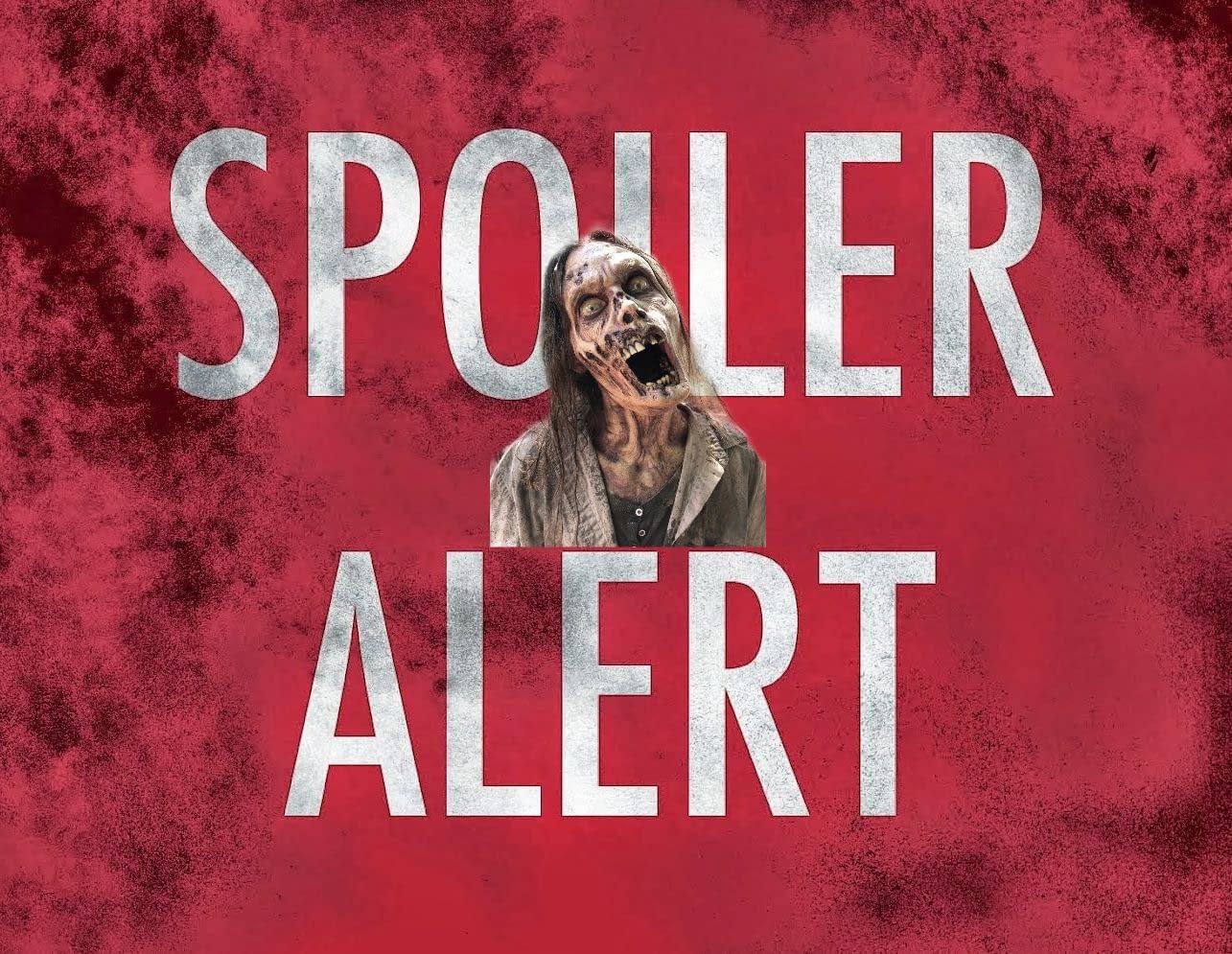 "The Walking Dead" season 10, episode 5 "What It Always Is": Supplies go missing from Hilltop; Negan is idolized by an Alexandrian; Ezekiel holds a secret. Directed by Laura Belsey and written by Eli Jorne.
After four intensity-building episodes in a row, "What It Always Is" was a welcome relief: a "tweener" episode that answered some of our questions while resetting the momentum as we head into the remaining three episodes before midseason break. Jorne's words and Belsey's direction also offer Morgan a chance to take center stage – giving viewers a chance in a way to almost study/observe him, to see if Negan's playing the field for his own benefit – or truly looking for redemption.
With this week's episode, Karma appears to be running under the assumption he's looking for redemption because tonight begins Negan's jouney into his self-made "heart of darkness". For what the ex-Saviors leader's done, rescuing Judith (Cailey Fleming) and Dog and picking tomatoes was never going to be enough – and in some ways, he knew that. For Negan to be able to move on from his past, he's going to need to confront it.
Enter Brandon (Blaine Kern III) – psycho-twisted (our expert medican diagnosis) Negan/Saviors groupie.
With Brandon, Negan was forced to face the "endgame" to his own Saviors philosophy: a soulless thing with no sense of self or identity or personal moral code – willing to say or do whatever their "alpha" wants. What disgusts and horrifies Negan the most about Brandon isn't who he is and what he does: it's that Brandon's exactly the kind of person "old Negan" would want in his ranks.
Is it really a far leap from Brandon to Simon?
I was actually surprised that Negan didn't see Brandon coming back to kill the mother and son they rescued from a walker attack earlier – but I don't see it as a storyline flaw. In fact, I think it speaks to a painful understanding Negan is gaining about his past. His words and actions matter – and have far reaching influence. It's not enough for him to just lead a different life – he has a responsibility to not just atone but to make things as right as they can be.
Which is what Negan does by killing Brandon, though not before securing "Lucille II" and some new leather. By killing Brandon, Negan is attempting to kill his past mistakes – to blow up the road that lead him here and not to the future Carl saw for him, Rick, Michonne, and the others. No scene drives that home better than Brandon's final one – as he attempts to recite the Saviors' "I am Negan" only for the man in question to "shut that shit down" for good.
Though to be honest, we thought Brandon was a goner when he name-dropped Carl…
But Negan's "redemption song" has only just begun – and it's one whose melody leads him directly to the group that might be the most horrific manifestation of his Saviors philosophy yet: Alpha and the Whisperers. So what better way to get their attention then calling out their resident "big-ass freak" Beta – who obliges.
Since we don't see Negan wanting to hide that pretty face of his behind walker skin, we're guessing he's got something planned – but will it play out like the comics? Hmmm…
● This week, the dumping on King Ezekiel continues with a throid cancer diagnosis, though Siddiq believes it's something that he can control as long as they monitor his condition. Watching the two bond as they shared their respective traumas was a meaningful way for us to get to know both characters. That said? We still think there's more going on with Siddiq…
● Back at the Whisperers camp, we learn that Alpha's been running on full "pants on fire" mode: her folks were responsible for the walkers attacks and the downed tree – and it turns out, they're also damning and contaminating the creeks. If there were any lingering doubts that Alpha knows how to run a stealth war, they're gone after this episode. What we're arching our eyebrow over is how she plans on using Gamma to get to Aaron (Ross Marquand)…
● Sorry, "Caryl" fans – we're all about Daryl and Connie (Lauren Ridloff), with the hand-holding and storytelling proving to be a sweet oasis from all of the impending doom-n-gloom still to come.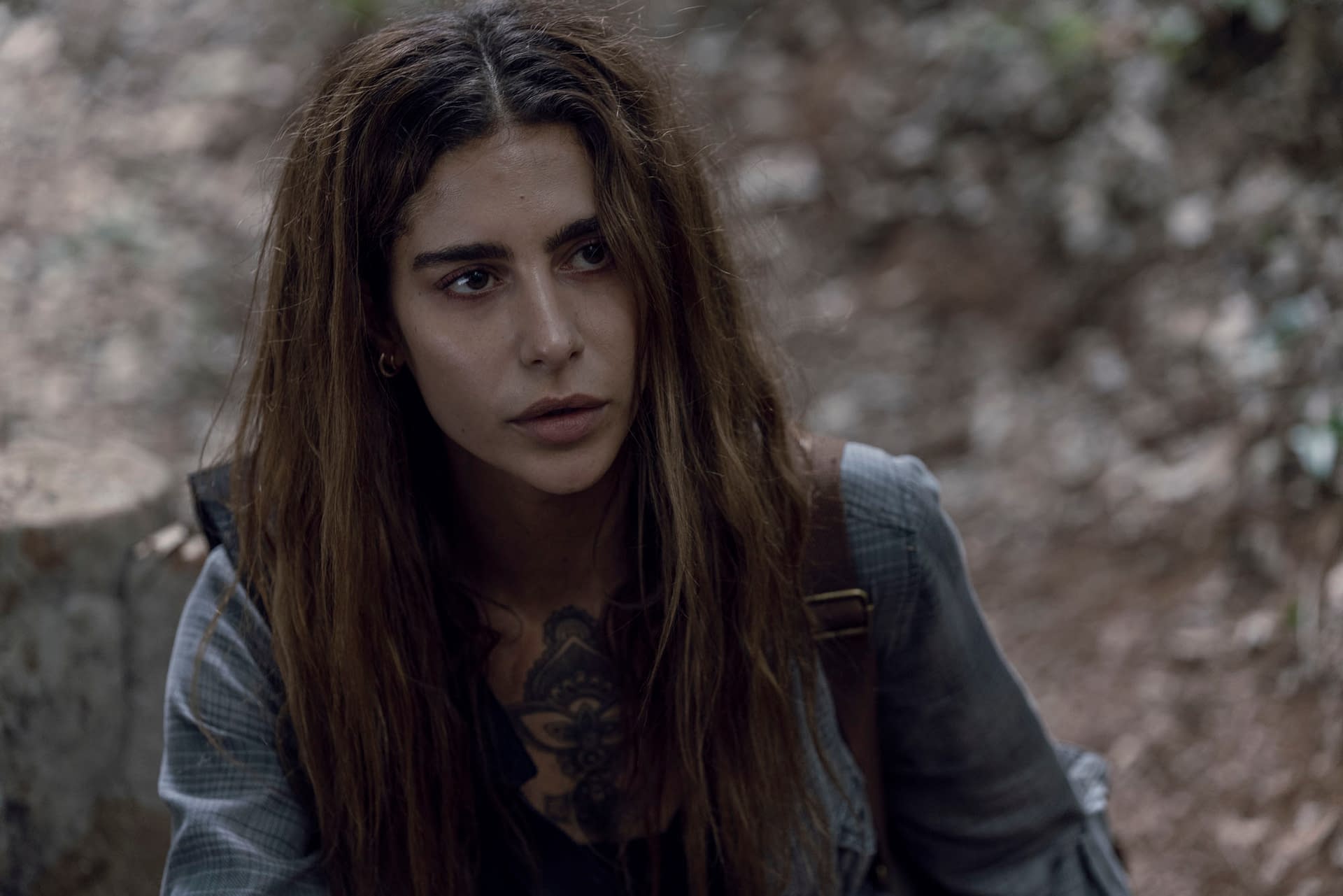 ● Kelly's reactions to her growing hearing loss were especially painful during the episode opener, and her connection to Magna (Nadia Hilker) and the stolen supplies is proving to be a secondary storyline deserving of more attention. Magna and Yumiko's (Eleanor Matsuura) scenes together this season are gving both some great opportunities to connect with viewers – and they're making the most of it.

The Walking Dead is a story that started 10 years ago with one man trying to find his family. That family grew and gradually communities took shape. They fought and survived, thrived and gave birth to a new generation. It is a tale of humankind and there are more stories to tell.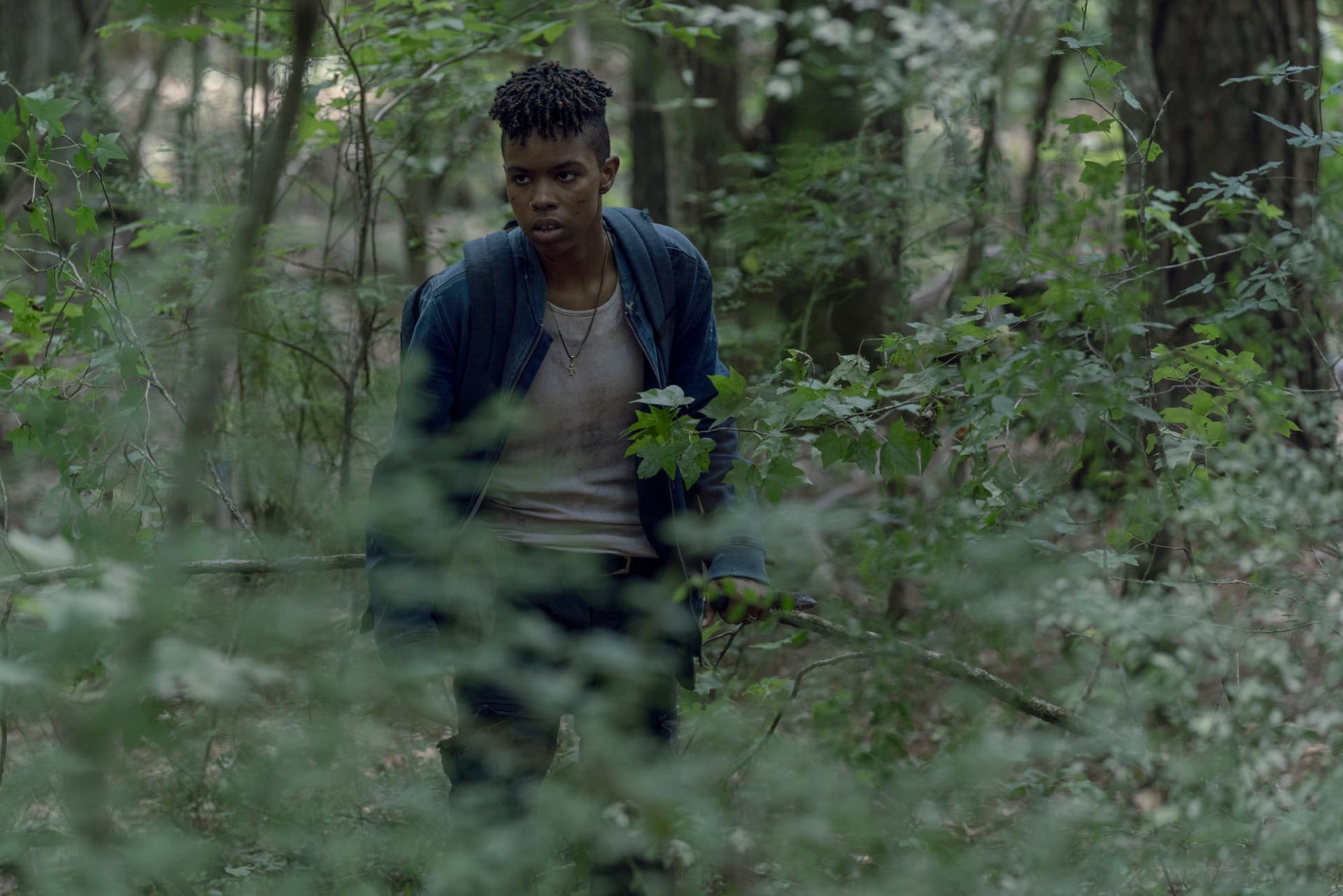 It is now Spring, a few months after the end of Season 9, when our group of survivors dared to cross into Whisperer territory during the harsh winter. The collected communities are still dealing with the after effects of Alpha's horrific display of power, reluctantly respecting the new borderlines being imposed on them, all while organizing themselves into a militia-style fighting force, preparing for a battle that may be unavoidable.
But the Whisperers are a threat unlike any they have ever faced. Backed by a massive horde of the dead it is seemingly a fight they cannot win. The question of what to do and the fear it breeds will infect the communities and give rise to paranoia, propaganda, secret agendas, and infighting that will test them as individuals and as a society. The very idea of whether civilization can survive in a world filled with the dead hangs in the balance.