The Walking Dead Video Remembers Hershel Greene, on Page and Screen
While we await the news from all parts of the Walking Dead universe that's set to head our way as part of this summer's Comic-Con@Home virtual SDCC 2020, the fine folks at Skybound are offering up the next chapter in their "Who Is…?" video series, where each episode profiles a character from the television series and compares them to their comic book counterpart. Previous editions have introduced us to Paola Lazaro's Juanita Sanchez aka Princess, Jeffrey Dean Morgan's Negan, Tom Payne's Jesus, Melissa McBride's Carol, David Morrissey's The Governor aka Philip Blake, Rosita (Christian Serratos), and Tyreese (Chad Coleman). This edition take s a look at the late Scott Wilson's Hershel Greene and his printed page persona, with both men serving to represent a moral compass for our group when it needed it most, and offering hope during desperate times. Tragically, both "Hershels" would also meet their ends at the hands (or more precisely, the sword and gun) of a Governor.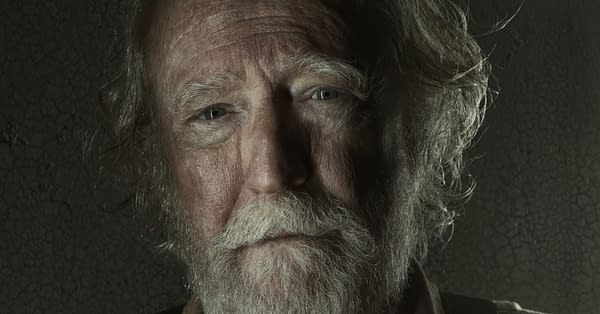 During a 2014 interview with Daily Dead, Wilson was asked how it felt knowing that Hershel's death was still being felt by TWD fans. "I love that Hershel has resonated with the fans the way he has, and that has to do with the writing and the performances around me. He was a very interesting character to play and he evolved into more of the wise old head. I think he saw humanity in most people and he had a willingness to see past flaws and get back to some kind of life that would have more value to it. He's constantly looking at the positive side of things. He looks at the prison and sees the possibility of being self-sustained by growing your own food," explained Wilson.
The late actor continued, "I'll miss working with those actors. They're all so talented, starting with Andrew Lincoln. He's a real inspiration to everyone on the show and not just the cast, but the crew. The crew does so much work in such little time. Action scenes would take several weeks in a movie, but they do it every day."