With the UK government and health agencies moving forward on restarting film and television productions, fans of Netflix's Henry Cavill–Anya Chalotra–Freya Allan-starrer The Witcher are awaiting news on when the wheels of the second season's production will start grinding again. Thankfully, showrunner Lauren Schmidt Hissrich is here to offer up some prime intel on what her team's been working on during the COVID-19 lockdown. First thing viewers should know? Hissrich's a really big fan of the new witchers coming aboard this season (including Kristofer Hivju's Nivellen) and their connection to Geralt's (Cavill) backstory: "Probably my favorite additions for Season 2 are the new witchers. Really, in Season 1, we got to know Geralt and he's our prime example of a witcher. And then there is one other witcher, Remus, who we meet in Episode 103, who quickly dies (laughs). So it was, for us really, about getting Geralt back to his roots and sort of learning where he came from and what his story is and what his sense of family is."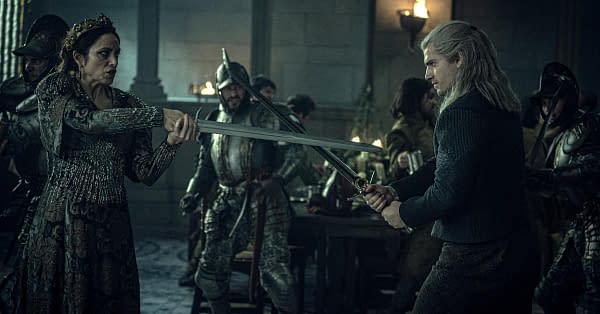 Hissrich continued, "When I talk about 'The Witcher,' I always talk about how these three characters coming together — Geralt, Ciri and Yennefer — they come together as a family. It's the most important part of the series for me," she added. "And when you start to imagine someone's family, you also need to understand their family of origin. Sometimes that's a mother and father, sometimes that's blood relatives. For Geralt, it's his brothers, it's the brotherhood of the witchers. So I'm really excited to get back in and meet Vesemir, his father figure, for the first time and all of these men that he was raised with since he was seven years old."
The first season of The Witcher wasn't without criticism, with some fans taking issue with the use of multiple timelines to cover Geralt, Yennefer (Chalotra), and Ciri's (Allan) respective storylines. While acknowledging that it was "one of the most controversial parts of Season 1," Hissrich stands by the decision while also revealing that the second season will feature everyone on the same page now that we've gotten to know our trio a little better: "What's great though is they have intersected now. So what we'll see in Season 2 is that all of our characters are existing on the same timeline. What that allows us to do storywise though is to play with time in slightly different ways. We get to do flashbacks, we get to do flash-forwards, we get to actually integrate time in a completely different way that we weren't able to do in Season 1. Because, if you can imagine, if we were in three different timelines [in Season 1] and then flashed forward or flashed back, we would have been in four or five or six timelines — even I know that's too much. So I think it will be a lot easier for the audience to follow and understand, especially a new audience coming in. But there are still going to be some fun challenges with time."
With the first season now having brought Geralt and Ciri together, Hissrich says the focus will now be on how the two get to know one another and engage in some give-and-take to develop the proper father-daughter dynamic that works best for all: "What I think is really fun about Geralt and Ciri is they are the most unexpected family you can imagine. You have a witcher whose sole job is to kill things for money and you have a little girl who is trying to escape her past and it's like, how do they come together? And to me, one of the most fun things we get to explore in Season 2 now is how they get to change and shift each other. Coming out of Season 1, you have a pretty good sense of who Ciri is, you have a pretty good sense of who Geralt is. And now we get to throw that all in a blender and see what happens when two people who are completely different have to be forced together in circumstances. And I think it's really fun. It's not always pretty. They will argue. They will fight. It will be two strangers coming together for the first time and being told, "Nope, you're gonna be together forever." I think that their growth together into being a father and daughter is one of my favorite parts of the series."
Netflix's The Witcher season 2 welcomes Kristofer Hivju (Game of Thrones) as Nivellen, Kim Bodnia (Killing Eve) as Vesemir, Yasen Atour (Young Wallender) as Coen, Agnes Bjorn as Vereena, Paul Bullion (Peaky Blinders) as Lambert, Thue Ersted Rasmussen (Fast and Furious 9) as Eskel, Aisha Fabienne Ross (The Danish Girl) as Lydia, and newcomer Mecia Simson as Francesca. Stephen Surjik (Netflix's The Umbrella Academy) has been tapped to direct the season's first two episodes, with Sarah O'Gorman (Cursed) directing the third and fourth episodes, Ed Bazalgette (The Last Kingdom) directing the 5th and 8th episodes, and Geeta Patel (Meet the Patels) will direct the 6th and 7th episodes.
The first season of Netflix's The Witcher also starred MyAnna Buring (Kill List) as Tissaia, Tom Canton (Good Karma Hospital) as Filavandrel, Lilly Cooper (Peterloo) as Murta, Jeremy Crawford (Titans) as Yarpin Zigrin, Eamon Farren (Twin Peaks) as Cahir, Mahesh Jadu (Marco Polo) as Vilgefortz, Terence Maynard (Cursed) as Artorius, Lars Mikkelson (House of Cards) as Stregobor, Mimi Ndiweni (Black Earth Rising) as Fringilla Vigo, Royce Pierreson (Judy) as Istredd, Wilson Radjou-Pujalte (Hunter Street) as Dara, Anna Shaffer (Harry Potter) as Triss Merigold, and Therica Wilson Read (Young Wallender) as Sabrina.
Enjoyed this article? Share it!