'This Is Us' Season 3, Episode 14 "The Graduates" Passes with Flying Colors [SPOILER REVIEW]
Once again, NBC's This Is Us brought the feels in an episode celebrating milestone achievements and facing life's greatest challenges. The week's episode "The Graduates" takes viewers on a bumpy emotional roller coaster. Heartbreaking flashbacks and a breathtaking cliffhanger move us to tears, while Kevin (Justin Hartley) and Randall's (Sterling K. Brown) actions make us want to smack them upside the head. The Pearsons always know how to draw us in, touch our hearts and then leave us a weepy hot mess.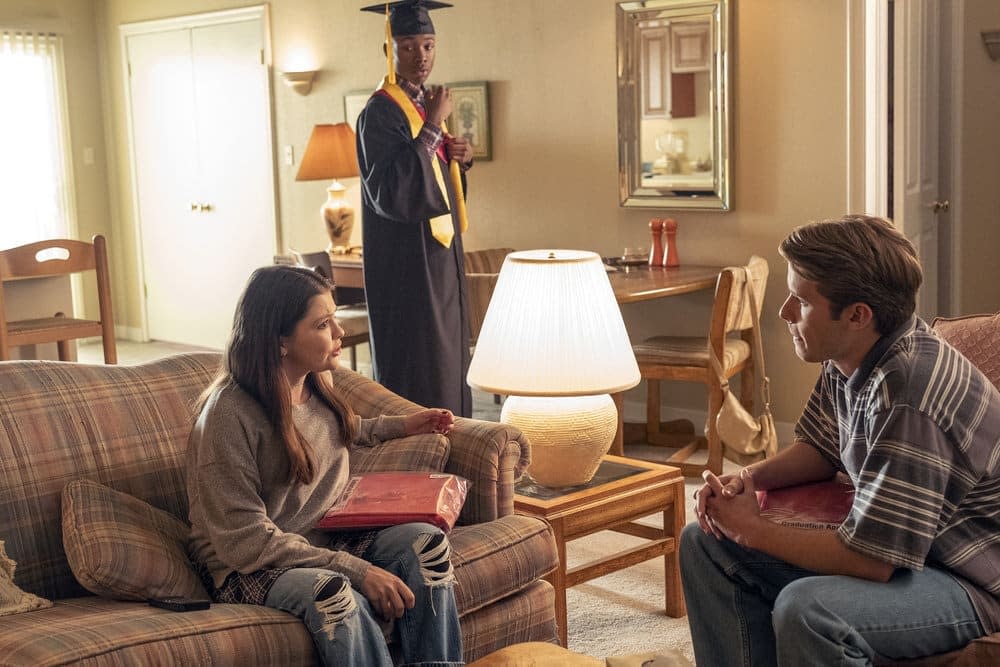 Parallels between the past and present beautifully compliment each other as we see how far Kate (Chrissy Metz) has come. As teenagers, Kevin and Randall look toward the future and are ready to move onto the next stage in their lives. While Rebecca (Mandy Moore) and Kate struggle to let go and accept a life without Jack (Milo Ventimiglia).
This episode delivered extremes. Either we were incredibly moved by the selfless sweetness of a gesture or unexpectedly enraged with certain self-indulgent actions or requests. It is time to take a closer look and have a chat with members of the Pearson family.
Rebecca
The Pearson matriarch is a warrior. She keeps Jack's spirit alive and tries filling the void he left behind, no matter how impossible it is. He would've bought a new camcorder, so she's shopping for one. Little did she expect to receive condolences and be hit on in one overwhelming encounter. Dude, are you for real?!? It is taking every fiber of her being not to cry in the store.
It's guys like this that make Miguel (Jon Huertas) stand-out even more. He is taking care of the family, just as Jack asked him to. Miguel respectfully helps Rebecca through this painful time in their lives. Holding the camera, offering friendly words of comfort and taking her to a grief support group…Each Miguel flashback shows us why Rebecca married him. No one can replace Jack, but Miguel is doing right by them.
Kate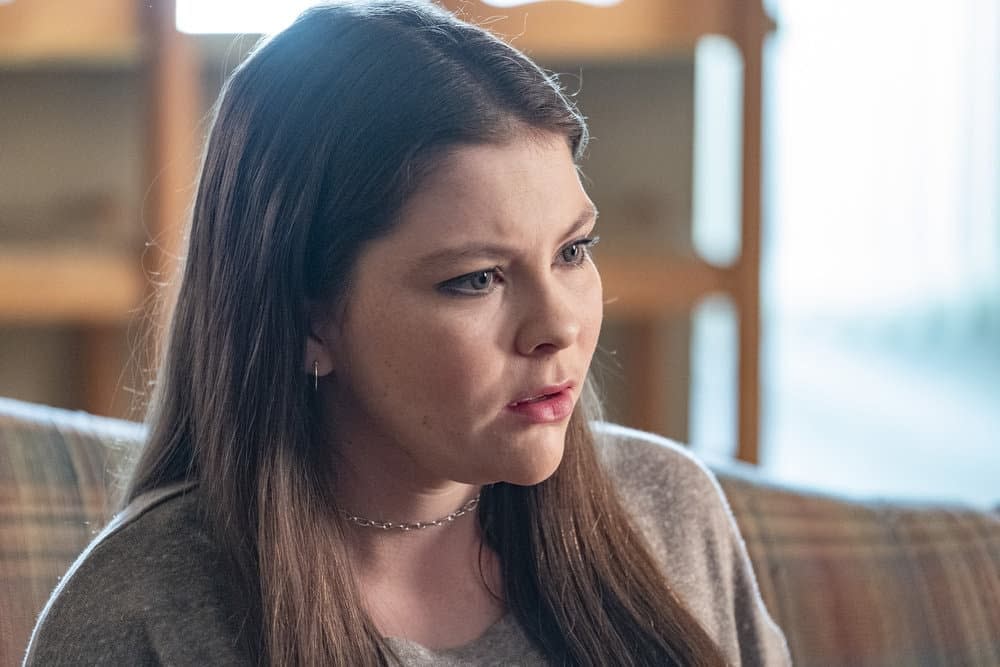 Rebecca has a wonderful moment with Kate at the graduation ceremony Toby (Chris Sullivan) adorably throws for her. Rebecca is beaming with pride and relates to Kate on a new level.
The boys were ready to move on with life before they were. Rebecca and Kate needed to do things on their own time. Sure, this graduation is 15 years in the making, but it is still right on time for Kate. The same goes for her baby. This is Kate's time to shine.
This is one of my favorite mother-daughter scenes of the series. It is truer now more than ever. Women are held to a different standard than men when it comes to the passage of time. Some people act like life is over for women of a certain age because they are past their prime for this or for that.
The women of This Is Us break the mold and prove that it is never too late to fulfill your destiny, follow your heart and chase your dreams – all while being there for the people you love.
Randall
Oh no he didn't. Randall was all aces until this moment. He stood up for Deja (Lyric Ross) and made her teacher cry in he impassioned speech about respecting a student's privacy. Preach, Randall! Then he rushes to Kate's bedside the second he hears about her hospitalization.
But this scene with Beth (Susan Kelechi Watson) is what we are going to dwell on. Randall, what are you thinking? Has he already forgotten the time he spent in the doghouse for putting public service over his family? Now he's raining on Beth's parade after she came home from the best first day ever. Her priceless expression says it all.
Honestly, I'm shocked. I thought Randall's chat about putting their family first was going to end with him resigning. Instead, he tells Beth to hold off on teaching dance. This gives that ominous flash forward scene some new context. We hoped it wasn't foreshadowing their break-up but now we can understand why Beth and Randall's marriage might fall apart.
I don't know how Randall can fix this. He's so loving and supportive, but he basically said his dream is more important than Beth's. He didn't even propose a compromise so they can both spend more time at home with their children. Ugh!
Randall and Beth are supposed to set and exceed #RelationshipGoals as Rebecca and Jack did. Looks like Jack and Randall have a hard time with their wives pursuing their artistic dreams. Jack was able to fix it, but I don't know if Randall will manage to follow suit. Is this the beginning of the end? I sure hope not!
Kevin
Randall isn't the only Pearson on a spouse's shhhh list. It takes a lot to push Toby over the edge. He planned this perfect and beautiful ceremony for Kate. He understands and respects the profound twin bond she shares with Kevin. But when that special connection put his wife's life at risk, we see a whole different side to Toby. He is Team Kate all the way – no matter what – and we love him for it.
Kevin's week-long booze binge, complete with ridiculous excuses (he made one good movie and now has impromptu urgent meetings with Steven Spielberg – Come on, son!) comes to a screeching halt when Kate's twinsy senses start tingling. He makes a sweet toast at her party and then bails after the sound of a martini shaker sets him off. While everyone celebrates Kate's achievements, she's worried about Kevin.
In true Jack form, Kate shows up for Kevin. She provides comfort without chastizing his relapse, offers sage advise – he really should tell Zoe (Melanie Liburd) – and immediately takes him to a meeting. We're feeling a bit of Miguel deja vu in there too. Just when we start feeling hopeful, Kate goes into very early labor.
Kevin is too drunk to drive Kate to the hospital, so they have to wait for an ambulance. Time is precious, especially in situations like these. It is not typically Toby's style, but we don't blame him for glaring at Kevin in the middle of this crisis. It's not Kevin's fault, but he didn't really help Kate's emergency either.
However, at the end of the day, despite all the mess-ups, hurt feelings, misunderstandings, and what-have-yous, the Pearsons show up for each other.
"The Big Three"
This sequence sums it all up. Kevin, Kate, and Randall will always share this unbreakable bond. No matter how hard life gets, how far apart they might live and whatever kind of life changes they're in the middle of, these three will be there for one another – always.
I must admit, Randall and Kevin make it hard to stay mad at them in moments like this. Hopefully, we can all stop crying before next week's episode, when this emotional roller coaster resumes.
Sigh…Who am I kidding? We're all going to be a hot mess until we know Kate and her baby are safe.
The promo for next week's episode has me in tears already! Be sure to have multiple boxes of Kleenex on hand for this one…
https://youtu.be/GUG8wnJIa9o
This Is Us airs Tuesdays at 9 pm ET on NBC.