'This Is Us' Season 3, Episode 18 "Her": Bittersweet Finale Teases Painful Season 4 Challenges [SPOILER REVIEW]
NBC's This Is Us' bittersweet finale "Her" offered some relief while hinting at the painful challenges the Pearsons will face in the future. Make-ups, break-ups, and shake-ups usher us into next season while still leaving us wanting more. We have so many questions, concerns, and a few theories as we bid farewell to a rocky season and look forward to a past, present and future full of uncertainty.
R & B Gets Their Groove Back
Ha! Like we ever really doubted the power of Randall (Sterling K. Brown) and Beth's (Susan Kelechi Watson) love. They exemplify #RelationshipGoals for a reason. I especially love the epiphany they individually experience.
Deja (Lyric Ross) takes a page out of Randall's playbook and delivers a meaningful speech outside one of her former foster homes. She's right – Randall won the lottery with the Pearsons and with Beth. Similarly, Beth gains new perspective when she sees her pupils' pettiness. Is this job worth screwing up her marriage? Nope. So she finds a better way to realize her dream.
Beth also follows Randall's lead and pulls off an epic romantic gesture. They compromise by downsizing and moving to Philly where he can still be a city councilman and she can open her own dance studio. The girls are making sacrifices too and I have a feeling next season will reveal how much changes in their lives.
We're doing a happy dance now that Randall and Beth are working as a team again.
Zoe and Kevin Call It Quits
Kevin (Justin Hartley) chooses Zoe (Melanie Liburd) over having children, then he spends most of the season finale trying to convince her that they'd be great parents. He loves Zoe, but he clearly wants to be a dad. She knows motherhood is not in the cards for her. It is better to break-up now because prolonging the inevitable will only cause more pain in the future.
Speaking of which – the flash-forward confirms that Kevin fulfills his dream of being a father. We don't know who the Baby Mama is, but that kid is the spitting image of young Kevin. It will be fun to see how his journey to fatherhood plays out. By the looks of his home, he seems to have done well for himself.
"Her"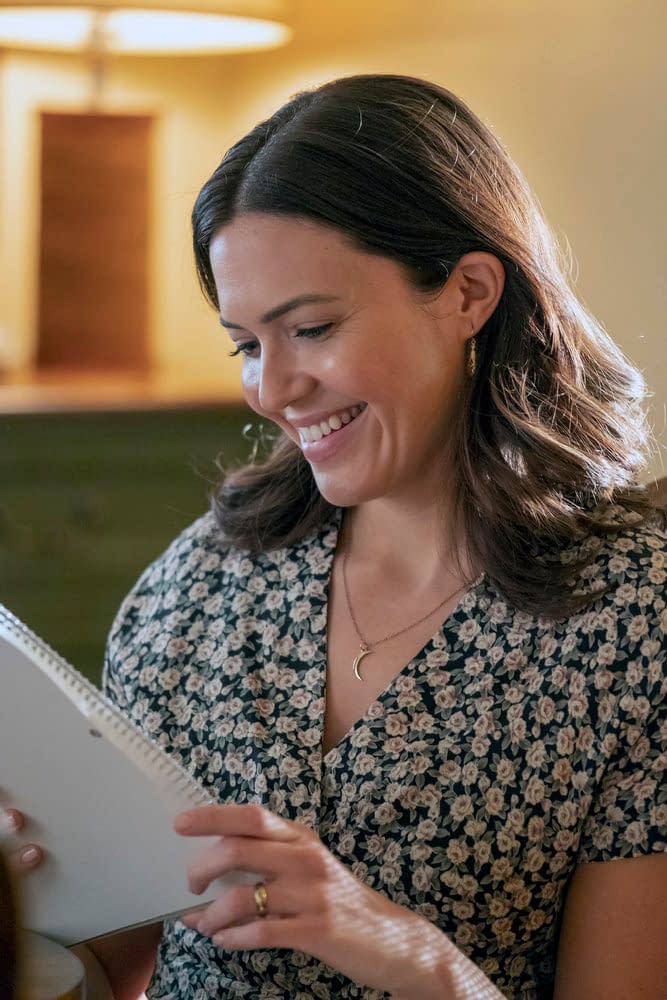 We finally get a payoff on all of those future teasers…sort of. Flashbacks of Rebecca's (Mandy Moore) hospitalization car accident (and possible brain damage) foreshadow her confused and bedridden condition in the future.
In the past, the Pearson clan can't make through it one night without Rebecca – she is the engine, the rock, the heart, and the soul of this family. Which is why they march over to the hospital and insist on staying by her side. Until this very day, we see how she always shows up for her family – offering support, guidance, and inspiration.
Kate (Chrissy Metz) lashes out at her for interrupting with annoying questions and stepping all over her new mama territory. Then Kate apologizes and explains how Rebecca set the bar so high for motherhood and wifery (?). However much we praise Jack (Milo Ventimiglia) we know that Rebecca is his equal, if not more. She made him a better man and she's always wanted what's best for their children.
Fast forward to an enigmatic Pearson family gathering. Beth, Randall, adult Tess, Toby (Chris Sullivan), and Kevin's son await the arrival of Kate and Jack and Kevin's return. Of course, we're wondering what's up with the missing faces – but we'll get there in a moment. We are too rattled by the head-scratcher unraveling before us when we watch middle-aged Randall identifying himself to her. Uncle Nicky (Griffin Dunne) sits beside her bed and she bewilderingly gazes at her beloved Mama's Boy.
What the hell just happened?!? I'd say we can turn to This Is Us creator and showrunner, Dan Fogelman, for answers, but he remains extremely elusive in his interview with The Hollywood Reporter. Fans are right to assume Rebecca has Alzheimer's or dementia, but he won't confirm that is the case. He frustratingly teases,
It doesn't mean it's necessarily accurate. But it does mean that it's not an unexpected read. We are prepared for people to maybe think that.
What is that supposed to mean?!? Does Rebecca suddenly have amnesia? Did she suffer a brain aneurysm decades after her car accident? Is she able to recognize Nicky but not Randall? Also, why is Nicky there and where is Miguel (Jon Huertas)? Fogelman remains mum about Miguel's whereabouts, but assures us that we'll learn more about Nicky's journey to her bedside in Season 4:
At the end of episode we get a lot of answers to things that people have really cared about, whether it be Randall and Beth, Kevin and Zoe, etc. Obviously, by the allusion from Toby, Jack is OK. There's other things that ask some questions at the end. One of them is how Nicky got to be at Rebecca's bedside. Honestly, that's a part of where we're going.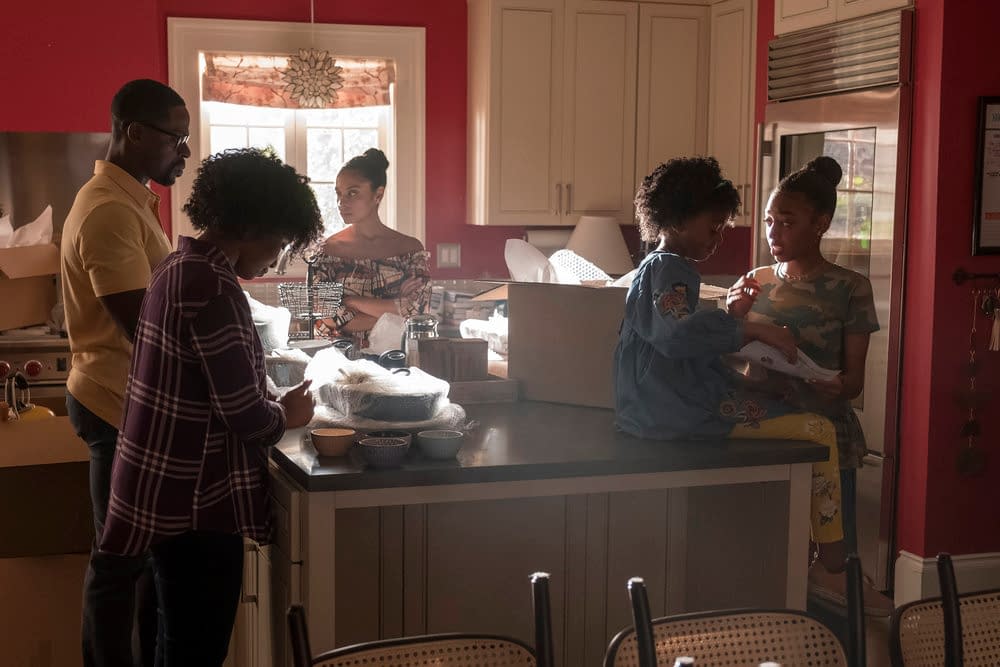 We figured Nicky would surface again, but I wasn't sure how long he would stick around. Maybe he doesn't show up until we see him by her bedside or maybe the two become friends and find comfort in feeling Jack's presence through their interactions. We'll just have to wait and see.
The good news is that Fogelman believes we're in the middle of the story, so we should still have a few more seasons with the Pearsons. The choice of using this tricky three-timelined narrative structure keeps us on edge. Every answer comes with a new set of questions and introduces us to new characters.
Honestly, I feel mostly relieved at the end of this season. There are some surprises – delightful and disappointing. I don't like the thought of Toby and Kate separating, but it is great to know Baby Jack is around in the future. I also don't believe that everything is always as it seems, so there's still a chance they'll be together.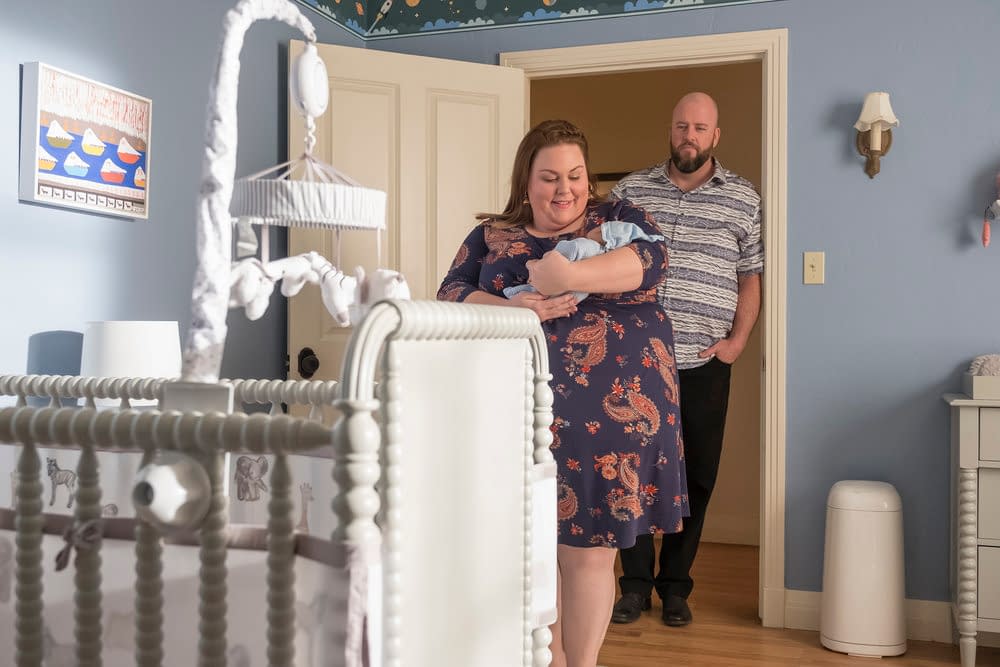 Given the heavy emphasis on Kevin's baby fever, it is fitting to see him with a kid in the future. Although having a kid doesn't change his classically Kevin quirks. I also love the juxtaposition of Kevin crashing at everyone else's home all the time and finally having the family over to his own place in the future – even if he doesn't stock his home with food.
Then there's Rebecca – the fire that keeps the Pearson's burning seems to be fizzling. Not to be harsh, but the "Her" twist is not as thrilling or mind-blowing as expected. Rebecca is pretty old at that point and she could be hazy for a variety of reasons. We've experienced heartbreaking losses on this show before and we know that death does not mean the end of a character. Whatever happens in the future, Rebecca still has a long and fulfilling life to live with her family. So I'm not going to sweat it, at least, not for now.
What will be tough to watch is seeing how the family reacts to whatever crisis comes their way. Bring on the laugh, tears, and heartache…we are so ready for next season!
NBC's This Is Us returns with Season 4 this Fall.