Believe It is a radio sitcom written and performed by Richard Wilson, best known in the UK for the lead in the decade-running BBC sitcom One Foot In the Grave. Ostensibly meant to be an accurate 'radiography' of his life, it has warped into a very strange narrative-led sitcom with Richard Wilson and his celebrity pals in and around medialand, dealing with fame, work and the lack of it. The second episode of the fourth series had Sir Ian McKellan guest-starring as Wilson tried to set up his own radio station as a way to become accidentally rich, but the first episode about Wilson's attempt to celebrate his Scottishness a bit more went very Doctor Who with three actors who have played the role, going to Scottish pubs with David Tennant and Peter Capaldi and then being read the weather in Scottish by Arabella Weir, all playing themselves.
And yes, Arabella Weir counts. The first proper female Doctor Who, she starred as the character in the Big Finish alternate universe audio drama Exile. And played the miner Billis in The Doctor, The Widow And The Wardrobe. Oh and David Tennant is godfather to her youngest child. So there.
Anyway, for purists, you've still got Capaldi and Tennant playing off each other, with questions as to why Tennant turned down the Scottishness when he took the part. Weir and Tennant have turned up in previous episodes of the show but not with Capaldi as well…
Richard Wilson also appeared in Doctor Who as Doctor Constantine in The Empty Child and The Doctor Dances while Sir Ian McKellan played the voice of The Great Intelligence in The Snowmen.
The episode in question is available to listen to worldwide on the BBC Radio iPlayer for the next three weeks. If you can Believe It that is…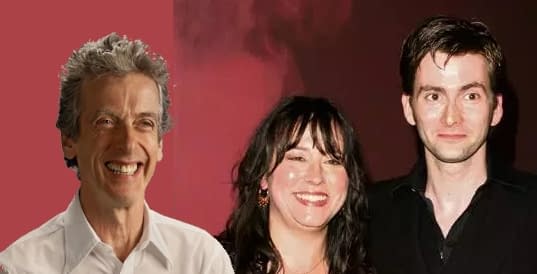 Enjoyed this article? Share it!