Over-'Time': Bleeding Cool's Timeless 'The Miracle of Christmas' Live-Blog!
Bleeding Cool's resident Clockblocker/Timeless expert Tiffany Tchobanian and TV Editor Ray Flook welcome you to our bicoastal live-blogging lovefest that's we humbly call…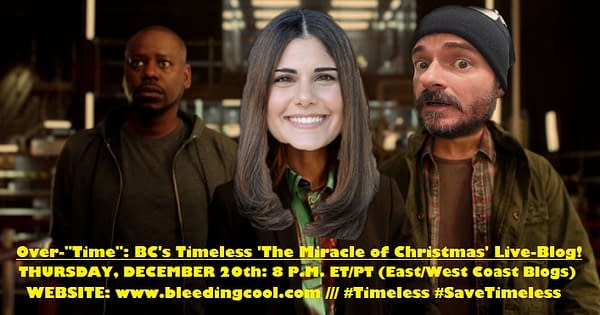 So before we jump into the Lifeboat Dukes of Hazzard-style to #SaveRufus and fix history, a couple of things to keep in mind before you join us for our live-blog of Timeless' 'The Miracle of Christmas':
● This page should update…but just to be on the safe side I strongly suggest you refresh every now and then to make sure because I've been known to ramble often and quickly.
● If you're going to social media to talk about what we're talking about, go with: #Timeless and #SaveTimeless
● While you're waiting (or if you just need a breather from our raw, uncut cult-of-personality), check out some Timeless extras below.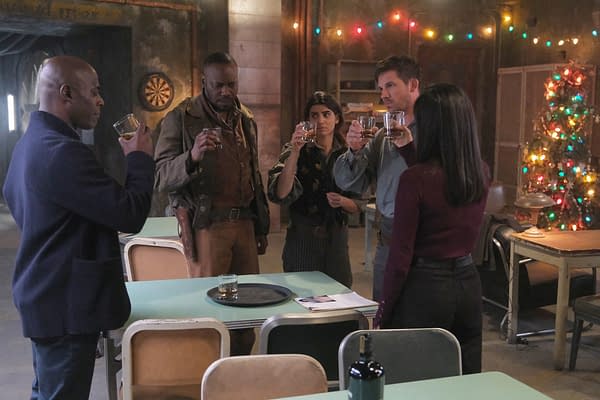 https://youtu.be/Uit1h0V9c-Y
Timeless 'The Miracle of Christmas Part I/Part II': As Christmas arrives in the Bunker, the Time Team is inspired by a visit from their future selves to find a way to try to save Rufus. But when the Mothership jumps to 1848 California, they're forced to put those plans on hold and chase Rittenhouse back to the Gold Rush, where they encounter one of the era's most dangerous villains. Then chasing the Mothership to Korea in the winter of 1950, our team helps a stranded, pregnant refugee attempt to escape a tragic fate. Stuck with no way out, our team faces its toughest challenge yet and, in the process, come to terms with their feelings for each other.

The cast includes Abigail Spencer, Matt Lanter, Malcolm Barrett, Goran Višnjić, Paterson Joseph, Sakina Jaffrey and Claudia Doumit.

Shawn Ryan and Eric Kripke are the creators, writers and executive producers. Arika Lisanne Mittman is the showrunner and executive producer. John Showalter directs and executive produces. John Davis, John Fox and Marney Hochman also executive produce.

Timeless is a production of Sony Pictures Television, Davis Entertainment, MiddKid Productions and Kripke Enterprises.
Here's a look at NBC's official promos for the series finale's "episodes":
https://youtu.be/NcN6hNSehWg
https://youtu.be/MdGOmB_Jj98
Time to travel back in time a little bit with a look at some of our past Timeless coverage:
Timeless 'The Miracle of Christmas' Is The Present Clockblockers Deserve (SPOILER-FREE REVIEW)
Timeless Series Finale: A Clockblocker's Guide to 'Timely' Season 1 Toasts
Timeless 'The Miracle of Christmas': A Clockblocker's Guide to 'Timely' Toasts (Season 2)