Timeless Series Finale: A Clockblocker's Guide to 'Timely' Season 1 Toasts
Clockblockers happily worked night and day on this #TimelessDrunkHistory cocktail menu over the past year – something to help fans take the edge off while campaigning to save their favorite show – with Timeless re-watches (aimed at encouraging the show's renewal) inspiring Clockblockers to concoct thematic cocktails for each episode. By the time season 2 rolled around, we were ready to pre-game and party through every new episode.

In celebration of this week's series finale "The Miracle of Christmas," I reached out for help in creating…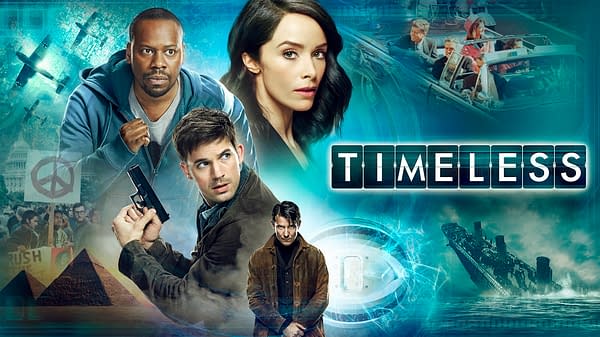 The Ultimate Timeless Cocktail Menu!
Here's a look at some fine recipes, straight from the tweets of thirsty Clockblockers around the world.
Cheers, Timeless!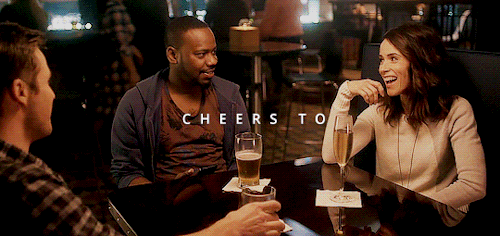 Season 1
Episode 1: "Pilot"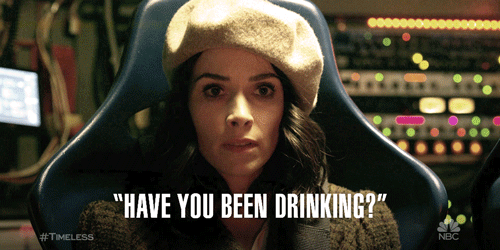 The series kicks-off big with the Hindenburg explosion in WWI.
So, just gonna drop this here. Our "official" drink for the premiere, if you want to/can join us is the French 75, created in Paris during WWI.
2 oz champagne
2 dashes simple syrup
.5 oz lemon juice
1 oz gin
Enjoy! #Timeless #TimelessDrunkHistory #RenewTimeless

— GeekGirl19 (@highlandgirl65) March 8, 2018
Episode 2: "The Assassination of Abraham Lincoln"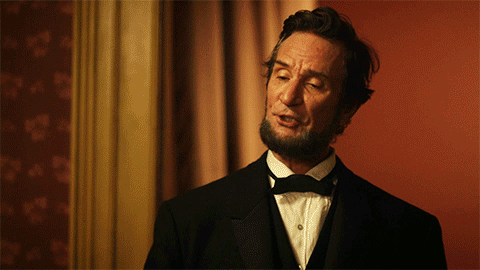 While some Clockblockers enjoy jazzing up their cocktails, others are purists…
Lincoln: Bourbon

— kinsesu (@kinsesu) December 15, 2018
To elaborate, here is "Honest Abe's" cocktail according to A History of Drinking. Adapted from Pacific Wine & Spirit Review San Francisco, November 30, 1900 as retold in a posting by Butterfly Absinthe:
1 1/2 oz Bourbon

3 dashes simple syrup
2 dashes orange bitters

1 dash absinthe

seltzer or club soda
Stir with ice and strain into a rocks glass. Top with club soda.
Episode 3: "Atomic City"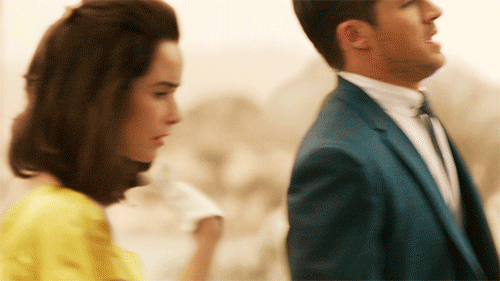 This episode gave us a tiny glimpse of "The Rat Pack," but our main concern was Rittenhouse's plot to make history go *BOOM* in 1962!
Atomic City: White Russians were big at this time,
Vodka
Kahlua
Heavy Cream

— S.S. Garcy: Offical Cruise Line of Sao Gorlo 🛳🏝 (@SSGarcy) December 16, 2018
There is a wine called "boom boom!" I almost bought it for my timeless party.

— ImagineDragoons (@Nluva4eva04) December 16, 2018
Episode 4: "Party at Castle Varlar"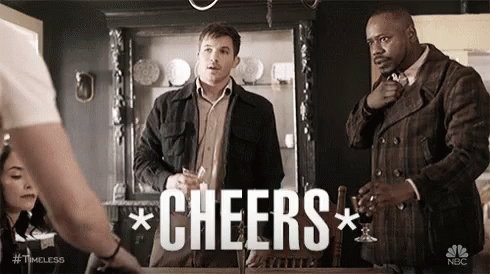 Ian Flemming (Sean Maguire) hits on Lucy! James Bond inspires us to sip a stylish martini – shaken, not stirred.
🍸3 oz Chopin vodka (straight from the freezer)
🍸 1/2 oz dry vermouth
🍸 Ice Cubes
🍸 Three large green olives

Shake, strain and serve straight up….while you watch "Party at Castle Varlar". #Timeless #SaveTimeless#FlemingIanFleming #TimelessDrunkHistory

— Alicia 🎬🎞️🎥 (@silentmoviegirl) December 14, 2018
Episode 5: "The Alamo"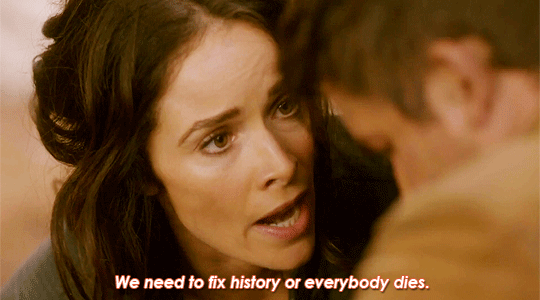 The Time Team hangs with Davey Crockett when they get caught up in battle during the Alamo. Whether they fix a drink or history, we can count on the team.
We need for TEQUILA on this list!

Sip a Paloma with The Alamo b/c Paloma is the Spanish word for dove, and some peace is what the Texans & #Clockblockers need after that episode.

Over ice, mix
2oz tequila
1/2 oz lime juice
Top off with grapefruit soda#TimelessDrunkHistory pic.twitter.com/0PPhU8TLOU

— Janelle Ureta (@schoolsoutlaw) December 15, 2018
For The Alamo we had Corona & pulled pork sliders (apparently pork was king in that region at the time🐖) #Timeless #TimeIessDrunkHistory pic.twitter.com/YqpN86GTiZ

— Emily Care 🏳️‍🌈 – #CloseTheCamps #AbolishICE (@emilycare) December 14, 2018
Episode 6: "The Watergate Tape"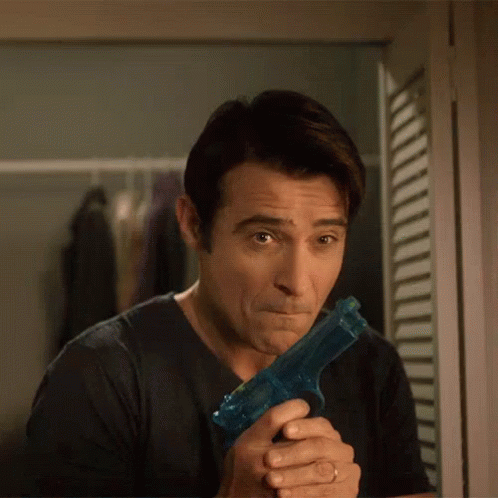 "The Silencer" martini inspired by Flynn's recounting of his family's murder in The Watergate Tape:

3 parts gin
1 part vodka
a splash of scotch whisky
1/2 oz simple syrup
shake and serve with lemon twist garnish#TimeIessDrunkHistory #Timeless #SaveTimeless

— Renew Timeless 😎🚁 (@RenewTimeless) December 14, 2018
For a real history-inspired cocktail, why not try the "Watergate Sunset"?
10ml strawberry syrup

100ml pineapple juice

100ml orange juice

25ml Malibu

25ml White Rum
Episode 7: "Stranded"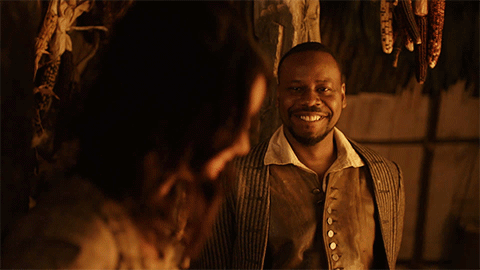 You don't really have many options when stranded in 1754.
And for Stranded I found a Wild Berry Sangria recipe:
1 bottle blueberry wine
1/2 cup limoncello
1/2 cup simple syrup
1/2 cup mixed berries
2 cups fizzie soda#Timeless#TimeIessDrunkHistory pic.twitter.com/Cy1puG41Y0

— Emily Care 🏳️‍🌈 – #CloseTheCamps #AbolishICE (@emilycare) December 14, 2018
Episode 8: "Space Race"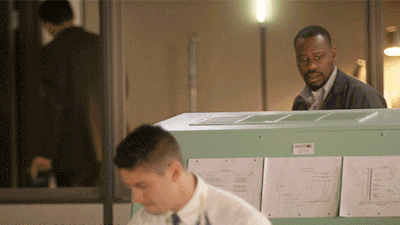 As the team follows Flynn to NASA in the 1960s, see if these cocktails make you feel like you're walking on the moon.
Space inspired drinks https://t.co/Mtyk7MxL5S

— ᴶᵘˡᵉˢ ᴼᶠ ᴰᵉⁿⁱˡᵉ ♥ sé gentil con mi corazón ♥ (@HmmphThis) December 16, 2018
Maybe use Space Food Sticks to stir with? #Timeless #SaveTimeless pic.twitter.com/qaK6z4XRKN

— TimeStorm (@TimeTravelStorm) December 16, 2018
Of course, there's always Tang…
Episode 9: "Last Ride of Bonnie & Clyde"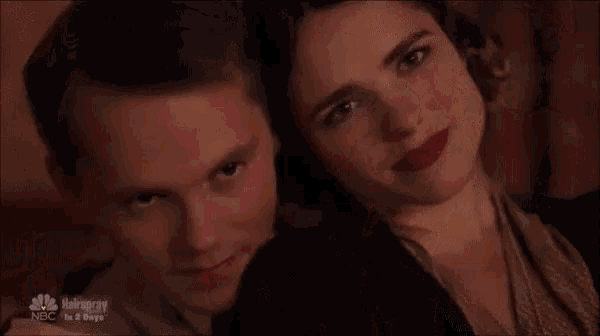 When you roll with this notorious duo, you need an extra kick.
Moonshine
Fireball
Episode 10: "The Capture of Benedict Arnold"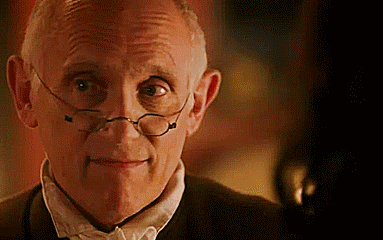 Here's a drink for Benedict Arnold, Stone Fence.
2 oz dark rum
1 dash Angostura bitters
5 oz apple cider
Garnish: fresh mint, lemon peel, or freshly grated nutmeg 🍹#Timeless #TimelessDrunkHistory

— GeekGirl19 (@highlandgirl65) March 11, 2018
Episode 11: "The World's Columbian Exposition"
Lucy, Rufus, and Wyatt meet some interesting people at the 1893 Chicago World's Fair. Some of them even inspired cocktails…like "The Houdini":
2 oz Bols Genever

1 oz Cocchi Americano

1 oz Benedictine
According to The Washington Street Journal, Teddy Roosevelt loved mint juleps "T.R's Libelous Mint Julep":
4 oz rye whiskey
14 oz brandy
fresh mint
1 sugar cube
sliced pineapple, sliced banana, orange and cherries
Gently muddle a few leaves of mint with the sugar and a good splash of water in the bottom of a glass (or silver Julep cup, if you have one). Add brandy and whiskey and then fill the cup to the rim with pulverized ice. Stir until the outside of the glass is thick with frost. Pile the top of the drink high with mint and fruit. Bully!
Pabst Blue Ribbon Beer
Episode 12: "The Murder of Jesse James"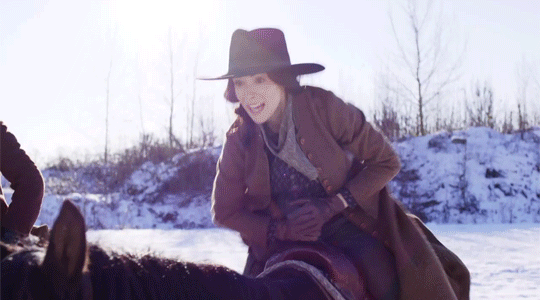 "Wild Wild West":
1.5 oz Jack

1 oz Peach Schnapps

2 oz Cranberry Juice
Episode 13: "Karma Chameleon"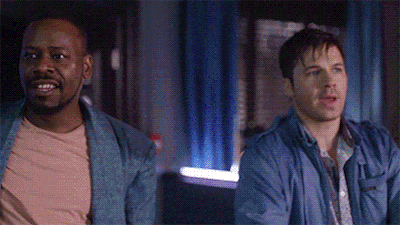 Wyatt is on a rogue mission to prevent his wife's murder, but we're shower Rufus with love for being a solid wingman.
In honor of Rufus:
Banana Daiquiris
Consider our #HeroInAHoodie who likes Chocodiles (#Timeless) & whisky (#Bender). For those interested in #TimelessDrunkHistory, I present a martini that combines Chocolate & Whisky. Cheers!

Sunny's Chocolate Whisky Martini https://t.co/ox0EEnLKdc@malcolmbarrett @thesincitylp

— Alicia 🎬🎞️🎥 (@silentmoviegirl) December 14, 2018
Episode 14: "The Lost Generation"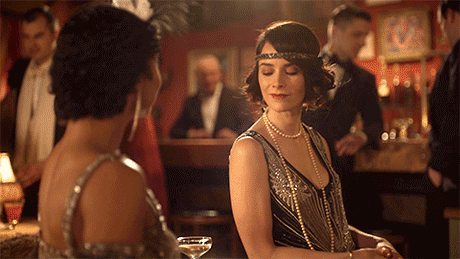 Rufus and Hemingway got a little bit tipsy in The Lost Generation. The Hemingway Daiquiri (frozen) was created for the writer in the 1920's by the owner of one of his favorite bars in Cuba. #SaveTimeless #Timeless 🚁🚁⏰🎥❤️🍸

— Gini Carvajal🕰 (@Mignonne6) December 14, 2018
@UcncallmeJules provides the recipe from and story from Wine Enthusiast:
Hemingway Daiquiri Ingredients
2 ounces white rum
¾ ounce lime juice
½ ounce Maraschino liqueur
½ ounce ruby red grapefruit juice (freshly squeezed, if possible)
Lime wedge (for garnish)
Hemingway Daiquiri Directions
Combine all ingredients in a cocktail shaker filled with ice. Shake until well chilled. Double-strain into a coup glass. Garnish with lime wedge.
Bonus Drink: Hemingway called "Death in the Afternoon" from the same site:
"Pour one jigger absinthe into a Champagne glass. Add iced Champagne until it attains the proper opalescent milkiness. Drink three to five of these slowly."
Episode 15: "Public Enemy No. 1"
The Time Team encounters Eliott Ness and takes on Al Capone in this awesome episode.
"The Goodfella":
1 oz dark rum

1⁄2 oz Cynar

1⁄2 oz Averna

1⁄2 oz Espresso syrup

2 ds Peychaud's Bitters
"Penni's Amazing Cosmo" (courtesy of @Pellington21 )
2 oz Raspberry Smirnoff/Vodka or Cran-Raspberry/Cran-Cherry Juice

Lime juice (You could also add Ginger Ale)

Garnish with lime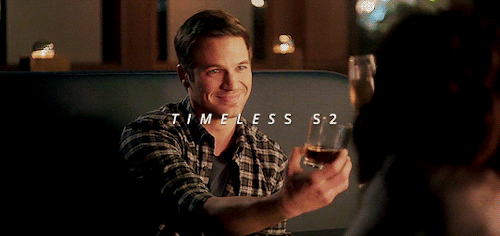 Stay tuned for a list of Timeless Season 2 cocktail recipes – and don't forget (as if you could?) "The Miracle of Christmas" airing Thursday, December 20, at 8 p.m. ET on NBC.