Timeless 'The Miracle of Christmas' Is The Present Clockblockers Deserve (SPOILER-FREE REVIEW)
I'm going to preface this spoiler-free advance review with a confession. I always cry over series finales. I still refuse to call NBC's Timeless "The Miracle of Christmas" a "series finale" because it leaves us with hope for more. The tears I shed are not ones of loss, but those of happiness. As promised, the Timeless writers have crafted a beautiful tribute capturing everything that made us fall in love with this remarkable show and its captivating characters. They've also penned a love letter to the extraordinary fans who will never stop fighting for more.
Wow, I'm actually starting to tear-up again while typing this…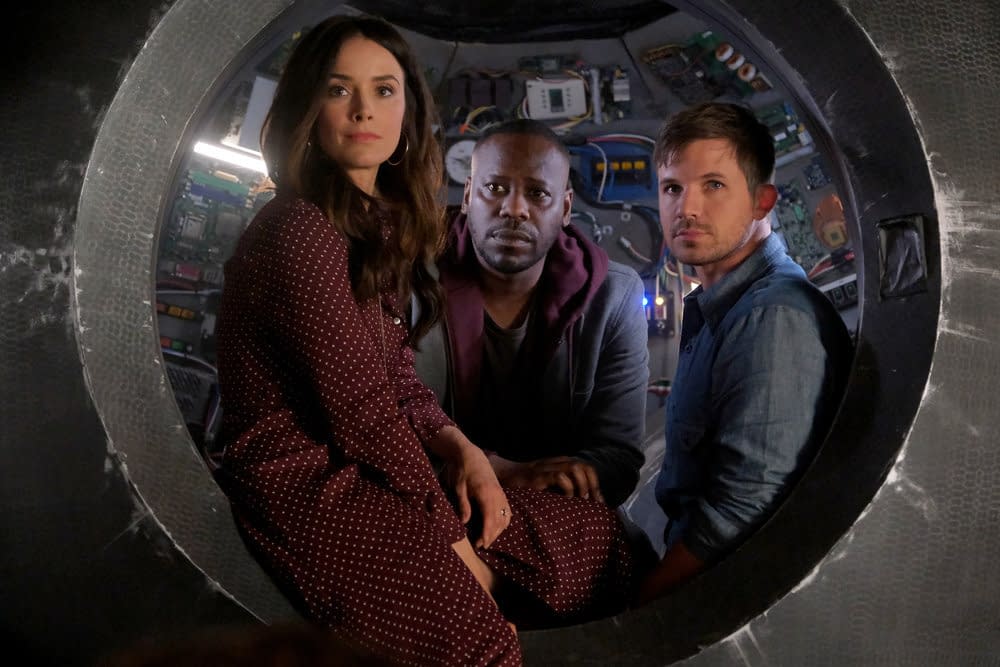 The movie kicks off with a sublime recap, giving fans a refresher and bringing newbies up to speed. They even include a number of the must-see moments we mentioned earlier. Yes, you can watch the movie even if you haven't seen all or any of the episodes: if anything, this movie will easily covert casual viewers into instant fans. Even if you don't get all of the delightfully nuanced shout-outs that clearly and wonderfully pander to Clockbockers everywhere, you'll still be able to laugh and sigh along with us.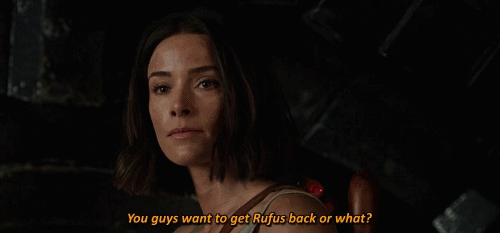 It is no secret that the narrative picks-up exactly where we left off in "Chinatown": Future Lucy and Wyatt have come with a message for their younger selves. The Time Team has work to do and saving Rufus is paramount to stopping Rittenhouse. Fair warning – it is cool they can travel back to their own timelines, but it does come with consequences.
https://www.youtube.com/watch?v=NcN6hNSehWg
Although saving Rufus is the team's top priority, they still have a job to do – so when the Mothership jumps to 1848 Coloma, California, the team follows. Get ready for some good old wild, wild *west* times when the team bumps into the historical outlaw who inspired the legend of [Spoiler]. We didn't expect the writers to hold back on us now, and these trips to the past are sensational and surprising.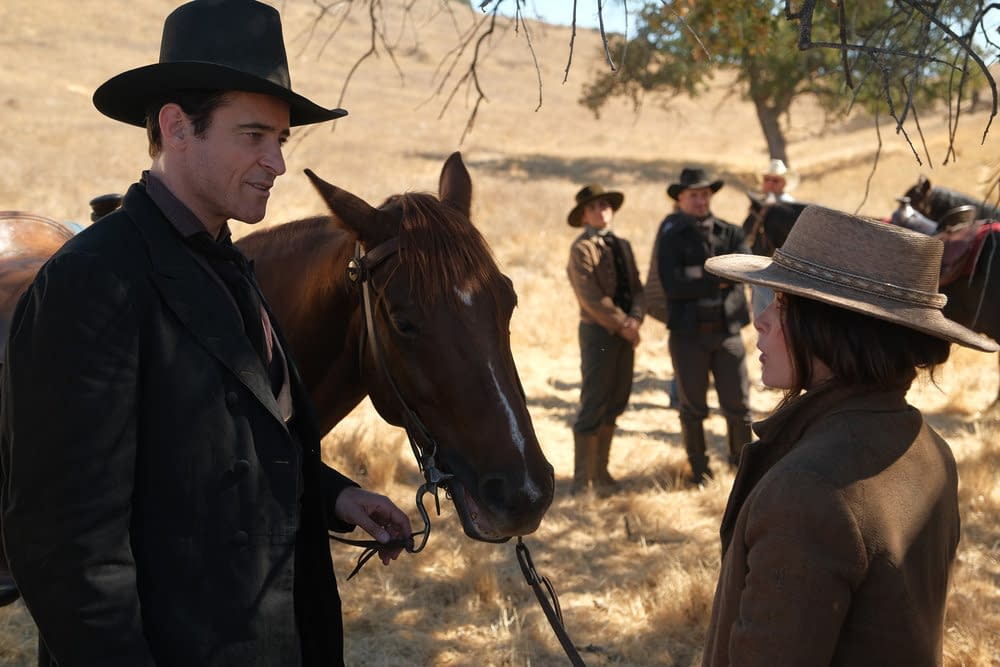 Luckily, we don't have to wait too long for Rufus' resurrection. As the trailer reveals, he makes quite an entrance – even better when seen in the context of the movie. For a fantasy series, all of the relationships and reactions are handled with a great deal of realism. Nothing is taken for granted, deeply honest conversations take place, and hope always remains.
https://www.youtube.com/watch?v=MdGOmB_Jj98
Brace yourselves for all the pay-offs you could hope for. All characters and their numerous relationships are addressed. Heart-to-hearts, apologies, confrontations, confessions, revelations – there truly is something for everyone. Safe to say most moments will slap a sappy smile on your glowing faces.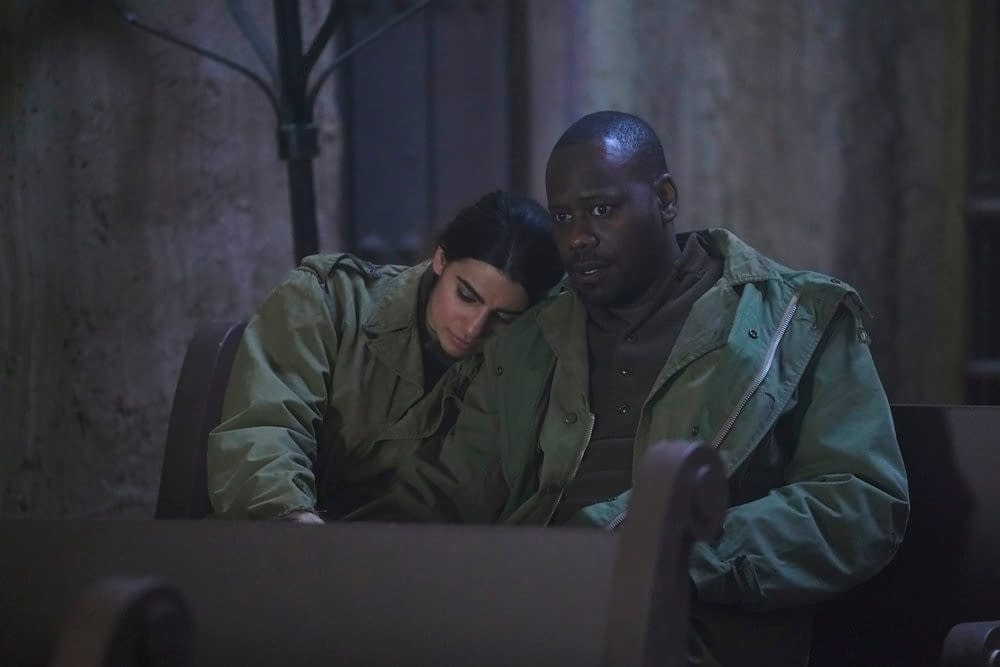 What I love most is how all characters stay true to themselves. They've grown so much and have become stronger together as a team. They are bonafide heroes, all in their own right. As for the villains, they continue pushing their warped agenda and the Time Team valiantly strives to stop them at every turn – no matter what it takes, no matter the cost.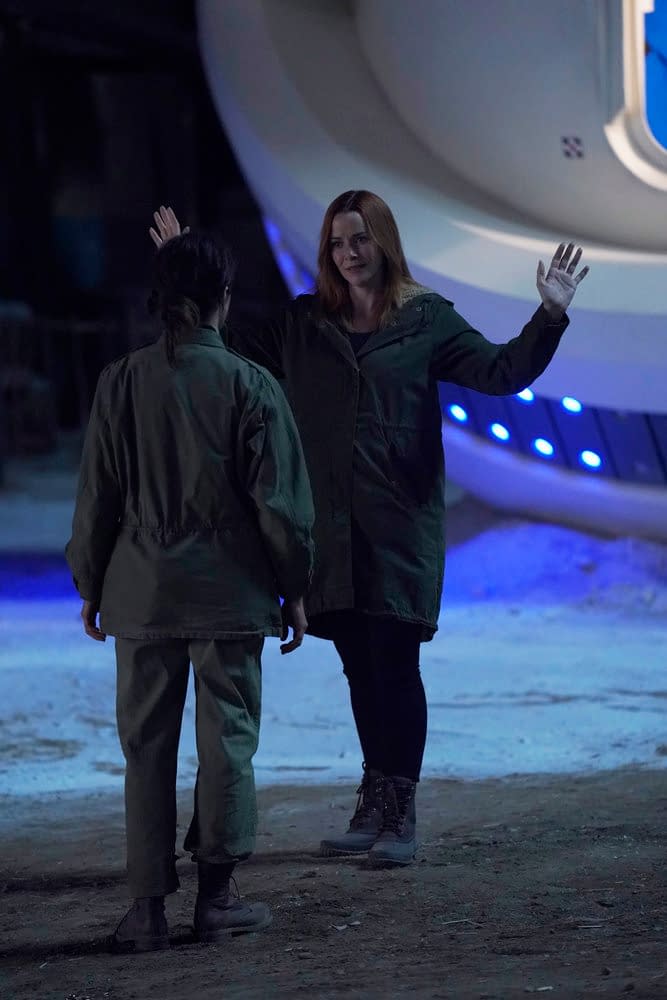 Timeless' epic journey takes us from the past, into the present, and then flings us into the future. Everything comes full circle and it is all incredibly satisfying. Lauren Greer and Arika Lisanne Mittman penned the perfect combination of closure and hope. We know exactly where everyone stands, and yet… we are left with a mystery – one that strongly indicates that more time travel adventures may await our beloved Time Team.
I watch a ton television, and over the years I've tearfully bid farewell to several shows I cherish. Timeless's "series finale" "The Miracle of Christmas" is a gift I will always hold dear to my heart because it was so clearly made with love – the joy felt by all involved is palpable.
But let me be clear: this is not a send-off – it is a celebration! So we wipe away the tears, raise our glasses, and toast a job well done!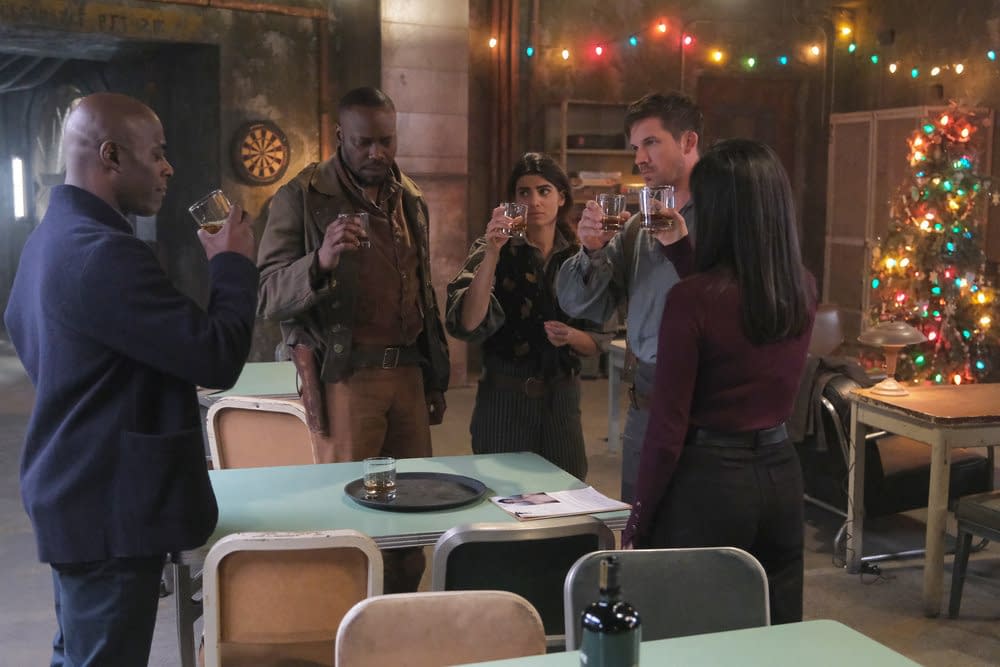 So let me leave you with an optimistic line from none other than Rufus: "I'm not really sure 'dead' is a forever thing with us" – and if these past two seasons have taught us – never, ever count out Timeless. Anything is possible when it comes to this brilliant show, these engaging characters, and their adoring fans.
Timeless transcended TV and brought people together. The inclusive, eye-opening, and empowering messages behind so many illuminating episodes united fans around the world. So many friendships (virtual and otherwise) have been made because of Timeless, so whathatever fate the "TV Gods" have in store for our show, we will always share a special connection as Clockblockers. You know how much I love live-tweeting with my fellow Clockblockers. This time, I'm kicking it up a notch and live blogging for Bleeding Cool alongside TV Editor Ray Flook: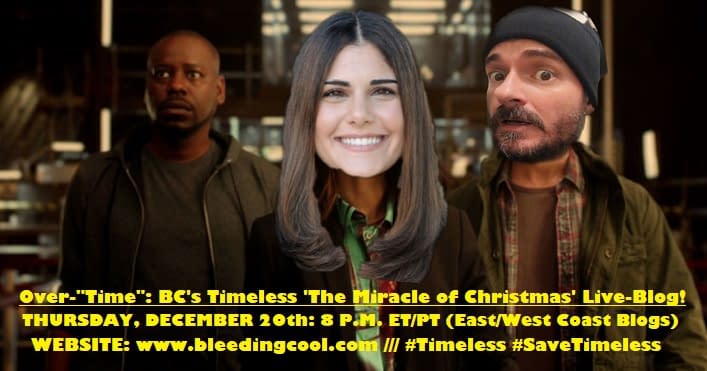 So, who wants to be Rufus and join in on the shenanigans? We're sticking with #Timeless #SaveTimeless to keep everything trending strong. Just hit the website listed above to get to our live-blog site – we might even feature your tweets during the show!
https://youtu.be/Uit1h0V9c-Y
Timeless 'The Miracle of Christmas Part I/Part II': As Christmas arrives in the Bunker, the Time Team is inspired by a visit from their future selves to find a way to try to save Rufus. But when the Mothership jumps to 1848 California, they're forced to put those plans on hold and chase Rittenhouse back to the Gold Rush, where they encounter one of the era's most dangerous villains. Then chasing the Mothership to Korea in the winter of 1950, our team helps a stranded, pregnant refugee attempt to escape a tragic fate. Stuck with no way out, our team faces its toughest challenge yet and, in the process, come to terms with their feelings for each other.

The cast includes Abigail Spencer, Matt Lanter, Malcolm Barrett, Goran Višnjić, Paterson Joseph, Sakina Jaffrey and Claudia Doumit.

Shawn Ryan and Eric Kripke are the creators, writers and executive producers. Arika Lisanne Mittman is the showrunner and executive producer. John Showalter directs and executive produces. John Davis, John Fox and Marney Hochman also executive produce.

Timeless is a production of Sony Pictures Television, Davis Entertainment, MiddKid Productions and Kripke Enterprises.