Trailer for Season 2 of NatGeo's 'MARS' Debuted at SDCC
Season 2 of the NatGeo original series MARS got an official trailer during the show's San Diego Comic-Con (SDCC) panel in the Indigo Ballroom during the 2018 convention.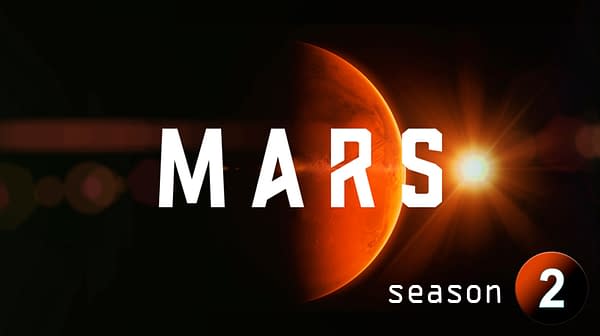 MARS is based on the 2015 book How We'll Live on Mars by Stephen Petranek and blends drama with real-life interviews from experts across various areas to explain events unfolding in the story. If you haven't seen the first season of the show (and you really should), some of the basics:
It's the year 2033. A crew of six astronauts launch from Florida on a journey to be the first people to set foot on Mars. During the descent into the Martian atmosphere, there is a malfunction with their spacecraft, the Daedalus. They land 75.3 kilometres away from their planned habitat, and their progress is being monitored back home on Earth.
The panel was moderated by Jennifer Kite-Powell and included Dr. Stephen Petranek (award-winning author of How We'll Live on Mars), Andy Weir (bestselling author of The Martian), Susan Wise Bauer (author of the History of the World series), former NASA astronaut and author Leland Melvin, cast members JiHae (Mortal Engines) and Jeff Hephner (Chicago Med, Code Black), and series showrunner and executive producer Dee Johnson.
Keep an eye out for our interviews from the pressroom!