Transformers fans now know when the new War for Cybertron Trilogy: Siege will hit Netflix. A new trailer debuted this afternoon and announced that we can watch the show starting July 30th. The show has been highly anticipated in the fandom since the surprise announcement at New York Toy Fair a couple of years ago. The first trailer proved epic, while today's was more of an action tease that included the date announcement. This is the first of a planned trilogy, just like the current line of Transformers toys from Hasbro. Catch the date announcement trailer for the new CGI animated series down below.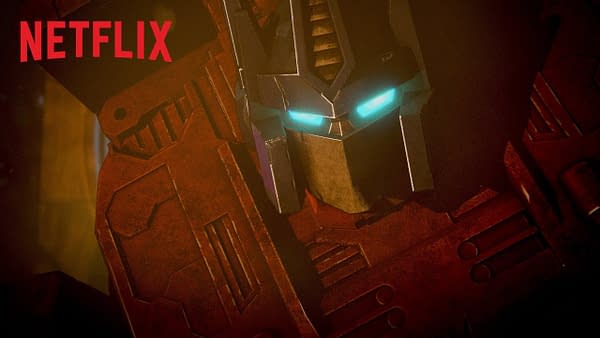 The fight worth fighting. Transformers War for Cybertron: Siege streams July 30th pic.twitter.com/dUqDfU2Amk

— NX (@NXOnNetflix) June 22, 2020
Transformers Fans Cannot Wait For This One
Transformers: War for Cybertron Trilogy: Siege begins in the final hours of the devastating civil war between the Autobots and Decepticons. The war that has torn apart their home planet of Cybertron is at a tipping point. Two leaders, Optimus Prime and Megatron, both want to save their world and unify their people, but only on their own terms. In an attempt to end the conflict, Megatron is forced to consider using the Allspark, the source of all life and power on Cybertron, to "reformat" the Autobots, thus "unifying" Cybertron. Outnumbered, outgunned, and under SIEGE, the battle-weary Autobots orchestrate a desperate series of counterstrikes on a mission that, if everything somehow goes right, will end with an unthinkable choice: kill their planet in order to save it.
Rooster Teeth (RWBY, gen:LOCK) is set to produce the original series for Netflix, with Polygon Pictures (Godzilla, Knights of Sidonia) serving as the animation studio. Transformers veteran F.J. DeSanto (Transformers: Titans Return, Transformers: Power of the Primes) will serve as showrunner, with several contributing writers, including George Krstic (Megas XLR), Gavin Hignight (Transformers: Cyberverse), and Brandon Easton (Agent Carter, Transformers: Rescue Bots). Get ready for a great ride and to roll out with Transfromers: War For Cybertron- Siege when it hits Netflix on July 30th.
Enjoyed this article? Share it!