'Ultraman' Series from Japan Possibly Coming to Your TV!
Following closely on the news that Netflix is producing an animated Ultraman series for 2019 comes the announcement that Starlight Runner Entertainment will be developing fresh Ultraman projects for Japan's Tsuburaya Productions.
The goal is for Starlight Runner Entertainment to bring the Ultraman mythos to new audiences outside of Japan:
"Ultraman is one of my greatest childhood heroes. We're honored to be embarking on this mission to bring this family of characters back to the world stage,"
That's Starlight Runner CEO Jeff Gomez, who has worked with major media entities to deliver spinoffs for Men in Black, Pirates of the Caribbean, Teenage Mutant Ninja Turtles, and HALO franchises. Stralight Runner will develop digital media projects for Ultraman, possibly including a digital streaming service for the long-running live action series.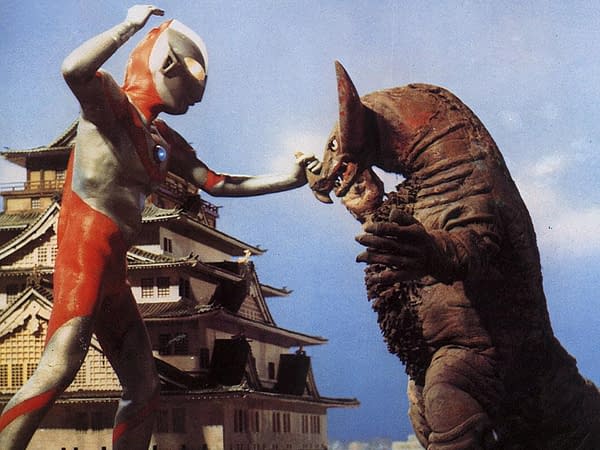 Originally broadcast in 1966, Ultraman is the story of a high-tech police force, the Science Patrol, that battles extra-terristrial monsters and invaders with the aid of a gigantic silver and red super-hero, Ultraman. No one on the force knows that Ultraman is secretly fellow Science Patrol officer Hayata, who can transform into the giant alien warrior. Ultraman was originally developed to offset the cost of props, sets, and costumes from the Godzilla movies, since the television show could re-use the expensive sets with very little alteration. The series was a hit right from the start, and has spawned countless sequels, toys, and imitators. Ultraman is still an exceptionally lucrative property, generating over $50 million in revenue annually.
The new arrangement between Starlight Runner and Tsuburaya Productions will be assisted by The Licensing Group to bring the Ultraman reboot to multiple media platforms, including story-driven licensing and merchandise.
Seeing multiple Ultraman projects in development is exciting, which one are you looking forward to the most? Sound off in the comments section below!