Viggo Mortensen's Advice for Whomever Plays Young Aragorn
When Strider speaks, you listen- or at least when Viggo Mortensen offers his advice on playing Aragorn for whomever gets the gig on Amazon's Lord of the Rings series.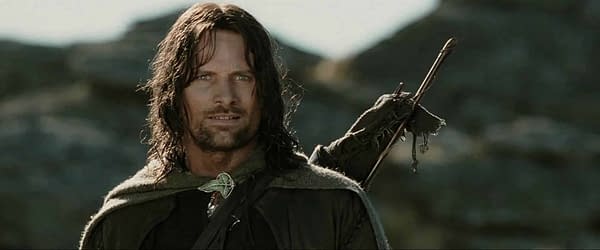 In a recent interview with our friends over at Collider, Mortensen shared some words of Middle Earth wisdom that hopefully will find its way to the actor Amazon places in the role of Aragorn son of Arathorn.
"I would say, not only read the book, you know, very thoroughly, that giant book of Lord of the Rings, but you could read some of the Nordic sagas. You'll get some clues there as to where Tolkien got his information. Like, Sigurd the Dragon Slayer, and the Volsunga saga. Read that.
Pretty solid advice, really, considering how much ancient saga inspiration you can see for the exile king within J. R. R. Tolkien's hefty tomes.
He continued, saying:
"Lord of the Rings was a case where I replaced an actor and they were already filming – not only filming, but they'd been rehearsing for months and learning all these skills they had to have for those movies – language skills, invented the Elvish, and swordplay, and horse riding, all this stuff.

And I was kind of freaked out because I said yeah and I'm on the plane, on this 13 hour plane flight, and I'm looking at the book, which I had never read.

But as I started looking at it, I was like, 'Well, there's something.' There's always something that you can draw on. I had read or been read to as a kid, stories about Vikings and Nordic sagas and stuff, and there was something there that was familiar, but it was still – you know, fortunately when I started doing that shoot it was physical stuff, not dialogue.

So it was like sword fighting, so I could get my feet wet with that before I actually had to start speaking. It's not ideal, but it seemed – my son was really into me doing it, and he was 11 at the time, and that kind of pushed me over the edge to say, 'Yeah, okay.' And obviously I'm glad I did it. It opened a lot of doors for me, and we had a lot of fun making those three movies. But it's not ideal. I sometimes have said no because I'm not gonna be able to do justice to it."
If you need to buff up on your King Elessar Telcontar lore ahead of Amazon's series, we highly suggest this piece. And, watching the first trilogy of Peter Jackson's LoTR saga (extended, of course).
We'll let you know when we hear anything new about the Amazon series.