The Walking Dead Season 9, Episode 8 'Evolution': The Whisperers Get Loud in Creepy, Quality Cliffhanger (REVIEW)
Welcome to Bleeding Cool's weekly review of AMC's The Walking Dead, as we take a look at the eighth episode – and midseason finale – of the game-changing ninth season of the long-running drama-horror series, 'Evolution'.
The Hilltop and Alexandria communities continue to thrive, evolving into a society that Rick (Andrew Lincoln), Daryl (Norman Reedus), Maggie (Lauren Cohan), Michonne (Danai Gurira), and Carol (Melissa McBride) fought so hard – and sacrificed so much – to achieve. But much changed since the day Rick "died": scars literal and symbolic from past tragedies divide the communities now.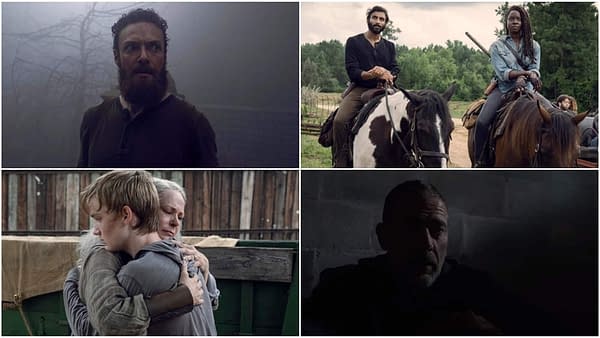 With the next generation of Grimes stepping up – Judith (Cailey Fleming) – the community begins reaching further out for survivors. But as the community welcomes a new group of survivors (Nadia Hilker's Magna, Angel Theory's Kelly, Lauren Ridloff's Connie, Eleanor Matsura's Yumiko, and Dan Fogler's Luke) within their walls, Gabriel (Seth Gilliam), Rosita (Christian Serratos), and Eugene's (Josh McDermitt) attempts to reach out to more surivivors could prove their downfall – as the whispers get louder…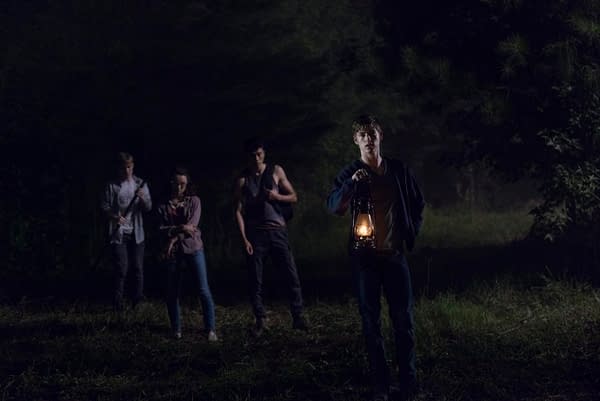 In this week's midseason finale of AMC's The Walking Dead 'Evolution,' Michonne, Siddiq (Avi Nash), and DJ (Matt Mangum) escort Magna's group of survivors to their new home at Hilltop – and we get some clues as to what happened to divide the communities before Rosita issues a warning. Meanwhile, Gabriel and Negan (Jeffrey Dean Morgan) have a conversation…while viewers are treated to a creepy return-to-form for the series as it heads into the holidays with hope, heartbreak – and a vision of the horrors still to come.
Spoiler Warning: I'll be covering some themes and takeaways involving major and minor plot points from the episode, so just keep that in mind. Definitely not looking for pitchforks and torches outside my apartment.
The Walking Dead Season 9, Episode 8 'Evolution': A small rescue mission braves a dangerous herd in their hunt for a missing comrade, only to discover a surprising threat that could doom them all.

In the following scene from 'Evolution,' Jesus (Tom Payne) fights off a herd – but one walker isn't like the others…
The cast and creators of The Walking Dead discuss the tension surrounding Michonne's return to Hilltop, and the survivors' shocking introduction to the Whisperers: