When it came to life in the Disney+ streaming service world, the end of 2020 was looking pretty good for Marvel Studios. August would bring The Falcon and the Winter Solider, with Anthony Mackie and Sebastian Stan resuming their Marvel Cinematic Universe roles; followed by Elizabeth Olsen and Paul Bettany doing the same in December with six-episode series WandaVision (with Tom Hiddleston's Loki right around the corner in early 2021). Even better, the latter would be getting a huge boost from Olsen's Wanda Maximoff aka Scarlet Witch serving as a bridge to the upcoming Marvel film, Doctor Strange and the Multiverse of Madness. Then the COVID-19 pandemic hit hard in March and threw everything into the blender when it came to productions and timelines.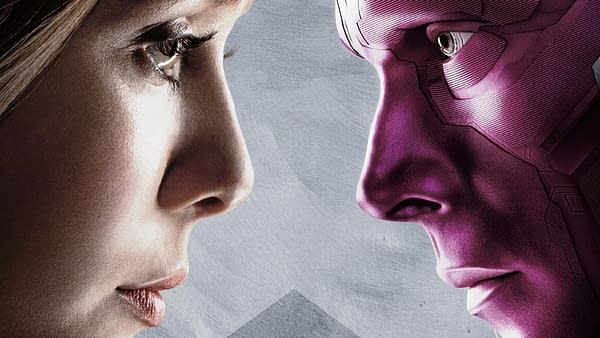 We found out that Falcon still needed a few weeks more to finish things up, which would naturally have fans arching a brow about that August 2020 target. Will we get a 50/50 split, with the first batch of episodes still set for the end of the summer and the remaining sometime later? The same kind of questions can be leveled at WandaVision, which we were also under the impression had wrapped. Turns out there's still some work to do, at least according to what we're reading on the Tampa Bay Comic Convention's Facebook page. In the post below, the event team posted that Bettany aka Vision will not be available for the July 10-12 convention because he's being "called back by Disney for WandaVision filming in July, in Los Angeles." With the governors of California and New York considering task force recommendations that could have television and film productions starting back as early as July, this seems more than plausible. But will that give Marvel enough time to make a December debut? Here's a look at the post:
With Black Widow screenwriter Jac Schaeffer serving as showrunner, WandaVision also stars Kat Dennings as Darcy Lewis, Teyonah Parris as adult-aged Monica Rambeau, Randall Park as Agent Jimmy Woo, and Kathryn Hahn in an unknown role. Directed by Kari Skogland, The Falcon and the Winter Soldier also stars Emily VanCamp (SHIELD agent Sharon Carter), Daniel Bruhl (Baron Zemo), Wyatt Russell (John Walker aka US Agent), Desmond Chiam (Now Apocalypse), and Miki Ishikawa (The Terror: Infamy). Noah Mills (The Enemy Within, The Brave) and Carl Lumbly (Supergirl, Alias) were recently cast in undisclosed roles.
Enjoyed this article? Share it!