"Warrior": Shannon Lee Talks Honoring, Protecting Bruce Lee's Legacy
Despite being in charge of her father Bruce Lee's estate, it is often difficult for his daughter Shannon Lee to control how his legacy is honored given how Hollywood reveres him, but at least she can show his true vision in Cinemax's action drama Warrior.
Renewed for a second season, Lee, who serves as an executive producer, opened up about how Bruce's television dream finally became reality 50 years later.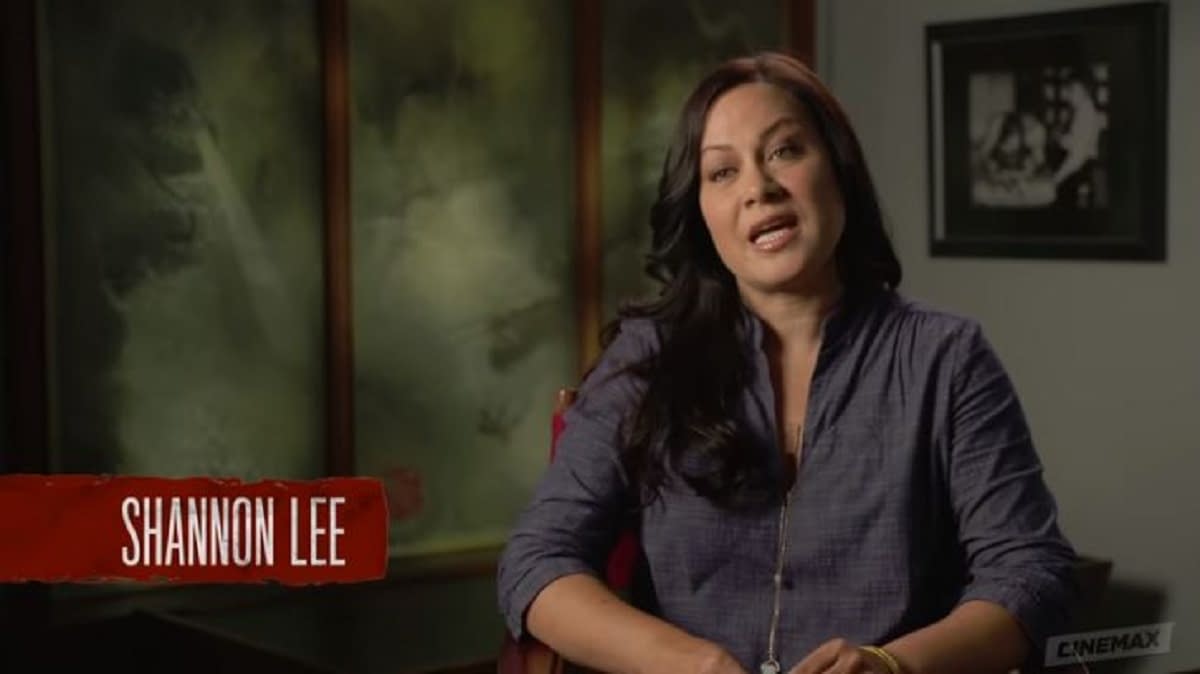 "Technically, if we're really starting from the beginning, the journey began 50 years ago with him. I'd always heard the story that he had created this and pitched it, but I guess I didn't know for sure that the actual pages existed."
Lee sifted through several boxes of her father's notes and writings, finally finding the treatment she needed in 2001 and spending the next 10 years sorting the project out:
"Had we just had the treatment, we wouldn't really have been able to see as much of his process, what he was really thinking, what was important to him and what scenes he was trying to work through. I was still in a process of going through everything. There was a lot I was trying to get my arms around. I was ending an acting career, stepping into a new one and not in a position to also step into trying to be a producer."
Director Justin Lin (Finishing the Game: The Search for a New Bruce Lee) contacted her about pitching the idea for the series.
"He asked me if I had any desire to make series and I told him I would love nothing more than to make this," she said. He responded: "If you would want to, we should make this — and not just make it. But really make it the way your father intended it to be made and with the intent behind it."
Warrior is set in San Francisco during the Tong Wars of Chinatown in the latter 19th century and follows Ah Sahm (Andrew Koji), a martial arts prodigy who emigrates from China under mysterious circumstances rising up the ranks for one of Chinatown's most powerful organized crime familes.
Lee stressed how important fair representation of Asians was so recruiting Asian writers was essential and contributed to the long process of finding a showrunner:
"Jonathan Tropper, who is the head writer and the showrunner and executive producer, is not Asian. But we did meet with other Asian writers, and there were Asian writers in the writers' room when we filled it out. One of the reasons that Jonathan was such a great collaborator on this was because, first of all, he has a deep martial arts background. He has a black belt himself. He's a huge fan of Bruce Lee, knows all the movies and all that fun stuff. We wanted to try and find an Asian showrunner and for the timing of it and where we were and what was available at the time, that was not the fit that came about. But we needed to have that support throughout the show in every possible aspect of it — and it's a show that also has to take in the entirety of the world."
With Lee and Lin at the helm, she also wanted the show to be driven by female characters and build on their strengths:
"I wanted to make sure that the women were being portrayed in a particular way and not just victims of the men. But certainly the characters are in the constraints of their time and place, but they all have their own power in their own way and their own way in which they're exhibiting their power in this world and not just swooning on a fainting couch."
Lee said the series embraces and maintains her father's vision and brand.
"That's how my father approached his stuff. He was like, 'Look, if I don't make an entertaining movie, nobody's going to come — and then I get to sneak in my philosophy and all these great things.'"
Lee is cognizant she may be difficult to work with and she doesn't have the track record when it comes to the film and TV industry, but she's upfront when it comes expectations to get her blessing when it comes to biographical projects about her father.
"I really, really need to be involved in this process — and not because I'm trying to be overly controlling or I have this specific vision. I just need to make sure it gets made the right way. It has to be in alignment with my father's legacy and with my family and with my family's legacy. We can be as creative and as free and as awesome as we want to be, but if, at the end, if come to me and say 'I want to make a buddy cop movie where Bruce Lee goes around giving people the death touch and scaling walls like Spider-Man,' I'm going to say no."
Hollywood's had a track record of exploiting Lee's father's image. Following Bruce's death in 1973 shortly before the release of Enter the Dragon, a string of films were release to capitalize on his name in a genre called "Bruce-ploitation." Lee recognizes there are those like Quentin Tarantino who won't seek her blessing in regards to how her father is portrayed.
Mike Moh plays Bruce in Tarantino's fictionalized historical drama, Once Upon a Time in Hollywood. Moh is prominently featured alongside other stars like Leonardo DiCaprio, Brad Pitt, and Margo Robbie despite not being a major character in the film. Lee is intrigued how much Bruce was featured in the trailer and hopes Tarantino respects Bruce enough to provide the proper dignity to his legacy.
"In these instances, there are a lot of different ways you can go. If they contacted me, I could be completely unreasonable and a pain in the ass and make all kinds of ridiculous demands — but they don't know that I'm not going to do that. A lot of times, the best practice is 'we'll just stay away from that so we don't have to even open that can of worms. With Tarantino's film, to not have been included in any kind of way, when I know that he reached out to other people but did not reach out to me, there's a level of annoyance — and there's part of me that says this is not worth my time and my energy. Let's just see how the universe deals with this one."
While it has been an adjustment for Lee to take care of taking care of her father's estate and demand is still high to make Bruce Lee-centric projects, she reasons what better endorsement can they get other than to turn to his immediate family.
"Whether I want to run it or somebody else wants to run it, people want to make things using Bruce Lee. In my mind, who better to at least have some say in what that is and how that goes other than his family? But it does get challenging because I have my own sort of desire and dream about how this goes and the projects that get made."