"Watchmen" Episode 8 "A God Walks into Abar": The Beginning of a Beautiful Tragedy [SPOILER REVIEW]
Now that HBO's wonderfully authorized pseudo-sequel to [REDACTED] and Dave Gibbons' celebrated comic book series Watchmen has been unveiled to the world – the world likes what it sees from Damon Lindelof's "remix". Even die-hard Watchmen purists appear to be slowly coming around – as they should.
Bleeding Cool didn't exactly pull any punches when praising just how powerful the Nicole Kassell (Castle Rock)-directed series premiere "It's Summer and We're Running Out of Ice" was (check out our review here).
"Martial Feats of Comanche Horsemanship" kept the momentum going by deepening the conspiracies at play (review here).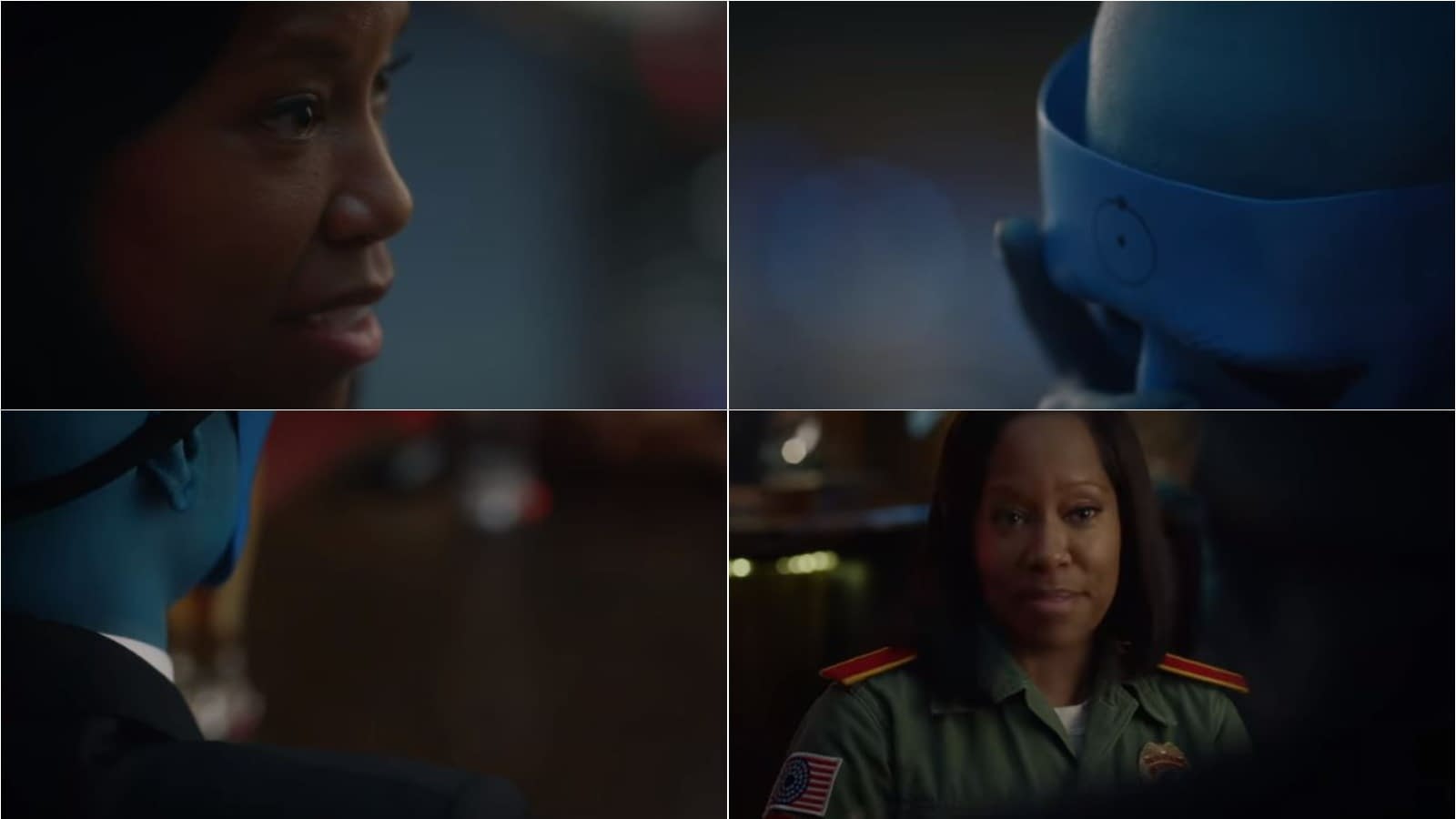 Jean Smart's Agent Laurie Blake took center stage in "She Was Killed by Space Junk", elevating the tension while serving as "devil's advocate" (review here).
"If You Don't Like My Story, Write Your Own" (review here), introduced us to Lady Trieu (Hong Chau), saw Angela (Regina King) look to Looking Glass (Tim Blake Nelson) for help when things started hitting too close to home, and revealed how Adrian (Jeremy Irons) "trains" new servants as his escape attempts continued
We learned Wade Tillman aka Looking Glass' "origin story" – and possibly his final days – in "Little Fear of Lightning" (our review here), as Agent Blake places Angela under arrest… but not before she goes "nostalgic".
Angela comes to understand her true past and the truth about "This Extraordinary Being" Will (Louis Gossett Jr. – review here) – truth that starts with the formation of the Minutemen.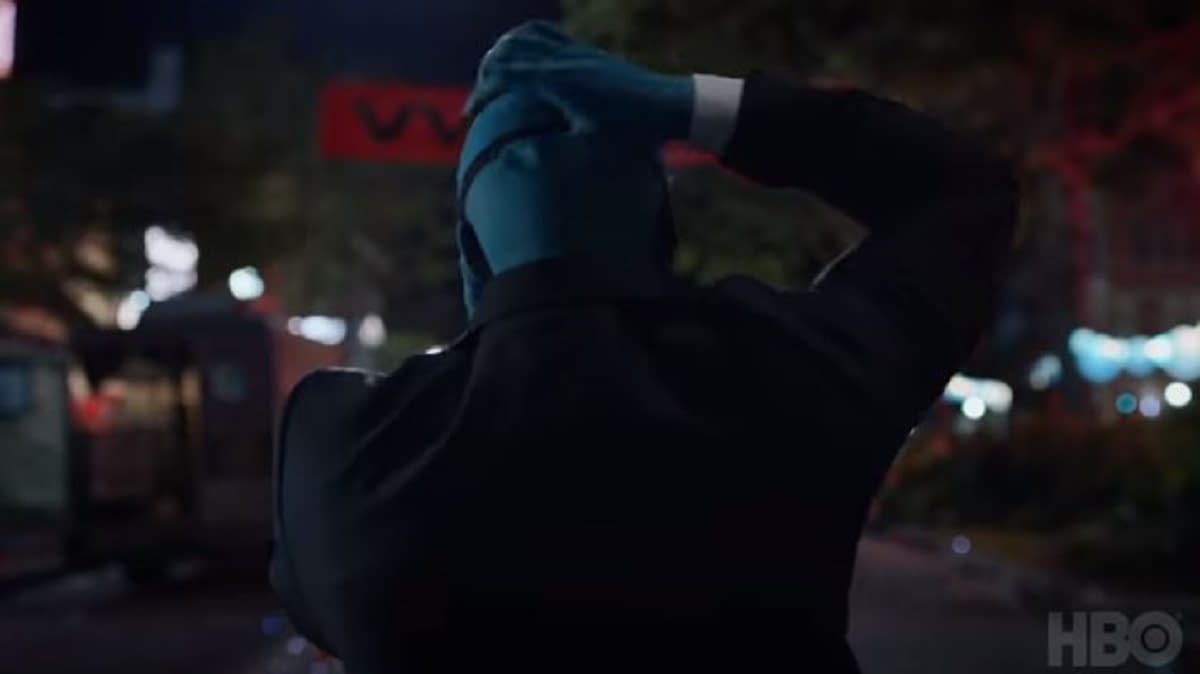 "An Almost Religious Awe" (our review here) brought with it the major reveal that Dr. Manhattan has been with us the entire time – and he's a major part of the Seventh Kavalry's plan.
Now with two episodes left to go this season/series (???), we're taking a look at penultimate episode "A God Walks into Abar" (nice play there, Lindelof) – where we learn about Angela and "Cal's" time in Vietnam… and the beginning of what looks to be a tragic (and apocalyptic) love story.
But aren't they all?
MAJOR SPOILERS ahead…
Director Nicole Kassell.
Writers Jeff Jensen and Damon Lindelof.
Actress Regina King as Angela Abar / Sister Night.
Actor Yahya Abdul-Mateen II as Cal Abar.
Actor Jeremy Irons as Adrian Veidt / Ozymandias.
Consider this an official reminder of just some of the names HBO needs to keep in mind when award nomination season begins. Simply put, "A God Walks into Abar" finds a way of standing out in a season of stand-out episodes by stripping away seven previous episodes worth of backstory, conspiracy theories, and revelant social narratives to remind us what the heart of this series is:
The love story between Angela Abar and Dr. Manhattan / Cal Abar.
Structured in a "mixed timed" style similar to the original comic book series and visually reflective of how "Calhattan" deals with time, the episode could only succeed if the linking device for our time jumps is strong enough to support them. Oh, they are – and then how. Jensen and Lindelof know these characters, either from creatively crafting them from the start or being "geek stewards" of what came before them – so the magic is on the paper.
But it's King and Abdul-Mateen II who take that magic and makes it come alive. Kassell's effective use of varying time periods and environments may have proven to high of a hurdle for some actors, but not with King and Abdul-Mateen II. As we travel through verious chapters of their lives, I always felt like I was seeing how two people would be at this point in their lives and relationship – feeling more like highly-produced home movies of a couple's life.
Best example of this is the scene that takes place six months after their bar conversation, when "Calhattan" tells Angela that they're going to fight and she's going to ask him to leave. Putting aside the more "extra" aspects of their situation, it felt like the kind of argument any couple would have at the six month mark – even if one of the two was damn near omnipotent.
While you can pretty much copy-paste my past seven reviews' worth of praise for King's performance here to make my point, I want to make sure Abdul-Mateen II doesn't get lost in all of this – especially this episode. His "Calhattan" is a "god" who has a bit more humanity in him (and not all of it good, but we'll get to that in a second) than he likes to think, yet still maintains that nondescript tone and demeanor. But trust us, this "god's" got swagger, showing us that "Calhattan" still has a weakness for strong, unique women and can flirt with the best of them – can even make "tachyons" sound sexy – and King's Angela is there to dance their tragic dance every step of the way.
One question that's been eating at my brain since the episode ended, though? What's Laurie going to think when she learns Dr. Manhattan sacrificed being a god for Angela – an offer he never made to her?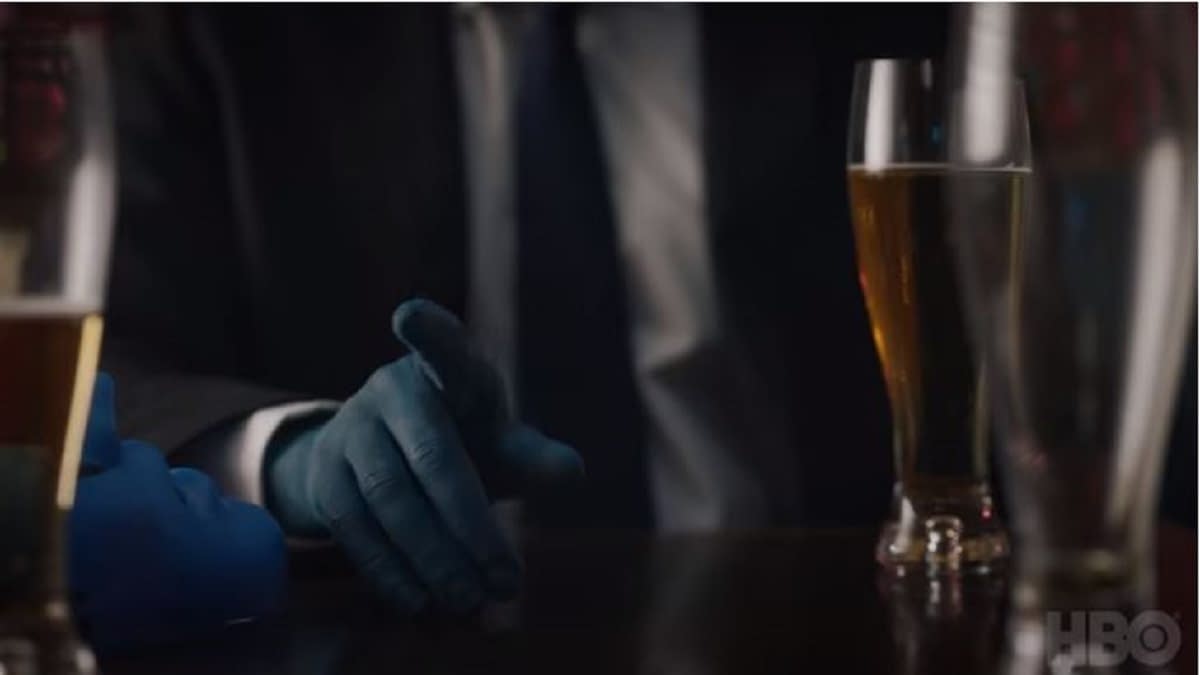 ● So we also got some major answers this week when it comes to Adrian, who is a god/living/trapped on the Jupiter moon Europa – the "new life" that "Calhattan" left to create. The manor house is the same manor that "Calhattan" went to when he was still Jon Osterman and his family escaped Germany to England. Mr. Phillips (Tom Mison) and Ms. Crookshanks (Sara Vickers) on Europa are images of the couple who took in Jon – the same ones who gave him a Bible and spoke to him about the concept of love, sex, and creation: "make it your purpose to create something beautiful".
● In a very unexpected move, turns out Adrian's the one who gave "Calhattan" the device so that he could "stop" being "Calhattan" – though having to awkwardly admit that it was originally created as his "Plan A" during the awkward NYC/squid period. In return, "Calhattan" grants Adrian his wish to make a new world into a paradise by offering "godhood" in Europa – which Adrian tearily accepts.
● In that same vein, I also appreciated the way "Calhattan" was presented as a not-so-nice "god", willing to foresake his own creations because they were created his liking. Followng that, he's willing to barter their faith and individuality to Adrian for personal gain. More of "Calhattan's" humanity slipping through – and this time, it's some of the ugly stuff. In the end, both "Calhattan" and Adrian prove themselves to be "false gods" done in by their attraction to the drama that is humanity – and their need to "save the day".
● The underlying disconnect that will always exist between "god" and man was also well-represented during the scenes where Angela and "Calhattan" discuss the concepts of "fear" and "love" – and this is where my heart hurt a bit for "Calhattan's" cause. It wasn't that he hasn't felt fear in over decades or felt love for her only in that one moment – it's that since he experiences every moment at the same moment, fear and his love for her are feelings he has across all of him – across every aspect of his existence.
● Loved the way Adrian directly addressed the problems "Calhattan" might run into having "appropriated" a black man's body for his new form – a new form we think Angela wasn't hesitant to show him as an option because she was worried it would move their relationship to a more intimate-in-many-ways level.
● We're not the only ones feeling like there was a ton more talked about between "Calhattan" and Will Reeves than we've been told, right? Protecting the kids from the Seventh Kavalry attack doesn't seem like quite enough.
● SERIOUS MIND F*CK: Angela possibly starting this whole thing by letting her grandfather know ten years in the past (via "Calhattan") that Crawford was KKK/Seventh Kavalry/Cyclops – leading "Calhattan" to observe yet another fascinating "chicken-egg-at-the-same-time" thermodynamic miracle
● Our two biggest "wild cards" heading into the Watchmen series/season finale? Our money's on Adrian and Wade aka Looking Glass. Will Looking Glass be our "Rorschach"? Have his eyes been opened too much to ever turn away from the truth? And let's just say we could have a field day reading into the symbolism of Adrian's "lucky horseshoe" escape.

The Road to HBO's "Watchmen"
From Damon Lindelof and set in an alternate history where masked vigilantes are treated as outlaws, this drama series embraces the nostalgia of the original groundbreaking graphic novel of the same name while attempting to break new ground of its own. The cast includes Regina King, Jeremy Irons, Don Johnson, Jean Smart, Tim Blake Nelson, Louis Gossett Jr., Yahya Abdul-Mateen II, Hong Chau, Andrew Howard, Tom Mison, Frances Fisher, Jacob Ming-Trent, Sara Vickers, Dylan Schombing, and James Wolk.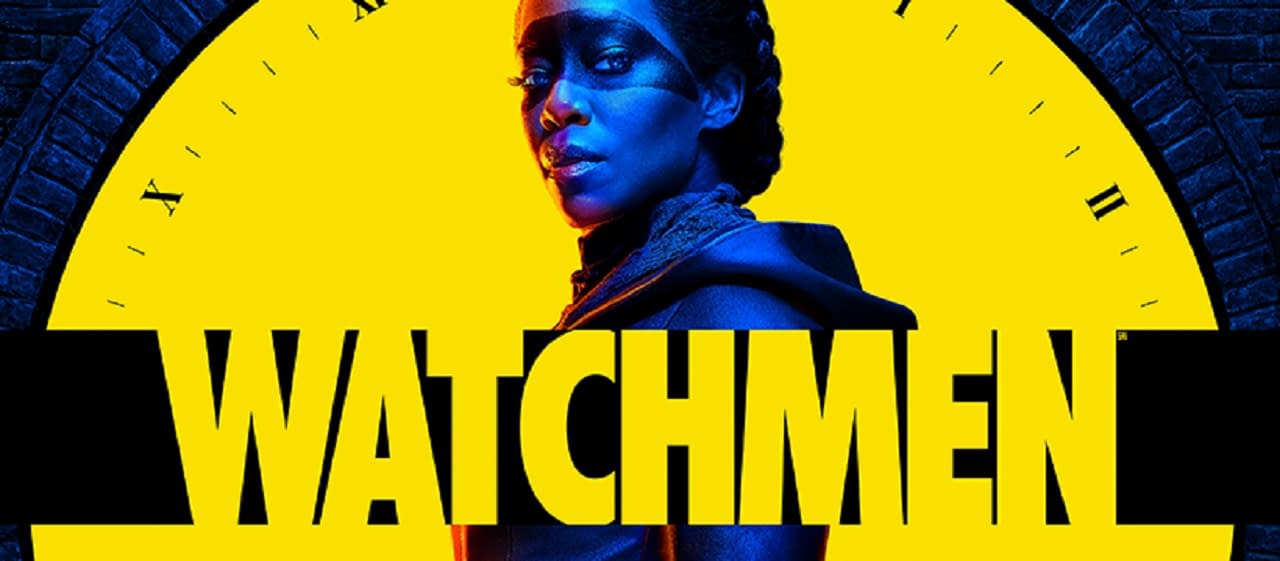 In the following featurette, Lindelof explains how the original comic book series influenced him to take the core themes of the series and find a way to apply them to a modern society. King offers more details on both the terrorist group at play during the season as well as the personal conflicts that arise when one dons a mask in the name of the law:
In the following clip, King takes us behind the scenes on production with a set visit to show us anything and everything Watchmen – or at least what Lindelof will allow:
HBO's Watchmen stars: Regina King as Angela Abar, Don Johnson as Chief Judd Crawford, Tim Blake Nelson as Det. Wade Tillman aka Looking Glass, Louis Gossett Jr. as Will Reeves, Adelaide Clemens as Pirate Jenny, Andrew Howard as Red Scare, Jeremy Irons as Adrian Veidt / Ozymandias, Frances Fisher as Jane Crawford, Jacob Ming-Trent as Panda, Yahya Abdul-Mateen II as Cal Abar, Adelynn Spoon as Emma Abar, Jean Smart as Agent Laurie Blake, Tom Mison as Mr. Phillips, Sara Vickers as Ms. Crookshanks, Dylan Schombing, James Wolk as Senator Keene, Hong Chau as Lady Trieu, Dustin Ingram as Agent Dale Petey, and Lily Rose Smith.
Watchmen is produced for HBO by White Rabbit in association with Warner Bros. Television; executive producer-writer Lindelof; executive producer/director Kassell; executive producer Tom Spezialy; executive producer-director Stephen Williams; and executive producer Joseph Iberti.
Based on the iconic graphic novel co-created and illustrated by Gibbons and published by DC.
Nine Inch Nails duo Trent Reznor and Atticus Ross are on board to compose music for the series.