'Weird City' EP, Writer Charlie Sanders Talks 'Amazing Stories,' LeVar Burton, 'Planet of the Apes' and More [INTERVIEW]
Probably the best way to describe my experience with YouTube Originals' Weird City – Oscar and Emmy winner Jordan Peele and Emmy-nominated writer Charlie Sanders' half-hour comedy/sci-fi anthology – is that it made me think and feel between the laughs, without leaving me feeling numb, hopeless, or disillusioned. Let's just say it's Black Mirror without the need for copious amounts of therapy afterwards – or an episode of The Twilight Zone if it ended with a wink, a smile, and a hopeful-yet-cautionary hand on my shoulder from Rod Serling.
Co-written by Sanders, Peele, showrunner Jose Molina (The Tick, Marvel's Agent Carter, Sleepy Hollow), and Suzanne Wrubel (The Outcasts), Weird City is set in the not-too-distant future metropolis of Weird – a city physically divided into two halves and segregated by economic class: Above The Line (Haves) and Below The Line (Have-Nots).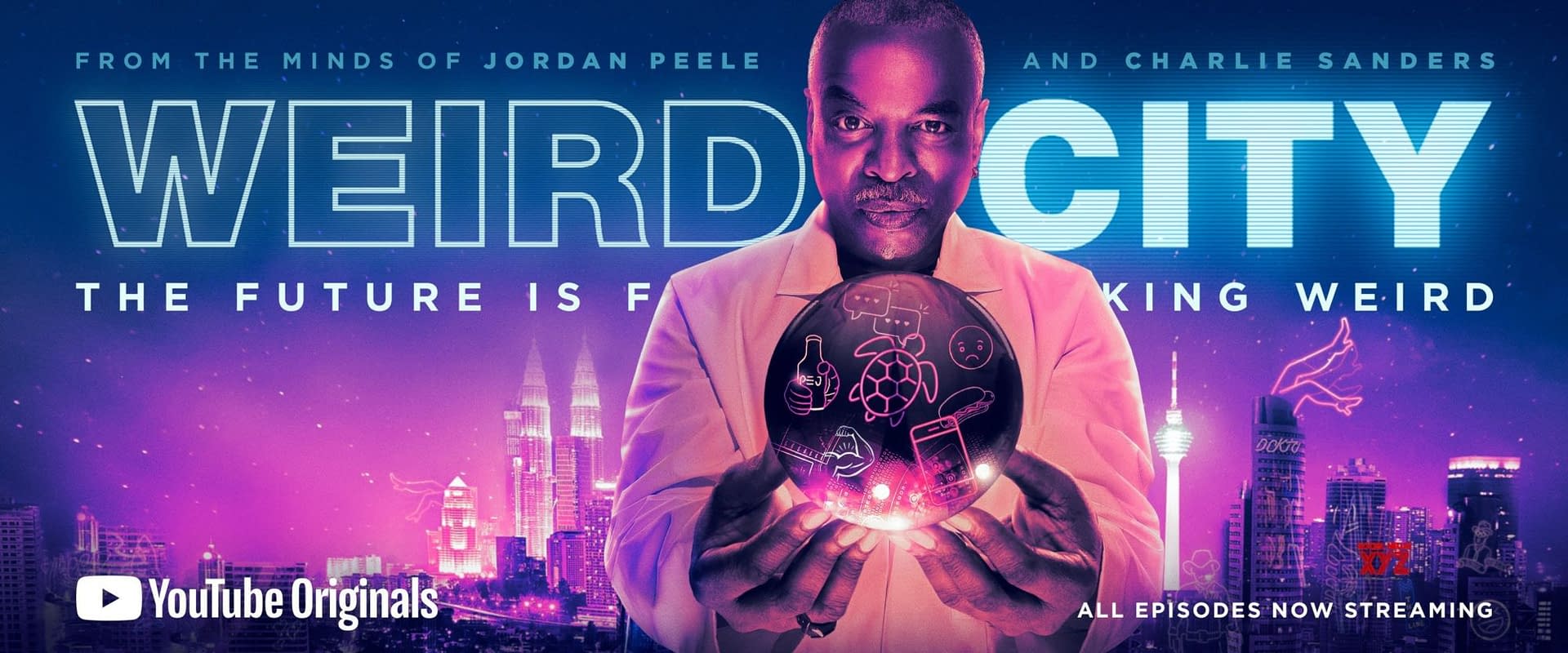 Each episode of the anthology series serves as an exploration of issues that pertain to present-day life-stories that could only be told now through the prism of sci-fi and comedy. Weird City's population includes some very familiar faces: Levar Burton, Awkwafina, Laverne Cox, Sara Gilbert, Dylan O'Brien, Ed O'Neill, Rosario Dawson, Michael Cera, Yvette Nicole Brown, Auli'i Cravalho, and more.
Bleeding Cool had the honor of speaking with Sanders (Key & Peele, Blake Shelton's Not So Family Christmas) on a number of topics, from the influence of anthology series like Steven Spielberg's Amazing Stories and the joy that is LeVar Burton to what he hopes viewers take away from the series – and why Planet of the Apes matters.
● On the thought process that went into the series being an anthology with an overarching mythology, and the influence Amazing Stories had on the kind of stories he wanted the series to tell:
● With a second season, Sanders would like to look more into the backstories of some of the show's characters and set-ups – especially Burton's Dr. Negari. As for working with Burton? It was exactly what you would expect – and more:
● On how his working experience with Peele on Weird City compares to their time together on Comedy Central's Key & Peele:
● On if his efforts in front of the camera help him behind the scenes as a writer – and if so, in what ways:
● On what it was like for Sanders to work with YouTube Originals – and from a writer's perspective, his thoughts on the ever-evolving face of television and how viewers get their shows now:
● Sanders and I discuss my initial impressions of the series, with Sanders offering his thoughts on what he wants viewers to take away from the series:
● Finally…it's Geek Guilty Pleasure time! Without giving too much away, let's just say that Sanders' has a little something to do with Charlton Heston and The Statue of Liberty:

From the mind of Jordan Peele and Charlie Sanders comes WEIRD CITY, a satirical anthology set in the not-too-distant future metropolis of Weird.

In this dystopian setting of our show, the middle class has completely vanished dividing Weird City into two sections: Above the Line (The Haves), and Below the Line (The Have Nots). Presiding over the denizens of the city is the strange and mysterious Dr. Negari, who weaves all of our stories together.

Each episode is a topic that pertains to present day life in America and the world: social media addiction, online dating, fitness obsession, etc… WEIRD CITY captures the unease of modern urban living, in a bizarre and peculiar lens.
Weird City is produced by Peele's Monkey Paw Productions, Sonar Entertainment, Mosaic and Raskal Productions. Peele, Sanders, Bernstein, and Molina also serve as executive producers along with Win Rosenfeld who will executive produce through Monkeypaw; Tom Lesinski and Jenna Santoianni through Sonar Entertainment; Sam Hansen and Jimmy Miller through Mosaic; and Keith Raskin and Linda Morelthrough Raskal Productions.