What We Do in the Shadows Review: Witches Casts Sexy Comedic Spell
Once again, FX's What We Do in the Shadows proves to be the best remedy and escape from reality currently staking out a spot on broadcast, cable, or streaming. It has been the best way to kick back and relax after long workdays; and with each episode, they manage to make characters more likable and find new ways to attack our funny bones. There's just something very satisfying about a show that combines a love for the supernatural and an appreciation for the day-to-day "horrors" we all endure. This episode was no different: Nandor (Kayvan Novak) and Laszlo (Matt Berry) in particular had me nearly peeing my pants on this one.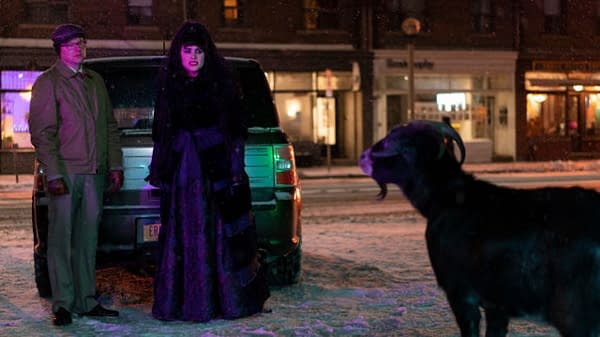 This week, we are introduced to the supernatural beings from the episode title: "Witches," which finds (see what I did there?) head witch Lilith (Lucy Punch) leading them on a quest to obtain vampire semen. Yes, you read that right. Vampire semen helps to keep them looking young and pretty (and also helps with making magnets). There's a lot of information there to swallow, so to speak. So the witches capture Laszlo and Nandor after hey failed to take Nadja's (Natasia Demetriou) advice about witches seriously. But considering she blames everything on them, I probably would not have either.
Nandor has stuck to Guillermo's (Harvey Guillen) requests for him to come back as a familiar. Guillermo has been able to take his breaks once a week and has become addicted to Shark Tank in an effort to open up his own business. He has been feeling like life is just passing by, which I think will keep contributing to his growing unhappiness. I wonder if at some point he will just explode and become some sworn enemy toward the house. He seems to increasingly not give two s**ts about Laszlo and Nadja, and a growing animosity-slash-competition with Colin (Mark Proksch), which really adds to my concern about Guillermo turning against them at some point (and something I want to see more of). Then again, I would not mind being surprised in this regard since Guillermo and Nandor are my favorites. Possibly a new house dynamic?
Laszlo (in Jackie Daytona mode this episode) is quickly becoming the coolest and funniest one in the house, especially over the past several episodes. With a cast this strong, that's saying something. It seems that he has a little bit of a kink and attraction to long, dark hair and accents, as he pretty much seems to sex-up anything that fills the requirement (even admitting to having slept with Nandor). I was nearly in tears from laughing so much, loving how it was pretty much a given once Nadja addressed it. And yet, the episode still ends with Nandor and Laszlo discussing how aroused they still were and agreeing to finish each other off and not tell anyone. I cannot express how much more this made me appreciate their characters, and how it served as a fitting ending.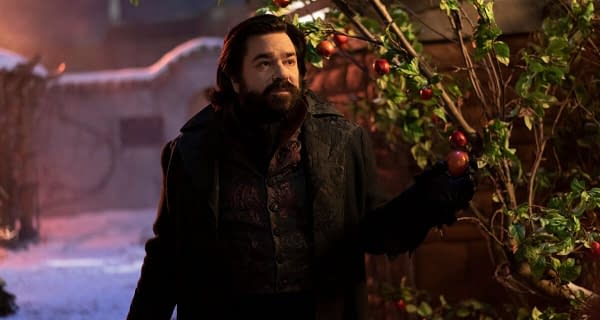 Thankfully, Guillermo comes to the rescue, and he "Shark Tank talks" the witches into accepting an offer: Laszlo and Nandor will willingly give their seed every so often, no painful extraction necessary. He tried including Colin in the deal, but they said no. Guillermo continues to consider the "What-Ifs" he's been presented in recent episodes, as he talks to the goat who mentions he has been working for witches under the promise that they would turn him into one for ages. Sounds familiar, right? I am very curious about how fast Guillermo will reach a boiling point with Nandor, or will it start with the others and force Nandor to make a choice? I feel it in my jellies that something's brewing heading into the season finale of What We Do in the Shadows, "Théâtre des Vampires". Will it be Guillermo's last stand in the house, and will our undead friends be able to survive without him?