[SXSW 2019] 'What We Do in the Shadows': FX Pilot Sucks Marrow From Its Source Material (SPOILER REVIEW)
Fans of the cult classic 2014 mockumentary What We Do in the Shadows by Jemaine Clement and Taika Waititi are in for a treat with a newly updated and made-for-tv version coming soon to the FX Network. The pilot episode screened Friday night at SXSW (South by Southwest) in Austin, TX with Clement, Waititi, and most of the cast in attendance.
It was a packed house with tons of laughs as people enjoyed the new adventures of vampires in Staten Island. The biggest question most folks had going into this was if it could in any way live up to the original.
Let me say this upfront: it most certainly does, and also adds a lot that is both refreshing and interesting.
While a few tiny jokes are recycled from the film, nearly all of the material is new and fresh, as the show is really built around character rather than just the premise. These include Nandor (Kayvan Novak), a former Ottoman Soldier known for pillaging, and his familiar Guillermo (Harvey Guillen). Living in the same mansion are Nadja (Natasia Demetriou) and Laszlo (Matt Berry), whose two century relationship has lost maybe a little bit of its spark. This is interrupted with the arrival of The Baron (Doug Jones, once again doing amazing character work under a lot of heavy makeup), an ancient vampire who originally sent them to conquer the new world and is displeased at their lack of progress.
It's within these two dyads that most of the tension will be found. It's interesting that they've chosen to make these two dysfunctional relationships the bedrock of the show. In a sense, it's classic tv at its best while also serving as a new take on these older tropes.
Allow me to just gush about Nadja and Laszlo for a moment. It's not hyperbole to say Demetriou steals every scene she's in. She's the MVP of the show, or at least what we saw. I've also loved Matt Berry and his deadpan basso delivery since his ridiculous super serious appearances on Garth Marenghi's Darkplace. There's a lot of that same energy here, but what's even better is the setup for future episodes. I look forward to them mining this relationship for more material. The fact that both of them are somewhat bored with each other makes it all the more interesting.
Some of the other great jokes involve too many spoilers to tell here, but let's just say that Nadja has her eye on someone else.
Much of the episode also revolves around Nandor and Guillermo, who wants to be turned into a vampire and is hoping that on his upcoming 10th anniversary of service he will in fact be turned. Guillermo is such a great character. He's dutiful and faithful, and mostly he's just a giant vampire fanboy. But his master's inattentiveness and unwillingness to listen to him reeks of so many terrible relationships. One of the better subplots involves him recruiting virgins for a Blood Feast from – you guessed it – the place where all fanboys go – a local LARP (live action role play) group. The virgins bring us some of the best laughs in the episodes, and according to the post-episode Q&A we haven't seen the last of them, or at least of Jenna (Beanie Feldstein).
And that brings us to the final roommate, Colin (Mark Proksch). He is what is known as an "energy vampire," and rather than sucking the blood of his victims, he literally sucks the energy from them through boredom or annoying them. Proksch is great in this role and really takes it to the next level. The show feels more distinctly American than its Kiwi counterpart, and the energy vampire scenes are one of the main reasons why.
One of the best things about 2014 mockumentary was its skewering of various vampire tropes and stereotypes. In this one, they're choosing to play from a completely different playbook. There are new targets, especially Interview with the Vampire and Twilight – which have always needed to be taken down a peg.
Of course, the big question is can it sustain itself as a series? I put my faith in Clement and Waititi. After two seasons of Flight of the Conchords taking a fairly thin premise and making some of the best comedy of the last two decades, and given how much material there is to work with from vampire and undead lore, it's unlikely they'll run out of things to do anytime soon. Since they're also basing the show around these troubled relationships, they'll have plenty more to work with. Plus, I simply can't get enough of these actors.
This is instantly bingeable and makes me immediately want a next episode.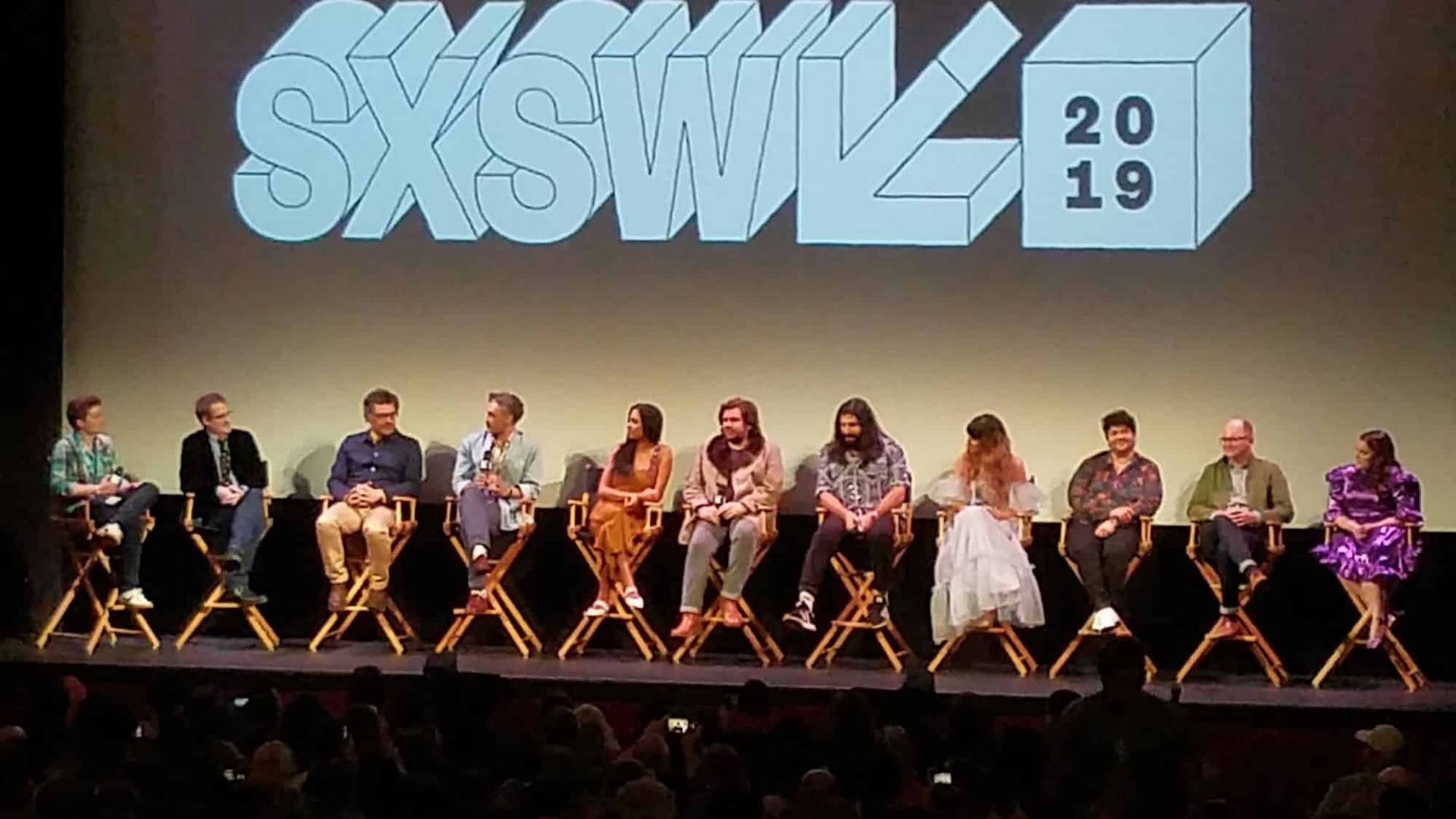 Another revelation is when asked during the Q&A about the possibility of werewolves / swearwolves or other types of mythical vampires that might exist on the show, Clement didn't say yes, but he said "I'm not saying yes but…" and moved his head up and down.
This was an amazing pilot episode, hopefully indicative of more things to come, and a great way to top off my first night at SXSW. FX's What We Do in the Shadows premieres March 27, so set your DVRs now – and you're going to want to Season Pass this one.
13/10. Would vampire again.