'When They See Us': Ava DuVernay Limited Series on "Central Park 5" Case Releases Official Trailer
Ava DuVernay's long-awaited series When They See Us about the so-called "Central Park 5" premieres this week on Netflix, and now the streaming service is sharing the limited series' official trailer. It looks soulful, gritty, infuriating, enlightening, and inspiring – and is available for you to check out below.
The four-part project examines the lives of Antron McCray, Kevin Richardson, Yusef Salaam, Raymond Santana, and Korey Wise, the young black and hispanic men who were falsely accused of beating and raping a white female jogger in NYC's Central Park in 1989. The media would go on to refer to the five men as the "Central Park Five," though they would go on to be exonerated by DNA evidence in 2002 – 13 years after the crime they were wrongfully arrested, charged, and tried for took place.
Based on a true story that gripped the country, When They See Us will chronicle the notorious case of five teenagers of color, labeled the Central Park Five, who were convicted of a rape they did not commit. The four part limited series will focus on the five teenagers from Harlem — Antron McCray, Kevin Richardson, Yusef Salaam, Raymond Santana and Korey Wise. Beginning in the spring of 1989, when the teenagers were first questioned about the incident, the series will span 25 years, highlighting their exoneration in 2002 and the settlement reached with the city of New York in 2014.

When They See Us was created by Ava DuVernay, who also co-wrote and directed the four parts. Jeff Skoll and Jonathan King from Participant Media, Oprah Winfrey from Harpo Films, and Jane Rosenthal and Berry Welsh from Tribeca Productions will executive produce the limited series alongside DuVernay through her banner, Forward Movement. In addition to DuVernay, Attica Locke, Robin Swicord, and Michael Starrburry also serve as writers on the limited series.
Interesting historical note: before his time in The White House, Donald Trump infamously ran ads in the The New York Times and other outlets that the five young men should be given the death penalty – a move he has yet to apologize or take responsibility for.
In so many ways, this series feels like a culmination of DuVernay's work so far. Her narrative and visual filmmaking skills are impressive, having broken through with the MLK biopic Selma and then on to helm a giant, effects-driven films like A Wrinkle in Time. She also famously passed on taking Black Panther because of creative difference with Feige and Marvel Studios, but is next set to take on The New Gods for DC. But her most acclaimed film is her documentary 13th, which was also produced by Netflix and was nominated for Best Documentary in 2016. The film explores the aftermath of the passage of the 13th Amendment (which outlawed slavery) and how institutions of forced labor ended up creating new systems of oppression, including mass incarceration.
DuVernay's When They See Us looks like it will once again put a very human face on the problem of not only mass incarceration but also the racism inherent in our nation's judicial system. DuVernay has been outspoken in the lead-up to the release that she wants to tell the stories of these five men as individuals – indeed, thus the reason why "The Central Park 5" was removed from the title. Instead, When They See Us refers to how people treated these young men based on the color of their skin and how they dressed – never on who they were as people. DuVernay seems intent on interrogating the entire system to not only get to what broke down in 1989, but also to show how a number of things still exist today.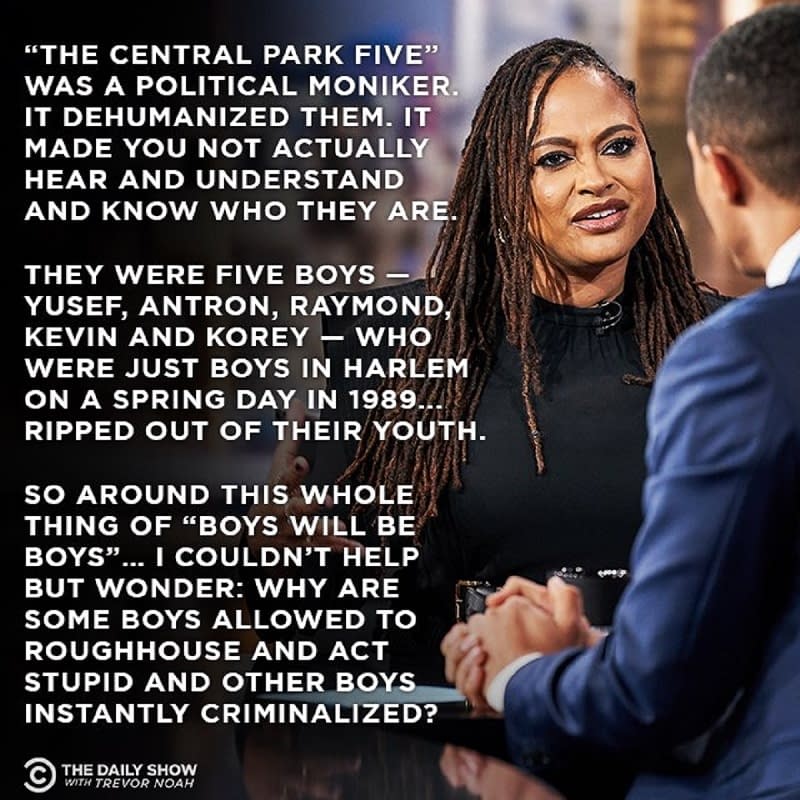 When They See Us features an ensemble cast of award-winning actors, with Michael K. Williams, Vera Farmiga, John Leguizamo, Felicity Huffman, Niecy Nash, Blair Underwood, Christopher Jackson, Joshua Jackson, Omar Dorsey, Adepero Oduye, Famke Janssen, Aurora Perrineau, William Sadler, Jharrel Jerome, Jovan Adepo, Aunjanue Ellis, Kylie Bunbury, Marsha Stephanie Blake, Storm Reid, Chris Chalk, Freddy Miyares, Justin Cunningham, Ethan Herisse, Caleel Harris, Marquis Rodriguez, and Asante Blackk set for Netflix's limited series.
DuVernay's When They See Us premieres on Netflix on Friday, May 31.