Women Live With Pain, Men Have to Invent It – Thoughts About Fleabag, Series 2, Episode 3
Fleabag is the best drama on television. The best comedy too. By a mile. Can we take that as read and move on? Good.
Series 2, episode 3 just aired in the UK on BBC Three on the iPlayer. And it is as individual and exceptional as the two that preceded it. It even takes a dive into the first series, grabs a certain item, and brings it back to surprise and delight all of us who a) remember it or b) just watched the entire first series again over the weekend, because I couldn't wait for this episode.
I admit, I may have a problem.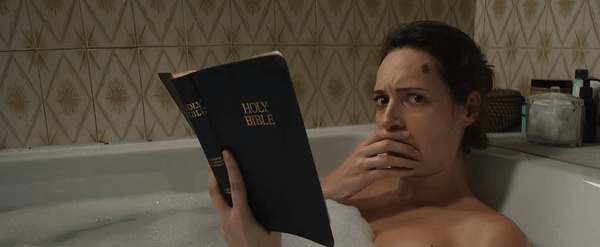 Episode 3 sees Fleabag, played by Phoebe Waller-Bridge delivering on her promise to provide canapes for her sister Claire's awards do and, in the process, get to see a little of what Claire actually does, as is the size of her enormous office. Plus view. It's a different world for Fleabag, but she still could ruin it, if she wished. And she does a bit. Last week's declaration of giving up sex for tennis is clearly off the back burner, and not just in the direction of a certain priest, either. I say 'a certain priest' as, just like with Fleabag, he has no other name. Yet.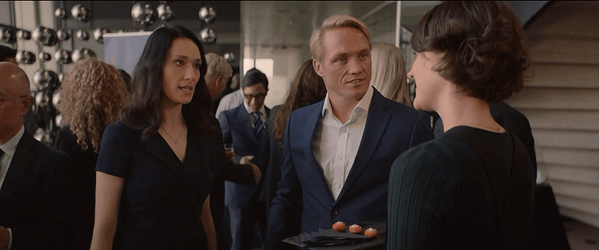 And we also get a new take on Fleabag's asides to her audience, reduced significantly this episode, but not less powerful. Just a flick of the eyes at one point tells us everything we need to know about Fleabag's interpretation of her sister Claire played by Sian Clifford and her male work colleague from Finland… also called Klare, played by Christian Hillborg. It's barely there but it clues us all in.
But with this episode, she's called out on her asides. Finally someone can see them, or at least understand that she is somewhere else – with someone else when she is doing it. That this is a coping mechanism. And it upends everything.
That it is the Priest who can see she goes somewhere else, only connects them deeper – he is obviously 'The One'. But Fleabag is someone who could never accept such a concept. Oh and he's celibate.
Structurally, this episode separates itself from prevous epsiodes, by constructing a farce in the classic comedy sense. Things that can't get broken do, there are lies and subterfuge that culminates in disaster – but then it pauses and segues into something else, a conversation in a bar. With everything before dovetailing into it, but refusing to be controlled by what has come before, and quite willing to go elsewhere on a whim.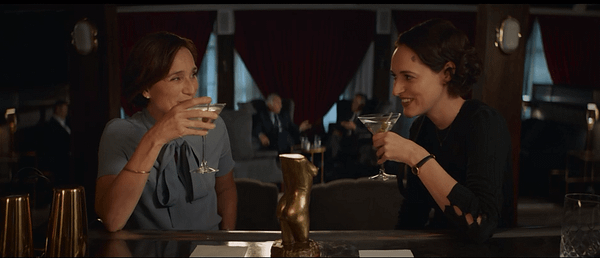 And if you are looking for this week's equivalent to 'get your hands off my miscarriage' from the first episode or the multiple-audience monologue about the orgasm painting from last week, it may be the monologue from Kristin Scott Thomas playing Belinda, the Businesswoman Of The Year and a potential filler-of-the-gap for Fleabag between reading verses of the Bible. About how women live with pain, they have it built in as a physical destiny, carried through their lives, while men have to seek it out, inventing gods and demons, wars and rugby. Belinda even namedrops Jesus as well, a ridiculously subtle moment that serves to keep the priest in Fleabag's thoughts. Or at least reminds us that this is where he may be.
And yes, back to her priest. With G&Ts, a surprising and chgaracter defining fear of foes and addressing the clear undercurrent or whether or not these two will f-ck. And learning of his pre-priest lack of celibacy, ups the ante on this will-they-won't-they that hides the real worries about Fleabag's sucking hole in her life – which this priest could, potentially, fill. For a moment.
It may be very dull for some for me to go on about Fleabag. I know I did the same about The Wire. And, probably back in the day, GBH. But Fleabag really is the best thing of 2019. And we're only halfway through…
Fleabag airs on BBC1 tonight and is already available on the iPlayer.