Wrestling Dirt Sheets Can't Agree on Whether Sami Zayn's AEW Mention Was Scripted
The pro wrestling media is working itself into a shoot, brother, after WWE Superstar Sami Zayn mentioned rival pro wrestling promotion AEW on Monday Night Raw last night. Zayn dropped the bombshell during a segment in the third hour of Raw called "The Electric Chair," in which fans were invited to ask Zayn any question, because WWE's answer to AEW Double or Nothing is apparently a live-action Reddit AMA. When (planted) fans failed to ask interesting (pre-arranged) questions, Zayn pointed out that they could have asked him about AEW. The reference was edited out of WWE's YouTube clip of the segment.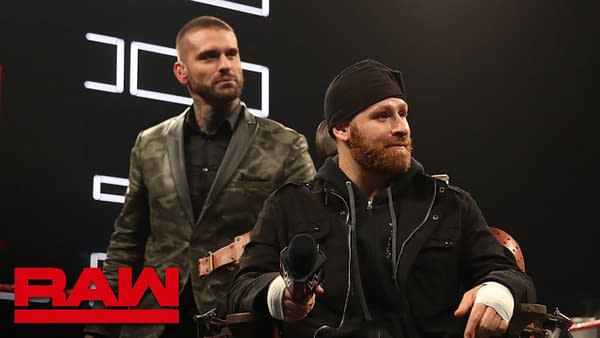 As soon as it aired, of course, social media whipped itself into a frenzy speculating on whether or not Zayn had gone off-script (he didn't), and wrestling dirt sheets quickly began chiming in with backstage info (professional speculation) on the subject. On Dave Meltzer's Wrestling Observer Radio, Meltzer claimed that a source who was present in the creative meeting before the show said the AEW reference was definitely in the script, though Meltzer's own broadcast partner, Bryan Alvarez, said it wasn't. PWInsider claimed that Zayn improvised the line, while Pro Wrestling Sheet's Ryan Satin said that it was scripted. Even Vince Russo got in on the action, bro, tweeting this morning that WWE and AEW are clearly in cahoots.
There's NO QUESTION that @WWE & @AEWrestling are in bed together–NONE. Several things don't add up. When you look at the entire picture it becomes evident. I'm going to invite the @CnsprcyHrsmn on the new "Truth with Consequences" to lay this all out. Bro—YOU'RE BEING WORKED. pic.twitter.com/Mx6fchaGnZ

— Vince Russo (@THEVinceRusso) May 28, 2019
We may never know whether Zayn's mention of AEW on the air on Monday Night Raw was a work or a shoot (it was definitely a work), but one thing is for certain: this is the kind of excitement only a war between two rival pro wrestling promotions can produce (actually, the segment sucked, just like most of Raw did last night).