WWE Backlash Heads to Puerto Rico on May 6th with Bad Bunny as Host
WWE is returning to Puerto Rico for WWE Backlash, the first major show since 2005, and Bad Bunny is set to host the premium live event.
---
Global entertainment superstar Bad Bunny will be the host of WWE Backlash, which will take place in Puerto Rico on May 6th, WWE revealed on Wednesday. It will be the first time a WWE PLE (or PPV) has been held in Puerto Rico since 2005, when the Coliseo de Puerto Rico in San Juan was the location of New Years Revolution (which saw Triple H win the World Heavyweight Championship in an Elimination Chamber match over Chris Jericho, Batista, Chris Benoit, Edge, and Randy Orton). That same arena will host Backlash this time around, featuring the fallout of WrestleMania. On the bright side, it looks like WWE has dropped the attempt to trick people into feeling like Backlash is more important by calling it WrestleMania Backlash.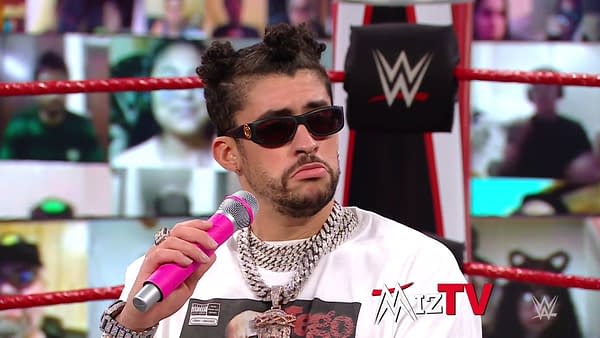 Here's the full press release:
STAMFORD, Conn.–(BUSINESS WIRE)– WWE (NYSE: WWE) today announced that the two-time GRAMMY® award-winning and global recording artist Bad Bunny will host Backlash on Saturday, May 6, live from the Coliseo de Puerto Rico José Miguel Agrelot in San Juan, Puerto Rico.

Backlash marks the first WWE premium live event to take place in Puerto Rico since January 2005.

"In 2005 when I was a kid, I wasn't able to attend New Year's Revolution at el Coliseo," said Bad Bunny. "Finally, 18 years later WWE returns to the island with a massive event and this time I won't miss it."

"We're excited to bring Backlash to San Juan as the demand for WWE premium live events outside of the continental United States continues to grow," said WWE Chief Content Officer Paul "Triple H" Levesque. "Bad Bunny is one of the world's most-popular entertainers and nowhere is that more evident than in his native Puerto Rico."

To learn more about registering for general ticket presale opportunities, please click here. Additionally, official Backlash Priority Passes will soon be available through exclusive partner On Location. For more information, please click here or call 855-346-7388.

Additional details on Backlash will be announced in the coming weeks.