WWE Raw – Three Hours You Can Never Have Back
If you missed out on WWE Raw last night, you're one of the lucky ones. Why not turn back now, blissfully unaware of anything that transpired on Raw this week? No? A glutton for punishment? Then read on, dear WWE fan. But don't say we didn't warn you.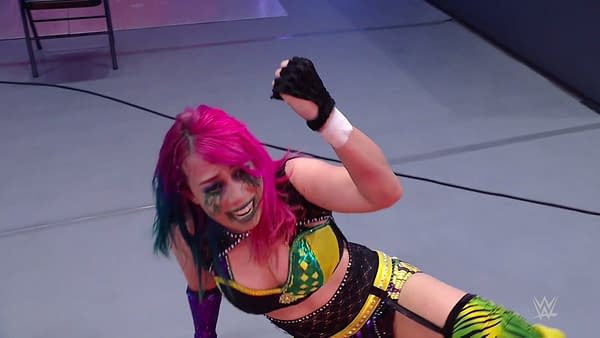 WWE Raw Results – 4/19/2021
In these strange and difficult times, it's nice to be able to rely on certain things to never change. With that in mind, Drew McIntyre kicked off WWE Raw with a long-ass promo complaining about MVP, Bobby Lashley, Randy Orton, Braun Strowman, and former Retribution members Mace and T-Bar. Eventually, MVP interrupted so the show could go on without McIntyre calling out every member of the roster individually. MVP denied that he's in cahoots with Mace and T-Bar. McIntyre tried to beat MVP up but Mace and T-Bar attacked him. Backstage, Mace and T-Bar reprised their Twitter feed in an interview with Kevin Patrick. Great use of 30 minutes.
---
Backstage, McIntyre went full Karen and demanded a match against Mace and T-Bar from Adam Pearce. Pearce suggested he find a tag partner.
---
Last week, Cedric Alexander and Shelton Benjamin were unprepared for the surprise return of the Viking Raiders, but this week, they had plenty of time to prepare. So they have no excuse for losing again.
---
Kevin Patrick interviewed Randy Orton, who has nothing to do while he waits to see who comes out on top at Backlash. Conveniently, Riddle arrived to annoy Orton and set something up for later.
---
Charlotte Flair cut another heel promo on the entire women's division. Asuka and Rhea Ripley got involved. Charlotte got a little racist in slow talking to Asuka. Asuka called her a bitch. Ripley just wanted to watch.
---
Randy Orton and Riddle had a match. It took forever. Riddle pulled off the surprise win by rollup.
---
Sheamus went to Adam Pearce's office, opened his coat, and told Pearce he didn't invite him there just to stroke his ego. Pearce wanted Sheamus to issue an open challenge for the United States Championship, but Sheamus said he'll only issue a non-title open challenge.
---
Nia Jax and Shayna Baszler faced Naomi and Lana, but Mandy and Dana Brooke interrupted the match to show video footage disparaging Nia on the Titantron. This enraged Nia, who chased them backstage, leaving her partner alone in the ring. Naomi pinned Shayna, but of course, it wasn't a title match so it mattered just as much as it made sense.
---
The Miz (with Maryse) killed some time bragging about his various accolades and accomplishments. Damian Priest came out, swallowed his pride, and read a scripted line about Miz being more delusional than Jake Paul thinking he's a real fighter. You know Vince McMahon personally wrote that line and laughed about it with Brother Asslicker for a solid fifteen minutes. That's good shit, pal. Maryse ended up accepting a match with Priest on Miz's behalf. Miz threw a glass of champagne in Priest's face.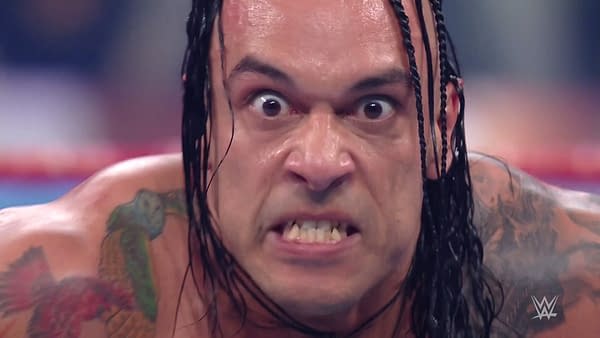 ---
Riddle and The New Day engaged in some dumbassery backstage. New Day interrupted an Elias concert with a bass solo by Xavier Woods. Kofi Kingston faced Elias in a match, which Elias won.
---
Alexa Bliss explained how her demonic doll, Lily, has been telling her what to do her entire life.
---
Mandy Rose and Dana Brooke ran away from Nia Jax backstage, but Shayna Baszler scolded Nia for costing them the match earlier.
---
Drew McIntyre faced Mace and T-Bar in a handicap match. It gets rough for McIntyre, but Braun Strowman comes out to back him up. McIntyre ends up ripping off Mace's mask, and then Strowman rips off T-Bar's mask. T-Bar and Mace win by disqualification. Corey Graves unapologetically claims this is the first time we've ever seen their faces.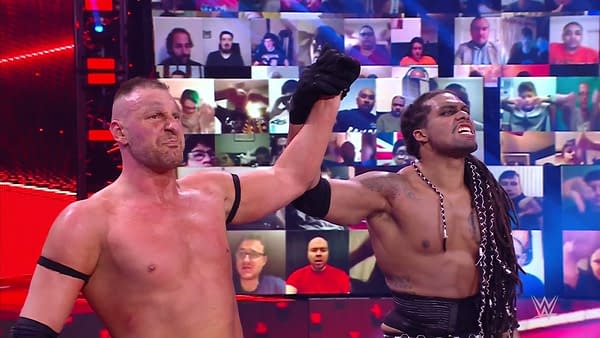 ---
The Miz fought Damian Priest in that match teased earlier. Despite Miz and Maryse's best efforts at cheating, Priest still got the pin.
---
Sheamus cut a promo gloating about being United States Champion and started to issue an open challenge when Humberto Carrillo answered it. Sheamus beat the crap out of him.
---
Charlotte and Asuka faced off in the main event. In a surprise twist, Ripley interfered to save Asuka from the Figure Eight and Asuka capitalized to pin Charlotte. Flair bullied the referee after the match, and when two more refs came down to yell at her, she beat him up some more. Then she pretended to leave, turned around, went back and beat him up a third time.
---
Even by Raw standards, that was a pretty lousy show. I'll leave you with these questions: Where are AJ Styles and Omos? Where is Bobby Lashley? For that matter, where is R-Truth?