Since MVP debuted in WWE in 2006, he's had a distinct look based on his ring gear, which uses the style of athletic workout gear popularized today by companies like Under Armour. But according to MVP, he was the trendsetter in the style which is ubiquitous amongst athletes today. Even so, MVP wasn't a big fan of his original gear, according to an interview on WWE's The Bump.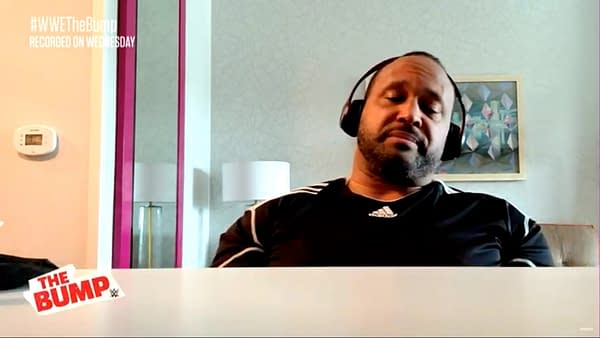 MVP was asked about his gear, which today often features references to pop culture. MVP has recently been seen wrestling in gear resembling the costume of Marvel's Black Panther, as well as gear themed around a red Punisher skull. According to MVP, he has always designed his own gear… except that original outfit.
"I absolutely hated that outfit, that first one, that blue one, that's horrible," MVP said. "I didn't design it. The person who made it strayed from the original design and just made what they wanted to make. The one good thing that came from me getting set on fire with Kane at the Inferno match is that that outfit got burnt. But all of my other gear has been designed by me in association with Main Event Gear and Main Event Gear has been making my gear virtually my entire career. So shout out to Main Event Gear and Adam Roberts/Robert Adams."
According to MVP, he was a trendsetter when it comes to athletic wear. "At the time, before Under Armour became the brand juggernaut that it is today, I was inspired by when Nike had the dry fit look and a lot of pro athletes were starting to wear that type of attire for training and for working out," MVP said. "Now it's common. You see it everywhere. Everyone's using it. But at the time that I decided to adopt that for my ring gear, because most people weren't familiar with it, they kinda jeered it or mocked it. But now, you can't find a professional athlete today that doesn't wear some form of that training. So once again, MVP was ahead of the curve."
MVP also discussed his current run in WWE. MVP originally planned the run as a one-off to allow his son to see him wrestle in WWE. That one-off became a two-off, and then MVP became a backstage producer and on-air talent, managing Bobby Lashley. But when the pandemic caused WWE to reduce backstage roles, MVP became a full-time on-air talent, managing Lashley and wrestling as well as hosting his MVP Lounge talk show on Raw.
"I did not have long-term plans," MVP said. "My only desire at that point was for my son to see Daddy at, as he calls it, WWE Wrestling. He's become a huge fan. I tried to shield him from it as long as I could, but I think his uncles on his mom's side turned him on. He knows all the stars. He knows everybody by name. And now his mom will send me videos of him standing in the mirror cutting promos and he does moonsaults off the couch and it's terrifying. At that point, when he was little, he used to see my wrestling gear and some of my action figures or cards and he called it "Daddy Fight." Now that he's a little bit older, he understands. So I just wanted him to see Daddy fight at WWE Wrestling, and the Royal Rumble that I got an invitation the next night to Monday Night Raw where I got to wrestle Rey Mysterio who is my son's favorite wrestler, so once again I had a video his mom took of him watching me do my entrance and wrestle Rey, so that's all I wanted. Before I knew it, more things started being added to my plate, and, as we say in pro wrestling, card subject to change."
Enjoyed this article? Share it!