As work on Amazon Studios' adaptation of Garth Ennis and Darick Robertson's comic book series The Boys continues, we've been getting some hints and clues over the past few months that are starting to give us a sense of what our eyeballs can expect. Spearheaded by Eric Kripke (Supernatural, Timeless), and Preacher's Evan Goldberg and Seth Rogen, and Sony Pictures TV, the series boasts a premiere episode directed by Dan Trachtenberg (10 Cloverfield Lane, Black Mirror).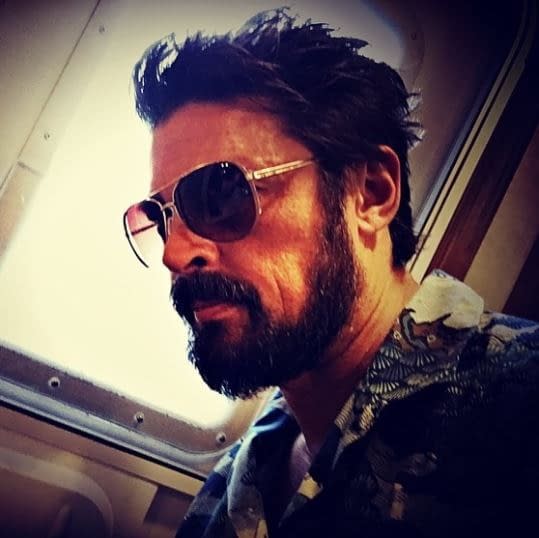 On the side of The Boys, Karl Urban's Billy Butcher is mysterious and brutal, hiding a personal agenda as he approaches potential new recruit Hughie (Jack Quaid), claiming to be a shadowy government operative. Butcher capitalizes on Hughie's rage over his girlfriend Robin's accidental death at the hands of Superhero A-Train and enlists Hughie as part of his plan to bring down the super-hero franchise.
So in our continued effort to scour the pop culture social media landscape for every little bit of new we can find on your favorite current and upcoming series (and yes, this does sound like an infomercial build-up), here are some updates from Kripke, Urban, and Quaid — think of it as "one-stop shopping" where we do all the work so you don't have to:

● Between his screenplay work on the upcoming film The House with a Clock in Its Walls and successful efforts to get a series finale out of NBC for Timeless, you'd think Kripke would be too busy to update us on a series not premiering until 2019 – and you would be wrong. He's a true multi-tasker, people — even finding the time to congratulate Christopher Lennertz (Lost in Space, Supernatural, The Happytime Murders) for signing on to score the series:
Welcome to #TheBoys, @CLennertz. You guys know Chris from #Supernatural, #Revolution, almost everything I do. He's my John Williams! And he's an old college friend, so he's got loads of blackmail material on me. @amazon https://t.co/0MVKzHiWKG

— Eric Kripke (@therealKripke) July 19, 2018
● When he's not busy disintegrating as a vampire Hoover on AMC's Preacher or travelling though time as Rufus in Timeless, Malcolm Barrett can always find the time to help out an old friend in front of the camera:
Filming my @amazon show #TheBoys and this #Clockblocker suddenly shows up in front of my camera. Shameless. Thanks for the sweet cameo, @malcolmbarrett. (And no, this doesn't mean anything re: the #Timeless movie, we're still hoping to do it!) pic.twitter.com/ITlpOJvDXD

— Eric Kripke (@therealKripke) July 18, 2018
● And then we have the teaser images, ranging from "confessions of a smack-addicted national treasure" and a memorable meeting to Vought International's disturbingly accurate (and trademarked) motto:
Soldier Boy. The first Supe. Also had a hell of a smack addiction. #TheBoys #YoureNotFuckingReady @amazon pic.twitter.com/OtvLO20fzH

— Eric Kripke (@therealKripke) June 26, 2018
When Butcher meets Frenchie. #TheBoys #YoureNotFuckingReady @amazon pic.twitter.com/bm6mC2Gfkn

— Eric Kripke (@therealKripke) June 25, 2018
Vought International: Handling the Business of Super Heroes, so Super Heroes Can Handle Their Business™️ #TheBoys @amazon pic.twitter.com/ZQTgu5TkIZ

— Eric Kripke (@therealKripke) May 28, 2018
● When the set's sporting signage like this, makes you think that maybe we're really not f-ing ready:
Actors trailers on #TheBoys. This show is so delightfully fucked up. #YoureNotFuckingReady @amazon pic.twitter.com/6coUAVepwR

— Eric Kripke (@therealKripke) June 18, 2018
● And then there's the feeling that comes with announcing the first day of filming:
#TheBoys Day One. #getready #yourenotfuckingready @amazon pic.twitter.com/7okMgla2cM

— Eric Kripke (@therealKripke) May 22, 2018

● With Urban, we not only got a good look at his Butcher (which could also be an unexpected audition headshot for Wolverine) but also the impression that maybe Urban and Quaid can be an interesting pair when they hang out:
(We're really hoping the following post has nothing to do with the post that follows it…)

As for Quaid's posts? Let's just say I'm noticing a disturbing theme being shared between them — and I'll leave it at that:
Rounding out Butcher's team are Laz Alonso (The Mysteries of Laura) as second-in-command Mother's Milk; Karen Fukuhara (Suicide Squad) as The Female, a young Asian assassin with blistering fighting skills who happens to have superpowers; and Tomer Capon as unpredictable wild card Frenchie, a brutal warrior when who lives a life of no attachments or responsibilities.
On the flip side, The Seven are Antony Starr (American Gothic) as Homelander, leader of the main superhero team, The Seven; Dominique McElligott (The Last Tycoon) as Queen Maeve, a member of The Seven; Chace Crawford (Gossip Girl) as The Seven member The Deep, an aquatic hero; Jesse T. Usher (Survivor's Remorse) as speedster with a major PR problem, A-Train; and Nathan Mitchell (iZombie) as Black Noir, a masked superhero with fighting and Set martial arts skills.
Erin Moriarty (Jessica Jones) joins the cast as Starlight/Annie, a young woman who can make lightning bolts flash from her eyes and dreams of being a "real superhero" like the famous Seven; Elisabeth Shue's (CSI: Crime Scene Investigation, Karate Kid) super-hero handler Madelyn Stillwell is the Vice President of Hero Management for Vought and the person responsible for cleaning up after the "heroes." Based on the comic book series from Garth Ennis (Preacher) and Darick Robertson (Transmetropolitan) and created by Supernatural creator and Timeless co-creator Eric Kripke, The Boys is set in a world where superheroes embrace the darker side of their massive celebrity and fame. It revolves around a group of vigilantes known informally as "The Boys," who set out to take down corrupt superheroes with no more than blue-collar grit and a willingness to fight dirty.
Enjoyed this article? Share it!