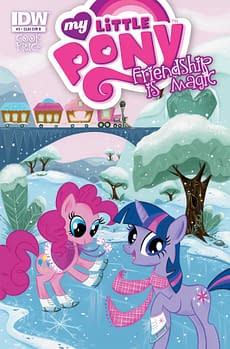 Bleeding Cool Magazine article by Rick Verbanas
My mother always warned against betting on the ponies. And, if someone offered you a bet earlier this year My Little Pony: Friendship is Magic #1 would outsell the best-selling X-title for Marvel Comics, you would have probably laughed in their face. But, who is getting the last laugh?

"I outsold Uncanny X-Men," Katie Cook, writer of My Little Pony: Friendship is Magic comic series, announced to cheers at the New York Comic Con in October. The first issue of the new IDW Publishing comic series, starring Twilight, Applejack, Rarity, Fluttershy, Rainbow Dash, and Pinkie Pie, sold out of a 100,000-copy print run through Diamond Comics Distributors. In fact, My Little Pony #1 ranked 15th overall in November, and 1st among non-Marvel/DC titles. It beat out all but one of the Marvel Now relaunch #2 issues, as well as Batman "Death of the Family" tie-ins.
You can find the full article in Bleeding Cool Magazine #2 at a comics retailer near you. Here is the Bleeding Cool Directory of retailers who have shown special support to the magazine and this website. Are you a retailer who would like to be included? Contact us.
Enjoyed this article? Share it!