BC Mag #2: Modernizing Lovecraft, An In-Depth Interview With Alan Moore Part 2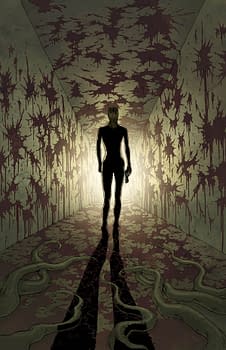 Bleeding Cool Magazine article by Adi Tantimedh
Welcome back to Bleeding Cool Magazine's in-depth conversation with Alan Moore about Lovecraft, horror, and his work modernizing the fears of the collective subconscious. In this installment, we go deeper into the mind of Moore on the life and legacy of H.P. Lovecraft and his literary work while examining the impact of warping reality in comics. Step into the twisted world of the Neonomicon and Cthulhu if you dare, with a 21st century master of modern horror and graphic storytelling…

Alan Moore is one of the latest in the line of writers to tackle Lovecraft's mythos, but what sets THE COURTYARD and NEONOMICON apart is the degree to what he deconstructs and updates Lovecraft's themes and preoccupations to the 21st Century and also faces head-on many of the subtexts inherent in Lovecraft's stories that the author himself never confronted directly.
You can find the full article in Bleeding Cool Magazine #2 at a comics retailer near you. Here is the Bleeding Cool Directory of retailers who have shown special support to the magazine and this website. Are you a retailer who would like to be included? Contact us.