BC Mag #2: Triumph Over Tragedy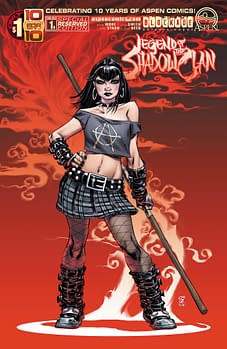 Bleeding Cool Magazine article by Rick Verbanas
Aspen Comics has done what many other comic publishers have not. What many critics said they could not do, especially after beloved founder, Michael Turner, passed away from cancer in 2008.

They turned ten.

In fact, 2013 not only marks their tenth anniversary, but an even more compelling one: five years with Michael Turner and five years without.

"Mike's legacy still contributes to the growth of Aspen," stated Peter Steigerwald, who, along with current co-owner Frank Mastromauro, co-founded Aspen with Turner in 2003. "His creations, Fathom and Soulfire, are the flagships of our company, and how he conducted himself personally and in business still factor into our decisions."
You can find the full article in Bleeding Cool Magazine #2 at a comics retailer near you. Here is the Bleeding Cool Directory of retailers who have shown special support to the magazine and this website. Are you a retailer who would like to be included? Contact us.