BC Mag #5: Rocketing Spirits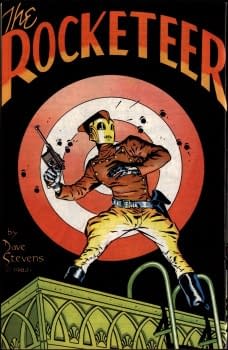 Bleeding Cool Magazine article excerpt by James Kuhoric
There have been many famous combinations over the years – peanut butter and jelly, Hall and Oats, and even rock and roll – but has there ever been a comic book duo who are more a natural fit than the Rocketeer and the Spirit? Both are from industry giants whose talent and personalities were absolute joys to behold. Both embody the "spirit" of what makes comics great, that magical combination of unbridled imagination and belief that anything is possible. And both took the golden age of pulp heroes as their inspiration for comic book adventures, even though there are forty-two years between their respective premieres in comics.

The Spirit debuted in 1942, in a sixteen-page newspaper supplement, which at the time was the most far reaching entertainment delivery system of the day. Those newspapers reached an estimated five million readers in the 1940s, and every kid was grabbing for the Spirit Section when their fathers sat down to read the paper. Unfolding on the newsprint page were the amazing adventures of Denny Colt, a hard-luck masked vigilante who fought crime with the help of a colorful cast of friends and foes. Will Eisner, who was editing the section for the paper, was also writing and drawing the series during the early days, before handing the duties to some big name collaborators that included Jack Cole, Wally Wood, Joe Kubert, and Jules Feiffer. And for the next seventy years, the Spirit would make appearances with multiple publishers including Harvey Comics, Warren Comics, Kitchen Sink, and DC Comics, before ultimate landing with IDW.
You can find the full article in Bleeding Cool Magazine #5 at a comics retailer near you. Here is the Bleeding Cool Directory of retailers who have shown special support to the magazine and this website. Are you a retailer who would like to be included? Contact us.