By Michele Brittany, West Coast Bleeding Cool Correspondent
Once you have been around awhile and have friends that exhibit at the cons, you'll soon learn that the Exhibitor Pass is as coveted as the key to the executive washroom. Perhaps through good timing and some dumb luck, my Press Pass got me onto the show floor at last weekend's Long Beach Comic Expo at the same time as the exhibitors, providing me a personal behind-the-scenes glimpse into the set up process prior to the doors opening.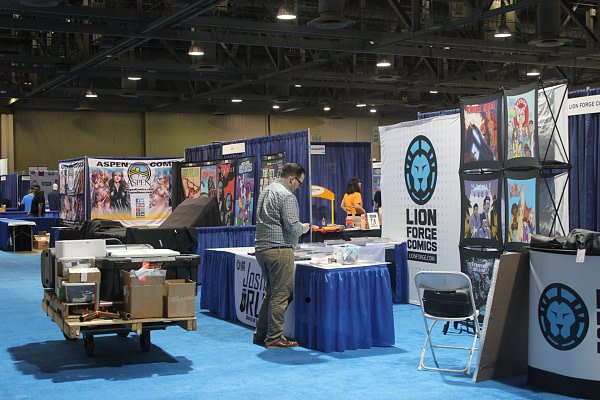 Over the loudspeaker, the time counted down in five-minute increments when there was only 15 minutes before the doors were to be opened for the early birds. I got to see how those vendors with the tall displays of rows and rows of sealed comics are arranged – one at a time and with meticulous care by the way. And, I ran into some of my publisher friends as they were laying out their table covers, stacking their books, and displaying collectibles.
Ten minutes remaining. The Star Wars laser tag framework was being inflated as I walked around to the back area of the floor where the games and interactive booths were located. One booth had displays of completed Lego projects, while several containers of the colorful building blocks had been dumped into a pile in the center of the carpeted booth just waiting for kids with imaginations to come build and play.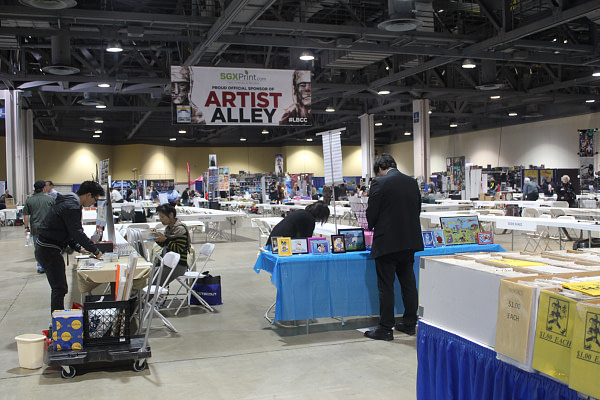 Excitement and tension mounted with each passing minute. Boxes were unpacked, banners unrolled and clipped up to makeshift PVC frames. One special guest already had his glossy headshots and stills arranged on his table. Sharpies lined up and ready to go.
The five-minute warning was announced. It was time to remove any boxes and debris from the aisles. I could see a frantic pace take root. Boxes disappeared under the tables, hidden by the table clothes. Garbage was picked up. Some booths were ready and waiting; others, well, they would need more time. And for many others, their owners had not yet arrived.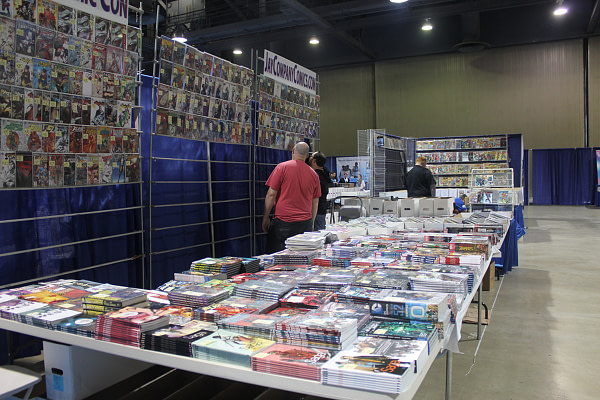 It was time! Throw open the doors! The doors opened and an excited crowd of men, women, boys and girls rushed through the doors with purpose in their step, so step aside and let them pass! Long Beach Comic Expo is now open!
Enjoy this photogallery of the experience:
Michele Brittany is an independent popular culture scholar and semi-professional photographer and editor of James Bond and Popular Culture: Essays on the Influence of the Fictional Superspy (McFarland & Company). She regularly posts reviews and analysis on the spy/espionage genre on her blog, Spyfi & Superspies and can be followed at Twitter @mcbrittany2014.