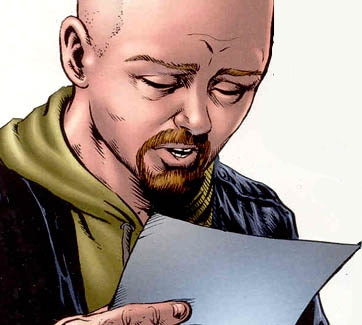 Over the last couple of days, Darick Robertson confirmed that he is dropping off The Boys for a few issues to draw spinoff mini-series Butcher. But this arrangement didn't seem to be his ideal situation.
He told fans;
And if you miss me, also let Dynamite know.
He thanked another poster for adding;
Dynamite should quit bringing in fill-in artists and let you do what you do best. … It's really difficult accepting fill-in artists on such a quality title.
As well as saying;
They make the schedule. I made my desires known, and this was what was chosen as best for the title.
And in response to "I just assumed you had scheduling/time conflicts or something." He replied
Or something.
And replying to requests for the book to go bimonthly to accomodate Darick he replied
The best thing you can do is direct that to Dynamite. I appreciate that attitude. Thank you.
And
I would liked to have been the sole artist on every issue of the BOYS. That was always my intention. Thanks for your support. And thanks for letting Dynamite know how you feel.
Which begged the question, how can a co-creator of a creator owned book be taken off said book against his will, even if it's only for six months or so? And couldn't they have published Butcher and The Boys bi-monthly to accommodate?
Nick Barrucci of Dynamite replied to one concerned email saying;
I think some of Darick's comments were not picked up on. He's drawing the series he's wanted to draw since day 1, which runs with a Boys storyline – and Darick stated this "I am working on covers and the Butcher Mini series, which is the best thing Garth's written since BORN." – which is a project Darick has been very eager to draw. He's now getting to drawing it. Unfortunately, he cannot draw both at once, and once he's completed The Butcher series, he will return to The Boys.

If the book went on hiatus, it would do so for 2 years for Darick to draw both series so that they could be released at the same time as the story works.

We're never wanted Darick not drawing The Boys, but whenever he's had a pre-existing commitment, or a new project that he wanted to work on at Wildstorm, we could not get in the way. It would not be right to him.

I hope that this helps.
It didn't really, and it certainly didn't chime with Darick's comments or tone. Well, until a few minutes ago, when Darick did a complete volte-face. He told Bleeding Cool;
I have screwed up. I made several severely off-handed comments on the "Standard Attrition" forum regarding my upcoming work on The Boys. These comments were born of my personal frustration with the monthly schedule and the pressure I have been under trying to meet it. I need to make things clear.

To begin, I am NOT leaving the The BOYS and I have not been permanently replaced. Nobody at Dynamite wants this and we are continually reworking the schedule and the artist line-up so that I can draw the best issues I can create. Every decision at Dynamite is made with me included.

When I was asked: "Does Dynamite actually have anything to do with it (the decision to go off the book)?" I replied: "They make the schedule. I made my desires known, and this was what was chosen as best for the title." This comment was unfair and misleading as it implied that I have not been included in the final choices on the schedule and that I would not be coming back to the monthly series.

We all agreed that it was best for the title to proceed monthly with another artist so that I can have ample time to draw the Butcher mini series (a hugely important run for The Boys) without the added pressure of the monthly deadline. Doing this IS accommodating my schedule. It is never easy to give up issues. In fact, I hate it. And from that frustration I can say some pretty stupid things.

A fan commented, "I just assumed you had scheduling/time conflicts or something" and my reply was "Or something." I did not want to admit that I have not been able to meet the monthly schedule that I committed to, so in turn, I made Dynamite look to blame. I have tried to get more time to do each monthly book but it is crucial to Dynamite and the fans to have this book in the stores every month on time with the best possible artist. Historically, late books lose readers. Dynamite, Garth and I are ultimately dedicated to the fans and to the retailers.

When I said I never wanted fill-ins, I meant that looking back at the series, I always wanted to draw every page. I have never preferred and will never prefer fill-ins. I was venting disappointment based on my own regret. But again, I allowed my comments to misrepresent Dynamite. Fill-in artists are necessary. Being as tight to the deadline as I am each month puts an incredible strain on the rest of the team, Simon Bowland, Tony Avina, Joe Rybandt, Garth Ennis, and Nick Barrucci, all who really want each issue to be on the shelves on time. That strain threatens the book's quality.

Like anything in hindsight, I realize my mistake and I wish I could undo it. My apologies to you fans who thought I was going for good and supported me with your e-mails. My apologies especially to Dynamite and Garth for having created this mess. I am not leaving the BOYS monthly, and look forward to returning to the monthly title when Butcher is winding down and I can move on without endangering the monthly schedule. Garth's story is so good, that it's well worth focusing on the quality of the Butcher series.

Lastly, I asked people to direct their comments to Dynamite. I don't know why I did this. I am temperamental and don't always think before I type. This is something that I can't take back and I wish I could. I have unleashed a wave of angry letters—letters that fans are writing based on my vague and emotional comments–letters that are insulting to my friends and colleagues. This was a matter that should have always have been handled internally. My thoughtlessness created a mess. It's a mess I guarantee won't happen again as I think a long break from the message boards is in order.

To reiterate, I am going to return to the monthly title. Dynamite is allowing me all of the time I need to draw Butcher, as it's the story that I've wanted to draw from the beginning. Garth accommodated me by delivering scripts early so that if the series takes me eight months to draw, great, and if I need more, it's by my schedule. This is the reason why I don't know when I'll be returning, but I will. The only other choice was to place the book on hiatus for up to a year, and I know that would disappoint the fans. As much as I appreciate the support from fans who love the book and who would wait for it, there are also those who wouldn't. We don't want to lose readers to where The BOYS could risk being canceled. No one wants that, especially me.

The new issue #44 looks great. It is worth picking up The Boys no matter who is drawing it. I have seen Russ Braun's art for #44 and he's doing great looking work, and you can see it for yourselves next month!
Will do, Darick. Hope things get sorted out. No one quite does Hughie the way you do…