Katana is a very unique DC Comics character and we have even got two live action versions of her. We got to see her in the CW show Arrow and in Suicide Squad. This time she is getting her own statue with Prime 1 Studio. The statue features a classic Japanese aesthetic setting and even has a light up option in one of the lanterns. The colors that Prime 1 Studio choose are quite interesting and it fits so well. Greys, Black and Red all shine are and give each part of the statue its own story. If you're lucky to pre-order her early you can get a secondary unmasked portrait of Katana! That simple head swap changes the whole vibe of the statue from lonely assassin getting revenge of her fallen lover to a woman with a broken heart. This is the perfect statue for any Katana fan or DC Comics Birds of Prey fan.
The DC Comics Katana 1/3 Scale Statue from Prime 1 Studio is priced at $1,099 and is set to release between January 2021 – April 2021. To lock down the unmasked portrait you have to pre-order before February 25th, 2020 and you can find her located here.
Criminals deserve no mercy.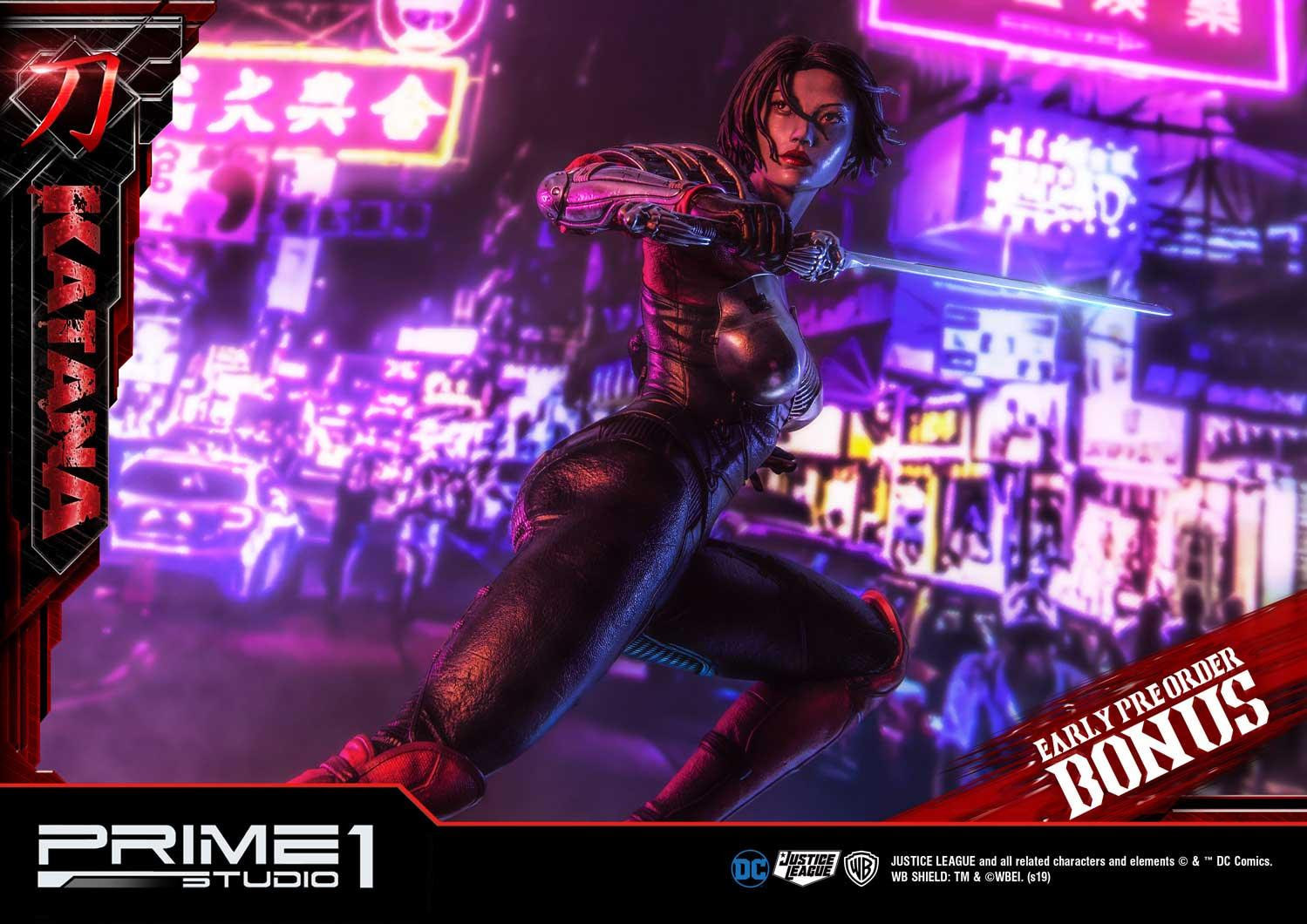 Prime 1 Studio DC Comics – Katana 1/3 Scale "Bonus Version" Statue
Museum Masterline Justice League(Comics) Katana Bonus Version
"I am not leaving until the Daggers are destroyed. My husband seeks an audience with them all."
Prime 1 Studio is proud to present the 1/3 scale MMDC-41: Katana Statue from DC Comics.
Katana is a sword-wielding DC character with magical weaponry. Her blade is called the Soultaker Sword as it steals the essence of those it slays and stores them inside. It was taken in a duel with the man who killed her husband. She has been a member of the Suicide Squad, the Outsiders, the Justice League of America and the Birds of Prey.
Sculpted in approximately 32 inches tall, crafted with a high attention to details including the specially designed base inspired by the oriental culture.
The early pre-order bonus is an additional swappable head. Don't miss out to add this amazing piece to your DC collection!
Specifications:
– Statue Size approximately 32 inches tall
– H:80cm W:58.8cm D:59.3cm(With extended right arm)H:80cm W:61.7cm D:41.3cm(With bent right arm)One (1) specially designed base with LED light-up function
– Two (2) Swappable Left Hand Parts
– Two (2) Swappable Right Arm Parts
– Two (2) Swappable Head Parts [Wearing Mask, Without Mask (Early Bonus)]