Agents of SHIELD Season 5, Episode 13 Recap: Principia
This article contains spoilers for the Marvel's Agents of SHIELD season five episode – Principia
.
.
.
.
.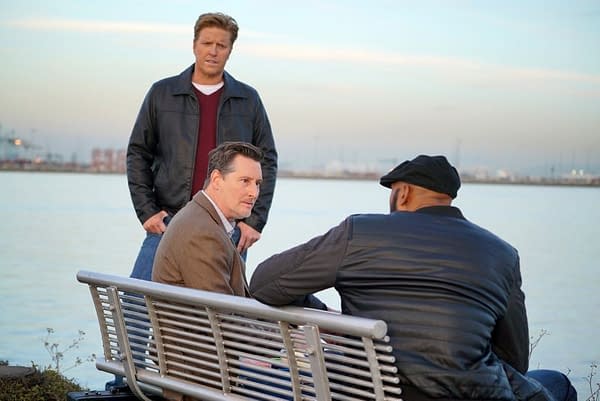 The episode starts with a blast form the past as we see Alex Von Strucker () in a therapy session. Last we saw him he was being zapped by Lincoln Campbell while he was in the memory enhancer, turned out that enhanced his memory greatly as he rattles off the therapists daughters name and home address. The therapist wants him doped up on Thorazine, but General Hale has him transferred to the same place as Ruby. And we learn they knew each other growing up and Hale use to be buddies with Hydra folks like Alex's father Wolfgang. She claims to not want anything to do with Hydra… accept anything that Alex can remember about his father's activities. Alex asks to be killed, which Hale doesn't want, so she order Ruby to seduce him and get inside his head… and to not fail.
We then see the results of Ruby's last failure as Coulson tries to make Yo-Yo feel better about the idea of living with prosthetic arms. Mack wants them to look into the Deathlok program about cybernetic enhancements. Meanwhile we find out that the gravitonium from Deke's belt buckle only sealed the portal to the Fear Dimension and it's already starting to leak. They need more to seal it permanently. Deke also has a flashback to his mother being killed by a Kree warrior. And Daisy thinks the solution to both problems are Cybertek, the company that built Deathlok and was last known to possess the gravitonium. She wants to track down their last known scientist, Murray Jacobson.
When they find Murray, he shoots and runs, only to be boxed in and we learn that he's actually an old classmate of Mack's named Tony "Candyman" Caine. They find out that the Deathlok is a dead end with nothing left. Besides Mack wanting it to help Yo-Yo, Daisy and May wanted it to help save Coulson. Coulson tells them that he doesn't want anything like that since he's already gotten one unnatural life extension already. May and Daisy aren't giving up.
Tony hooks them up with old Hydra agents who tell them about the ship that was carrying the gravitonium and how it went down at sea. Fritz can't find the wreckage until Deke comes up with the idea that maybe it didn't sink, but rather the gravitonium made it go up. Turns out the ship had been struck by lightning, activating the gravitonium and raising it above the clouds where it continued to hover. They board the ship to discover that Hale had already been there and taken most of the gravitonium, what was left was what kept the ship in the sky. She also left a few robots to guard it which Mack massacres with his shotgun axe. The are able to grab the gravitonium and escape before the ship hits the water.
Deke goes to tell Simmons that the team has returned and she says, "The steps you take don't need to be big, they just need to take you in the right direction." Something we heard his mother say in the flashback, a saying she claimed to have gotten from her mother… and Deke figures out what was revealed last week, that he is the grandson of Fitz and Simmons. He doesn't tell them, but he does call Fitz 'Grandpa', which just comes across as a nickname.
Ruby connects with Alex by telling him the truth, that she is helping her mom form the team for her own purposes. Alex decides to stay at Blue Raven with her and Carl Creel aka the Absorbing Man.