Black Lightning Season 1, Episode 9 Recap: The Book of Little Black Lies
This article contains spoilers for the Black Lightning season 1 episode 'The Book of Little Black Lies'.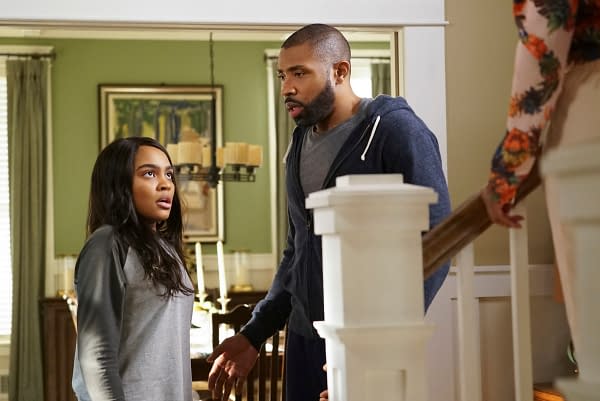 Tonight's episode of Black Lightning took some interesting turns. It started off with following up on last week's reveal of Jennifer (China Ann McClain) having powers. She's upset so Anissa (Nafessa Williams) shows her she's Thunder and reveals that Jefferson (Cress Williams) is Black Lightning. Jennifer responds to this poorly, feeling like her family has been lying to her. She runs off to be alone.
Jefferson decides they need to continue to try to clear Black Lightning's name, and Anissa is going to help, whether at his side or behind his back. He accepts the help but tells her Gambi (James Remar) can't be trusted. BL then calls Henderson (Damon Gupton) about the guy destroying the evidence they found. Henderson agrees that there are crooked cops and that he's going to take some time off to do some digging, but he worries about being killed and labeled as a bad cop. He makes BL promise to let his wife and kids know the truth.
Gambi on the other hand continues to be a badass, injecting a guy with Black Mamba poison to get a name and then out hacking a gun maker to get his real identity to force him to reveal who ordered the guns that killed Lady Eve (Jill Scott). Gambi then tracks down the lab and discovers the kids he had been scouting for the ASA were being kept inside the lab. He passes that information on to Anissa along with her new costume.
Lynn (Christine Adams) spends time with Jennifer, there is a joke about her being Vixen, but she admits to being just mom. We see that Jennifer just wants to be "normal". She worried about being able to do stuff like go to the prom, get married, have kids. Jennifer talks to Anissa later and we find out that Thunder has an internet following, a bit larger than Black Lightning.
Jefferson and Anissa continue looking into whose behind Green Light, finding a lead in his father's work. They go to visit the corporation but can't use their own costumes, so they were masks of Barack Obama and Hilary Clinton. He gives them where to find Martin Proctor (Greg Henry), which leads them to the Green Light Lab. While this is happening, Henderson watches his boss passing on weapons meant to stop Black Lightning. He follows them and ends up at the same lab.
Black Lightning and Thunder attack the lab, taking folks down like crazy and eventually going face-to-face with Proctor. Someone is about to shoot BL, but Henderson kills him first. He arrests the doctor and gets him out of the building. Two soldiers with the special guns go after Black Lightning and the bullets shut him down for a minute — but Thunder takes him out. BL takes out the other one and then sets the building on fire. They walk away from the lab as it explodes, but Proctor gets away.
The episode ends with Jefferson and Jennifer having a moment as he tries to explain why he kept it a secret. The episode ends with them watching a movie together. This is the strength of the show: the family connection. All of the superhero action and bad guy stuff is great, but we can find that on multiple shows a week. Black Lightning focuses on the family and being part of the community. There is a lot of heart in this show, and you feel the connection between the characters.
And we seriously need a Gambi solo series… the dude is freaking awesome. He's like the Shadow meets Ethan Hunt.
Next week it looks like we see more of Jennifer's powers, Lala gets another dead visitor, and Thunder discovers that the bodies in the lab Gambi saw are alive.
https://youtu.be/bYBuA5D8uoM