This article contains spoilers for The Flash season 4 episode – 'Run, Iris, Run.'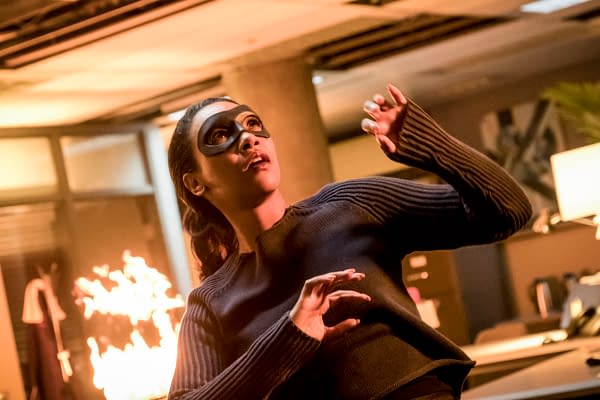 We start off the sixteenth episode of The Flash season 4 with a bank robbery by an O.G. Meta (someone who got their powers from the particle accelerator explosion) named Erik Frye (Oliver Rice), who has the ability to cause fire hot enough to melt steel. Inside the bank, though, is a bus meta named Matthew Kim (Leonard Nam), who has the ability to melt bonds on a molecular level and reattach them elsewhere. He takes Frye's powers and transfers them to Jaco Birch (Max Adler).
We then switch to S.T.A.R. Labs, where Harry (Tom Cavanagh) has an idea to build a device similar to what made DeVoe (Neil Sandilands) so smart. Cisco (Carlos Valdes) thinks it's a horrible idea and refuses to help. This upsets Ralph (Hartley Sawyer), who is in fear for his life from DeVoe. Iris (Candice Patton) tries to talk to Ralph, who tells her she can't know how he feels because she's always safe at the computer instead of in the field. So, when they realize where to find Matthew, Iris and Joe (Jesse L. Martin) leave Barry (Grant Gustin) on standby. But when things with Matthew goes wrong and he holds a scalpel to Iris's neck, the Flash races in to save her. Matthew touches him and then Iris, transferring Barry's speed to his wife.
Ralph helps Harry with his thinking cap, and the first run works — except it catches fire. Barry trains Iris to be a speedster while Caitlin (Danielle Panabaker) does the science, figuring out how Matthew's powers work on a molecular level. Cisco comes up with the name Melting Point. Barry worries that if DeVoe gets those powers, he could take away the powers of Team Flash. But Joe suggests that if they could get Matthew on their side, he could take away the powers that DeVoe has stolen.
There is a major fire downtown — Iris races in and gets the people out, but when she tries to put out the fire, it doesn't go well. She gets trapped and Cisco has to pull her out. Barry goes back to trying to train her, but she has a long way to go, and Jaco decides to use his new fire powers to make some money. Matthew shows up and tries to take Jaco's powers away, but Iris shows up, captures Matthew, and then has to deal with Jaco, who is kicking up a tornado of flames. Iris creates a tidal wave and guides it in to put out the fire and capture Jaco.
Back at S.T.A.R. Labs, Matthew agrees to reverse what he did to Barry and Iris if they both agree. They do. He only wanted to help, which they offer him the chance by helping them with DeVoe. Matthew agrees, and Cisco gives him the tour. Iris talks with Ralph to try to make him feel better about his situation, and it looks like she gets through. Cisco helps Harry with his thinking cap, and he gets the name of the last two bus metas.
There were some things that didn't make much sense in this episode, like why they kept sending the brand-new speedster into the field to take on fires when they have someone like Killer Frost on their team. We spent almost the whole episode dealing with the Iris-is-a-speedster issue that we never got any background on Matthew, Frye, or Jaco. And Joe has gotten awfully quick on the Flash emergency signal.
The big thing at the end where we learn the names of the two last bus metas is interesting. One of the names sounded like Jenna Petty, but I could find no connection to the DC universe there, and the name could be wrong. But the other, Edwin Gauss, is an existing Flash villain called the Folded Man who can move into either 2D or 4D, making him either flat or capable of seeing everything and opening portal. He's kind of a cross between Ralph and Cisco. Back in December when I was speculating on which villains I thought the different shows should bring in, the Folded Man was my choice for the Flash, partly because of his similarities to the Elongated Man.
Very little is known about the next episode. Is the girl with the green hair in the trailer the other missing bus meta or someone else all together? What we do know is it's an episode directed by Kevin Smith, who has said the episode is a lot of fun — but some people may say that the show has "jumped the shark". But it already did that back in the episode with King Shark, didn't it? The Flash is going on a brief hiatus and while the next episode hasn't been given an official air date, we expect it to be April 3rd.
https://youtu.be/SILg4wtGxIQ
Enjoyed this article? Share it!