iZombie Season 4, Episode 6 Review: It's Ravi's World
"iZombie s04e06 'My Really Fair Lady': Liv (Rose McIver) and Clive (Malcolm) investigate the murder of a pretentious theater actor (guest star Rachel Bloom "Crazy Ex-Girlfriend). Meanwhile, Ravi (Rahul Kohli) makes a huge sacrifice for Peyton (Aly Michalka). Lastly, Blaine (David Anders) makes a startling discovery."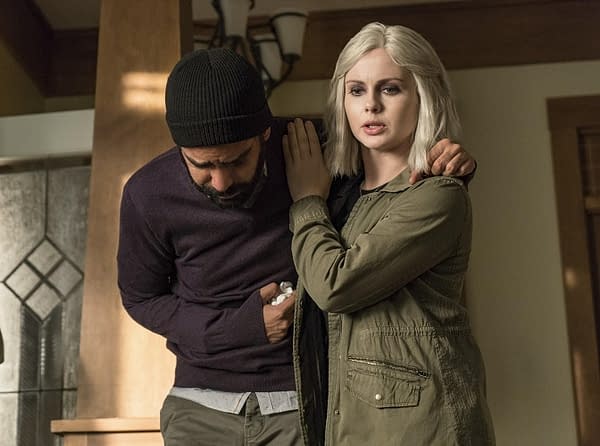 "He offered to pleasure me for my car keys" – Major
The CW's iZombie season 4 rolls along with episode 6 'My Really Fair Lady,' which had me dying from laughter thanks in large part to Ravi Chakrabarti (Rahul Kohli). I'll be honest: I don't recall much about some of the parallel story lines of the episode… but maybe I wasn't supposed to. I really felt that this episode belonged to Ravi, and he didn't disappoint.
After getting some brain cravings, Ravi consumed the brains of a heroine addict in his quest to pledge his undying love for Peyton Charles (Aly Michalka); which he hoped would lead to a vision of a lost dog that Peyton was desperate to find. Instead, Ravi spent most of the episode going through withdrawal; leading to that hilarious moment when Ravi actually offers sexual gratification to Major (Robert Buckley) for his car keys.
Then he showed up at Blaine's (David Anders) club looking to score some drugs, and I almost fell off my couch. The look on his sweat-drenched face as he huddled in a fetal position in a chair across from Blaine — borderline choking on his own saliva — was perfect. I applaud his acting skills even more given that I he spent the majority of the episode with his head and body tilted to the side. But did Ravi's plan work? Well, the writers of iZombie didn't disappoint: he was able to locate the dog; and when Peyton showed up at his house to thank him, Ravi finally grew a pair and kissed her.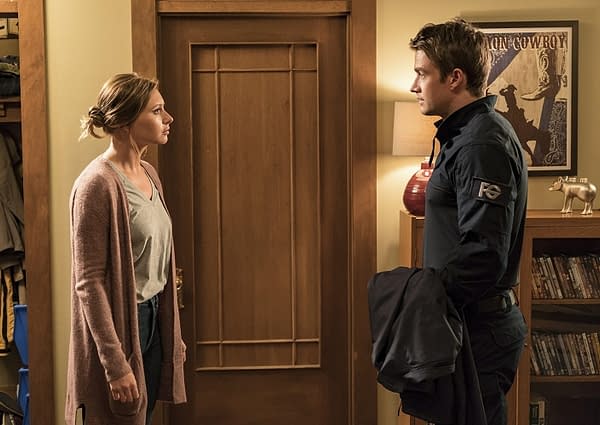 The reunion between father and son that I've been waiting for finally happened, in a very grand, Angus McDonough (Robert Knepper)-like fashion. The standoff took place after Angus and his cult stormed Blaine's restaurant, demanding to be fed. Angus politely — but with a death-like stare — "convinces" Blaine to feed his crew every Monday: "Your weekly gift to the poor, son." It never ceases to amaze me how Angus is the only one who can make Blaine not only feel like a child; but also able to yield power over him and strip him bare of all his façades, like narcissism (sorry, I think the psychologist in me just came out). But let's see how long it lasts: I think Blaine will eventually rid Angus of his "sheep".
Under the influence of a dramatic actress brain, Olivia 'Liv' Moore (Rose Mclver) rallies Mama Leone's crew to save some humans who were smuggled into "New Seattle" and are currently trapped in a crate. With the clock ticking down on their oxygen supply, Liv organizes a theatrical heist to infiltrate the docks, steal the crate, and save their lives — only to subsequently turn them into zombies. Side note: although she played a sexually-driven damsel and seduced a security guard to get his attention from the cameras, can we focus on her damn hair again? Seriously, I know it's a pet peeve of mine, but can the writers refrain from her natural look? I don't even know why it annoys me so much, but with so many possible prop and wig options, "au natural" always appears awkward.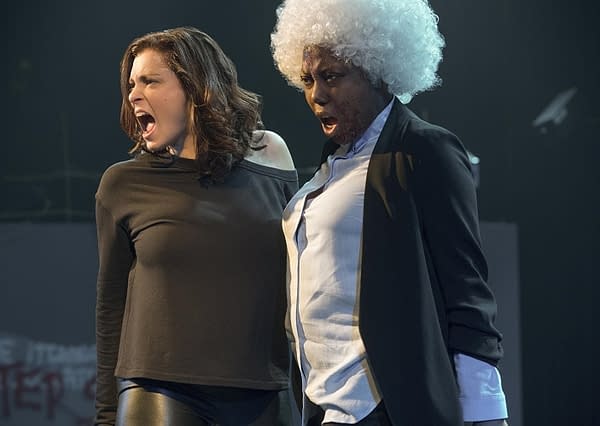 The episode wraps up with Liv getting access to a file that contains footage of humans pleading with Renegade to save them by turning them in to zombies: "I decide who lives and whose story ends." Wow. Talk about a purpose. Wait, where the hell was Chase Graves (Jason Dohring)? Is the brain shortage problem solved? Is Washington no longer interested in nuking "New Seattle"? Let's hope we get some answers in next week's episode, 'Don't Hate the Player, Hate the Brain':
https://youtu.be/n109oSftCoA
iZombie s04e07 'Don't Hate the Player, Hate the Brain': After consuming the brain of a bachelor playboy, Liv (Rose McIver) heads to a club to meet up with Clive (Malcolm) and Ravi (Rahul Kohli). Meanwhile, Major (Robert Buckley) is assigned an enormous task. Lastly, Clive (Malcolm Goodwin) is still struggling with the arrangement he's made with Bozzio (guest star Jessica Harmon).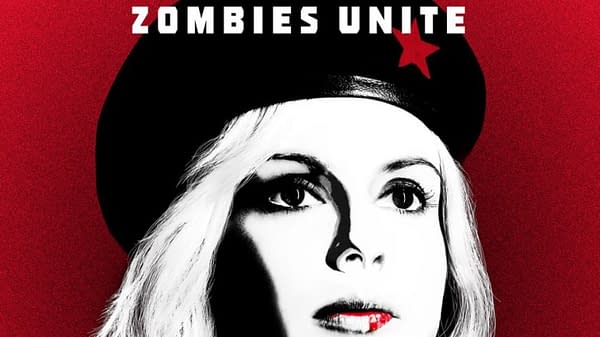 Once again, it's that time when I pay homage to Liv's episodic personality inducing brain feasts! On this week's menu: "drama queen" courtesy of brain buns!
iZombie Season 4, Episode 1 Review: Left Still Feeling Hungry
iZombie Season 4, Episode 2 Review: Brains Shaken, Not Stirred
iZombie Season 4, Episode 3 Review: More Zombies, Less Brains: What Could Go Wrong?
iZombie Season 4, Episode 4 Review: Mama Leone's Backstory Makes for Strong Outing
iZombie Season 4, Episode 5 Review: Two Minutes in the Penalty Box for Time-Wasting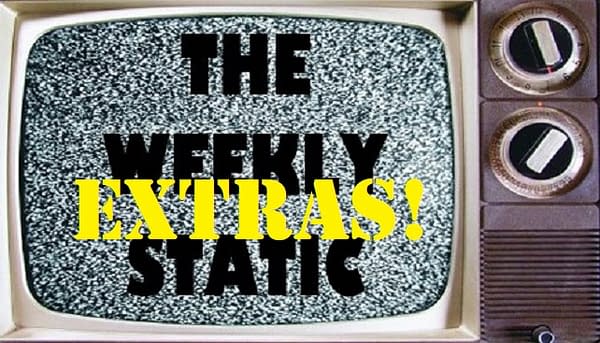 Margo Staten is a Ukrainian born, raised in Brooklyn organically driven, coffee loving, twice divorced mother of one baby Einstein. Has a passion for books, yoga in the park and all things 80's and New Orleans.