Marvel's Jessica Jones Season 2, Episode 4 Recap: aka God Help the Hobo
This article contains spoilers for Marvel's Jessica Jones season two episode – aka God Help the Hobo.
.
.
.
.
.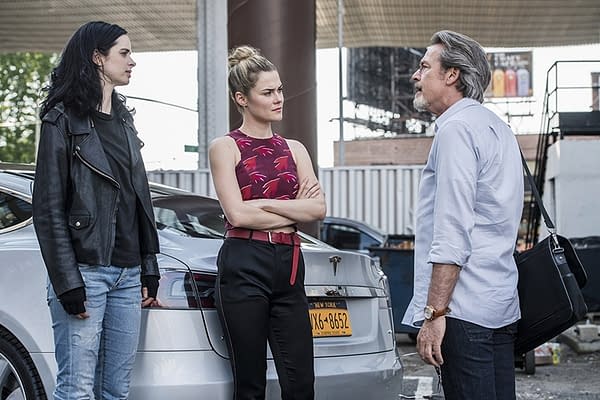 The episode starts with Jessica (Krysten Ritter) in a court-ordered anger management class. It doesn't go well as she scares everyone, including the teacher… but gets her card signed anyway. Back at her office, Jessica is going through the photos of the mysterious woman (Janet McTeer) and realizes she's wearing a wig. Before she can look into it, Vido (Kevin Chachon), the kid from upstairs shows up as his parents are fighting loudly. He asks her about her powers, etc and then goes out on the ledge to see if she will save him. As he starts to fall, she grabs him and pulls him in just as Oscar (J.R. Ramirez) and his ex show up and assume Jessica put Vido in danger.
Pryce (Terry Chen) goes in and gives Jeri (Carrie-Anne Moss) her retainer back because he plans to move forward with his case against Jessica. Trish (Rachael Taylor) leads Jessica to the shop where the mysterious woman got her wig, turns out she's bald underneath. They figure she must have had cancer and IGH cured her, meaning they need the records from Metro General. A visit to Malcolm (James McCaffrey) and a punch through the hood of his Tesla gets him to make the call. Pryce tries to entice Malcolm (Eka Darville) to go to work for him, even quoting Malcolm's father, but Malcolm passes. Oscar shows up with a bottle and to make amends. Vido told him the truth. Oscar is afraid of losing custody, but he dropped the eviction notice. They drink together and talk. Jessica tries to make the moves on him, but he backs off saying that it isn't normal to go from hating him to wanting to sleep with him in a half hour. Meanwhile Trish and Griffin (Hal Ozsan) spend some quality time together, but he gets a secretive call where he talks about how Trish doesn't know anything.
Jeri has decided she doesn't want to die like her father and starts looking into experimental drugs to either cure or kill her it seems. Malcolm comes through with a files that show there was a third person whose medical bills were paid by IGH besides Jessica and the Whizzer. It leads to a homeless woman named Inez Green. Thinking the's the mysterious woman, they take a taser from the duffel bag that can knock Jessica out and Trish takes the enhancement inhaler. They find Inez in an old, abandoned bank building where Trish takes a hit on the inhaler and uses the taser before she realizes that Inez is not the mysterious woman. The find out that Inez (Leah Green) is actually a nurse who was severely injured by the mysterious woman, who was a patient of IGH.
While this is happening, one of Cheng's men breaks into Alias Investigation and takes all of the files and computer. As he is getting away, the mysterious woman appears and beats him to death, leaving hideous corpse. When Jessica and Trish return, with Inez in tow, the cops suspect she killed the guy and Jessica is arrested. Trish, still amped from the inhaler, pushes a cop and gets arrested as well. Malcolm takes Inez to safety.
Another dense, fast paced episode where it feels like a lot is happening and the story is moving forward quickly, but it's only the fourth episode so there is so much more to go. Trish seems to be moving faster and faster towards becoming Hellcat having taken the inhaler, which I'm guessing she will do at least a few more times in the season. Griffin is interesting and probably is just trying to steal the story from Trish, but I think because who she is I can't stop thinking about the characters boyfriend in the comics, Damien Hellstorm and how Ozsan would work well as that character. I doubt their going to bring the Son of Satan into the series… but a variation on him would be interesting.
This season feels like a pressure cooker that is already dancing into the red on the meter, yet we still have hours and hours to go.
On to episode 5…
---
---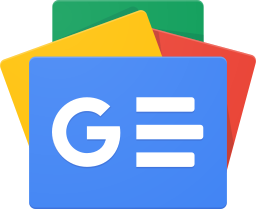 Stay up-to-date and support the site by following Bleeding Cool on Google News today!