Siren Season 1, Episode 5 'Curse of the Starving Class' Review: Water is Thicker Than Blood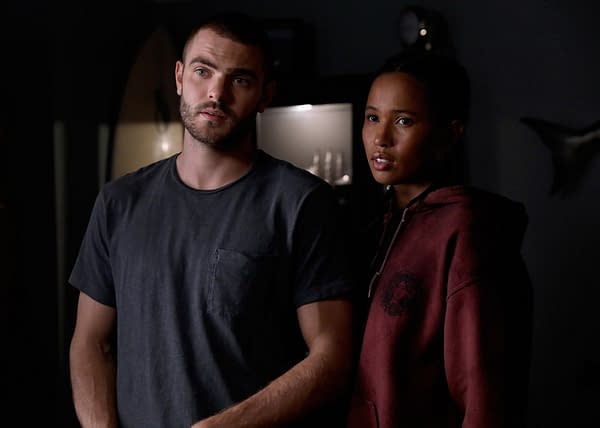 We are back once again, this time with our fifth edition of Bleeding Cool's weekly recap/review of Freeform's Siren, Eric Wald and Dean White's mermaid fantasy-action drama. Just when I thought I knew where things were going last episode, an unexpcted reunion…a deepending conspiracy…and the town's "Giles" possibly being a lot "closer" to the mermaids than even she realizes…has me wondering where things are going with 'Curse of the Starving Class.'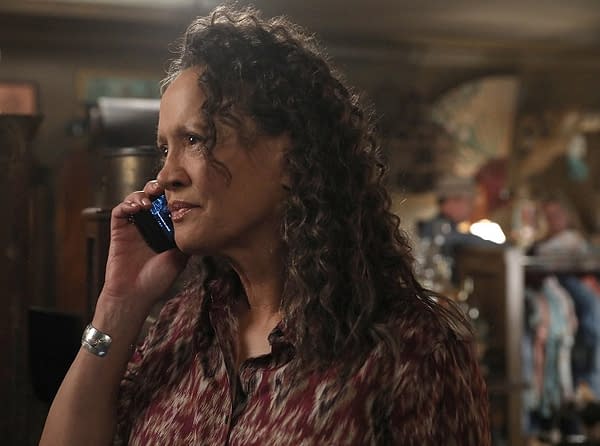 But first, a look back at the episode and synopsis from our friends at Freeform:
Siren s01e05 'Curse of the Starving Class': Ben begins to investigate some suspicious overfishing, meanwhile Decker ramps up his efforts to find his escaped mermaid and shows the true extent of his influence.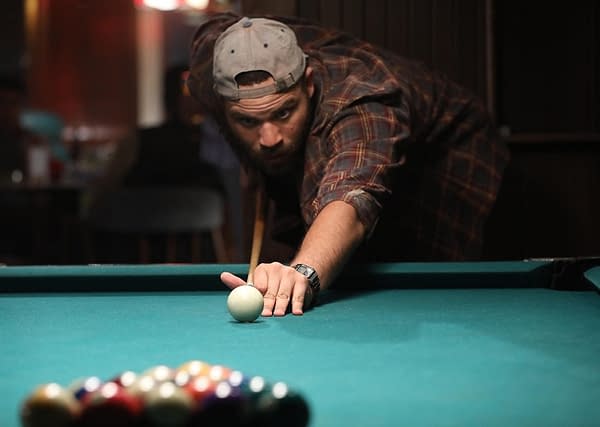 Just to be clear… I try to avoid heavy spoilers, but sometimes stuff happens. I cover themes and takeaways involving major and minor plot points from the episode, so just keep that in mind before viewing. Really not looking to have angry fellow geeks outside my apartment with pitchforks and torches because I slacked off on spoiler warnings.

Check out a sneak preview of this week's new episode on Freeform, 'Showdown':
Siren s01e06 'Showdown': When Ben and Maddie attend his mother's fundraising gala, an unexpected guest shows up and offers to put an end to the overfishing that's threatening the lives of the mermaids in Bristol Cove.
In this sneak preview from this week's 'Showdown,' Helen (Rena Owen) questions Donna (Sibongile Mlambo) – but those answers are only going to raise further questions:
Here's a look back at Bleeding Cool's thoughts on Siren's first four episodes:
Here's the series overview for Freeform's Siren:
https://youtu.be/NLpvHsPOUN0
"Siren" takes us inside Bristol Cove—a coastal town known for its legend of once being home to mermaids. When the arrival of a mysterious girl proves this folklore all too true, the battle between man and sea takes a very vicious turn as these predatory beings return to reclaim their right to the ocean.

The series stars Alex Roe ("The 5th Wave") as Ben, a bright marine biologist who finds himself drawn to a mysterious new girl in town, Ryn, played by Eline Powell ("Game of Thrones"), who is a strange young woman with a deep dark secret. Fola Evans-Akingbola ("An American Exorcism") stars as Maddie, also a marine biologist who works with Ben, and is highly suspicious of Ryn. Ian Verdun ("Life's a Drag") stars as Xander, a deep sea fisherman on a quest to uncover the truth; and Rena Owen ("Star Wars" Episodes II and III) as Helen, the town eccentric who seems to know more about the mermaids than she lets on.

"Siren" is based on a story by Eric Wald and Dean White who both serve as executive producers. Emily Whitesell ("Finding Carter") serves as showrunner and executive producer. Brad Luff, Nate Hopper and RD Robb also serve as executive producers.