"The French Dispatch": Wes Anderson's Latest Film is an Ode to Journalism [TRAILER]
The French Dispatch, the 10th film from director Wes Anderson is his most star-studded and visually enriching. The Searchlight Pictures film follows the final issue of an American magazine published in a fictional 20th Century French city. The magazine stylizes itself after The New Yorker.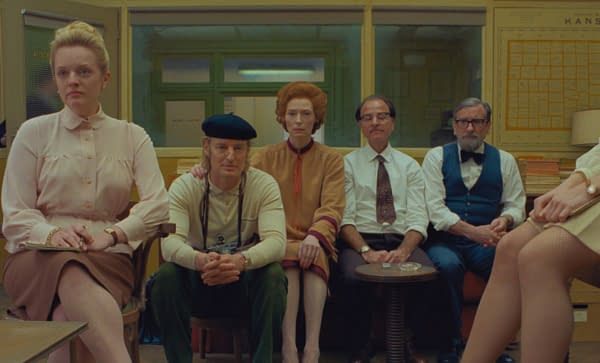 Returning Wes Anderson Favorites
American Empirical Pictures, Indian Paintbrush, and Studio Bebelsberg produce the film with Anderson, Jason Schwartzman, Roman Coppola, and Hugo Guinness writing. The cast contains the usual Anderson favorites in Bill Murray, Tilda Swinton, Owen Wilson, Edward Norton, Willem DaFoe, Frances McDormand, Fisher Stevens, Anjelica Houston, Schwartzman, and Adrien Brody.
Newcomers or those making their second appearance include Saorise Ronan, Timothée Chalamet, Elizabeth Moss, Léa Seydoux, Christoph Waltz, Liev Schreiber, Benecio Del Toro, Jeffrey Wright, Kate Winslet, and Steve Park.
Awards and Synopsis
The film has his Anderson's typical stylistic shots from the awkward close-ups, point-of-view, and even shifts to black and white. The exception is instead of Alec Baldwin doing the narration, it's Swinton. The seven-time Oscar nominee's last feature Isle of Dogs (2018) was nominated for Best Animated Feature Film in the 2019 Academy Awards. The Academy nominated The Grand Budapest Hotel (2014) for three more.
The staff of a European publication decides to publish a memorial edition highlighting the three best stories from the last decade: an artist sentenced to life imprisonment, student riots, and a kidnapping resolved by a chef.
Anderson's next upcoming project is The Rosenthal Suite for Universal. According to IMDb, he's only attached to write, which is rare considering he usually directs all his projects too.
Murray suits up in the blockbuster Ghostbusters: Afterlife for Sony. He reunites with his Lost in Translation director Sophia Coppola in On the Rocks for Apple TV+. Swinton will be in the upcoming The Souvenir: Part II for A24. She'll also be in the indie flick Memoria for Neon. McDormand will be in Chloé Zhao's Nomadland for Searchlight, based on the Jessica Bruder novel. She reunites with Joel Coen of the Coen Brothers to shoot his upcoming adaptation of William Shakespeare's Macbeth.
The French Dispatch comes to theaters on July 24.